Congresswoman Alexandria Ocasio-Cortez started a volunteer tutoring program for her district's families who needed help during remote learning. Her campaign office is now expanding on the program, as discussions continue about the possibility of a National Tutoring Corps to combat the academic and economic impact of the pandemic.
As school districts and families continue to try and combat the educational and economic impact of the pandemic, congresswoman Alexandria Ocasio-Cortez launched a volunteer tutoring program to help students in her New York City district.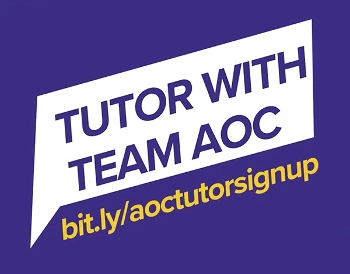 A pilot of about 125 tutors went well. By early December, the program had conducted approximately 100 sessions with students and was ready to expand toward its goal of serving 1,000 students by June. When Ocasio-Cortez put out the call for volunteers on Twitter and Facebook, there was an overwhelming response. Her campaign office cut off volunteer applications when it hit 13,000.
"There are people from all backgrounds," says Christine Cruz, a speech pathologist with the NYC Department of Education who is working as an organizer for Homework Helpers and supporting tutors. "We have a lot of educators, but there's also other professionals from all kinds of industries, there's also college students."
Volunteers were not trained on curriculum or pedagogy, but on how to build rapport and work with children and the specific resources available to share with families. Homework is sent in advance for volunteers to prepare for the tutoring session. The students were found by working through local PTAs, as well as by reaching out during food distribution in the district and phone banking.
While Cruz says they have been primarily serving Spanish-speaking families in the early weeks of the program, their tutors speak more than 10 different languages, which will help the district where, according to government data, English is not the first language for more than two-thirds of the residents. Among the biggest problems for these students are parents who cannot understand instructions or the technology. Tutors have been stepping in with assistance in some of the basic tasks (such as signing into a Google Classroom) that make remote learning viable. They also provide important one-on-one facetime for students.
Literacy is suffering
Cruz says she sees a lot of learning loss in reading instruction for younger children.
"Children are falling behind because of language barriers, parent familiarity with technology, work schedules, multiple children in the household, parents not being able to have enough time to work with each one individually," she says. "Young children really need one-on-one feedback, they need more time face-to-face to learn those fundamental skills"
Studies have shown the effectiveness of one-on-one tutoring, and many communities are looking toward tutoring programs to help with the pandemic's impact on education. Ocasio-Cortez and her staff have obviously created a huge network of volunteer, but Homework Helpers could be a model for a much bigger idea. Creating a National Tutoring Corps has been discussed by at least two former Secretaries of Education—Margaret Spellings (under George W. Bush) and Arne Duncan (under Barack Obama).
"I would love to see a massive, massive tutoring program," Duncan told New York magazine in July. "I would love to see hundreds of thousands of tutors hired to help those kids catch up, whether that's physically, virtually, or hybrid."
Jonathan Soto, Homework Helpers program leader and AOC's campaign political organizer (and a NYC public school parent), agrees.
"I believe that massive job programs are going to be the good politics and good policy for the future," he says. "Massive job programs are everything—that's how we're going to get working class folks to be able to deal with the economic collapse that's happening with COVID. States should be doing this, cities should be doing this. Imagine if you have 10 hours a week, the city or state could help not only young people but people who have retired and may be looking for supplemental income to be able to serve their neighbors and their community. Homework Helpers for All has a very nice ring to it."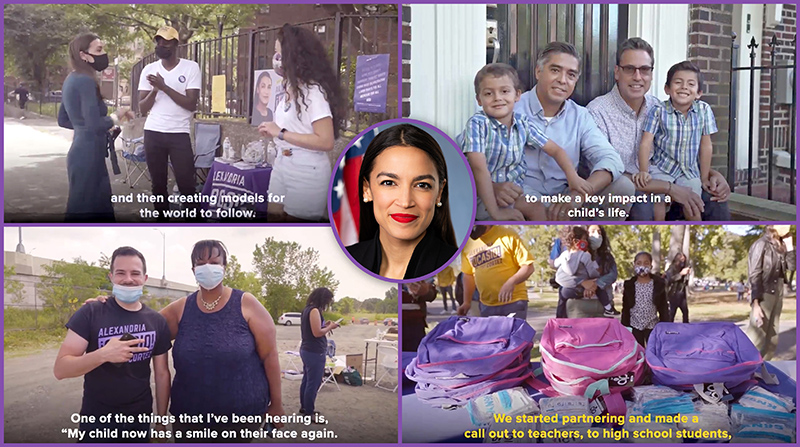 Right now, though, the congresswoman's staff is focusing on their constituents' immediate needs: reaching their goal of 1,000 students by June, recruiting educators to help create a toolkit for volunteer tutors, and creating workshops that offer kids instruction on anything from coding and robotics to pre-Calculus and esports.
"At this time Homework Helpers only provides one service, the one-to-one tutoring," says Soto. "However because we have such a large number of tutors we're probably going to create different committees—a curriculum committee, a programming or workshop committee, a lesson planning committee, and be able to make these options initially monthly to our community."
Soto is also looking into sharing the wealth of volunteer resources the program has amassed.
"I've received emails from throughout the country – community-based organizations, educational nonprofits, saying 'Hey do you have tutors you could support us with?'" he says. "We are thinking about a partnerships model, but, again, we want to be very cautious and very careful in making sure the experience is one of quality and that everyone is safe, which is our priority at this time."
The one issue they can't solve, at least not long-term, is the lack of internet access and devices.
"[We're] thinking about how we can support parents that don't have laptops but at the same time, many of the situations are structural," says Soto. "Broadband access is a huge issue. We could probably pay for somebody's broadband for a year but that's not necessarily sustainable. We need governments to think about broadband for all. Part of this is not only providing a service but finding ways to do advocacy and let the city know and let the state know there needs to be massive investment in broadband in order to bridge this digital divide."