From advertising to book-making to producing animated digital shorts: Is there anything this Latinx author-illustrator can't do?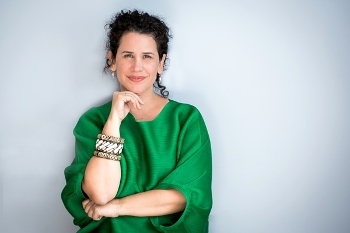 When Susie Jaramillo set about addressing the lack of high-quality children's books celebrating Latin American nursery rhymes in both English and Spanish, she didn't go the traditional publishing route. Equipped with an arts background and years of experience in the advertisement industry and backed by the support of another Latinx family with young children (cofounders Steven Wolfe Pereira and Nuria Santamaria Wolfe), Jaramillo took the plunge and established her own education-focused public benefit corporation—Encantos Media.
A music lover who would translate her favorite childhood songs from Spanish to English and is now raising her own bicultural young children, she created mockups of accordion-style, lift-the-flap board books with the original Spanish lyrics on one side and the rhyming English translation on the other. "I've always been an illustrator. And I knew there was this massive opportunity for content that capitalized on our culture," said Jaramillo on a phone interview with SLJ. That germ of an idea inspired the "Canticos" brand.
From the beginning, she wanted a wide audience for the books and for the experience to be cross-cultural. Jaramillo wanted to include a free sing-along app with both versions of the traditional songs. "If you didn't speak Spanish, you could hear how the original song was meant to be sung. And if you didn't speak English, you could hear that translation. It would teach you English or Spanish depending on your language of choice. And it would be easy for [parents] who wanted their kids to love their culture as well as their language—so that Spanish isn't a chore. It would be easy for educators or librarians to share in storytime with a bilingual audience," Jaramillo explains.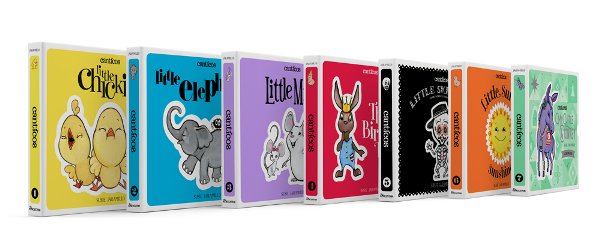 The two families joined forces and created an indie publishing company in 2016. They struck a deal with Ingram Content Group for distribution, and the rest is history. The family-owned business has flourished ever since with the publication of its bilingual edition of the library storytime staple Los pollitos/Little Chickies in April 2016, and other titles quickly followed. Beginning in October 2017, the original books have also been reissued in more library-friendly versions, and they continue to explore early concepts within the context of Latin American nursery rhymes, printed in the same cotton candy palette. "The idea always was to create a beautiful, premium product that could also be a childhood keepsake. We wanted it to be a memorable piece of childhood," Jaramillo shares. "It's really the story of two families—two moms, really—who were passionate about telling the stories that we grew up with and bringing people together around nursery rhymes."
Jaramillo was named a 2018 Publishers Weekly Star Watch semifinalist, a program that celebrates innovative members of the U.S. and Canadian publishing communities who are on the rise. Her company recently gained the interest of Nickelodeon, who had been watching Encantos' growth. "It was always my dream that Canticos really live in an animated world—I call it a Canticos play world. These characters really come to life, and we get to know them better." The first volume of digital animated shorts launched on the NOGGIN app and on NickJr.com in May 2018. They feature the classic that started it all, "Los pollitos/Little Chickies," as well as "Elefantitos/Little Elephants" and more. See our full review of the first two seasons here.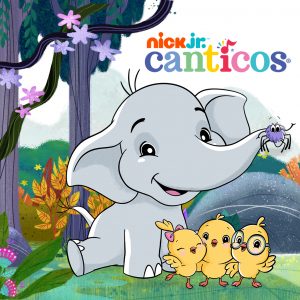 Jaramillo and Encantos continue to animate, translate, produce, and oversee all of the animated shorts. The content creator injects all projects with multiple aspects of Latin American culture, even the music that accompanies the videos. "Whether we choose to use a Brazilian rumba or a merengue or a Cuban song or mariachi music, I feel like it's important to infuse this brand with the different aspects of Latin music. Because I come from the agency side of the world, I've had access to…top-notch talent, be it in animation or in music production," she adds. "[Our goal is to] make music that parents want to sing along to and not music that they find annoying," Jaramillo joked. The nursery rhymes are accompanied by a variety of genres and stylings, from Grammy-winning producers from Mexico to indie Venezuelan Latin funk bands.
The collection of digital shorts also provides an opportunity to develop the characters further and flesh out the world-building. For example, the three chickies have their own personalities and interests and behave like cute, cuddly toddlers. The spider, who makes an appearance in "Elefantitos" and "The Itsy Bitsy Spider," spins elaborate webs, reminiscent of Latin American doilies. "Because part of the premise behind Canticos is to not only bring people wonderful nursery rhymes but also incorporate a learning concept with each of our books—counting, birthdays, days of the week, etc.—we've taken liberties to infuse books and shorts with opportunities for more cognitive development," Jaramillo says. She also makes small adjustments to the text in both languages to account for a more modern sensibility, especially in more traditional and dated songs like "Arroz con leche," which no longer enforces gender stereotypes.
The second volume of digital shorts is launching this week, via Nick Jr. and the NOGGIN app and features a slew of new and familiar characters, including Pin Pon, a popular figure in Mexican nursery rhymes. Around the holidays, Jaramillo is pleased to offer a holiday story near and dear to her heart, from her native Venezuela.
Next week a librarian kit will debut on the Canticos website, showcasing more fun ways to enjoy these stories and providing support materials for parents and educators.
"It's about bringing communities and families and generations together through stories and music," says Jaramillo, which aligns perfectly with the mission of public libraries.