Connect students with their favorite writers—and others they might not know yet—to create excitement around books.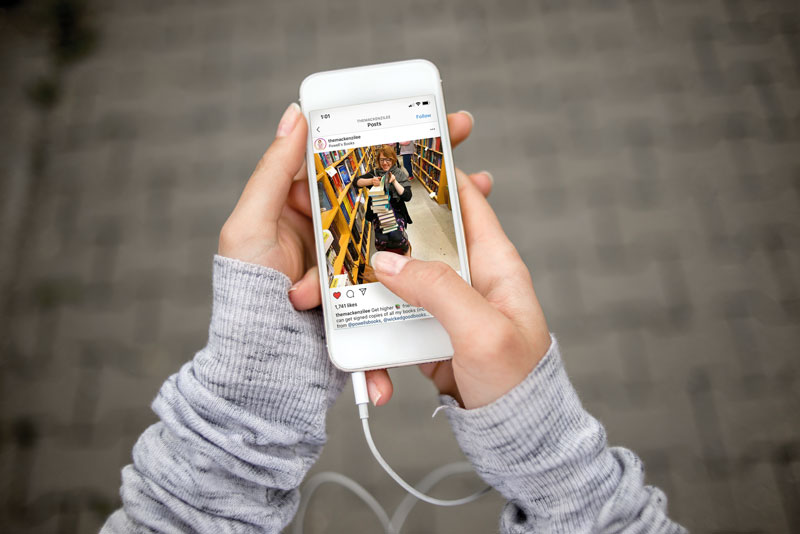 We're in an era of unprecedented access to the best, most interesting authors writing for young people. Thanks to social media—Twitter, Instagram, Facebook, YouTube, and other outlets—authors are sharing much more than the latest news about their books. For librarians and teachers, this means opportunities to connect students with their favorite writers—and others they might not know yet—to get them excited about reading in a whole new way.
Don't despair if you can't bring a superstar author like Angie Thomas or Jason Reynolds to your library. Take advantage of what they, and so many others, are saying online to make it feel like they've stopped by to chat.
Many authors shout out their book recommendations on Twitter or Instagram, and it's easy to develop a display or bookmark that calls attention to those titles. It's also possible to focus a single display or reading guide—print or digital—of titles suggested by a favorite author. This can highlight lesser-known books in a collection, while also allowing readers to feel like they're getting to know a writer based on their reading preferences. On Instagram, for instance, YA author Stephanie Perkins (@naturallystephperkins) frequently showcases her to-be-read piles and talks about what she's reading, as does Lauren Morrill (@laurenmorrill).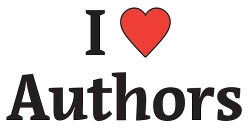 Instagram also allows authors to take advantage of their feeds to share reader-requested book recommendations, as well as curated reading lists. Some also use Instagram stories—which disappear after 24 hours unless they're saved as highlights to the author's profile page—to talk about books. All of this can be a boon for reader's advisory. YA author Erin Summerill (@erinsummerill), for example, posts weekly fantasy book recommendations on her feed using the tag #FantasyOnFriday. She spotlights books that readers who enjoy her work would like, as well as books that might otherwise fall a bit under the radar. Summerill also posts thematic booklists such as "favorite heroines" and "goodbye fall," mixing new titles with backlist suggestions.
Other YA authors who make book recommendations on Instagram include Marie Lu (@marieluthewriter), who started highlighting stories on "Bookshelves" after readers asked to see what she has on her own shelves; Roshani Chokshi (@­roshanichokshi), who curates Instagram stories on titles she loves called "Booooks"; and Mackenzi Lee (@themackenzilee) and Amie Kaufman (@amiekaufmanauthor), who team up to spotlight beloved books from the year in stories highlights ­labeled "Book Recs."
On their Instagram stories, Lee and Kaufman also feature titles suggested by readers that they think deserve more love. Include these on your library or classroom social media pages and bring those authors and their reading interests to your students.
Authors who make recommendations on social media may be more open to questions about what to read. Those who use their main feed and stories to do so might be worth reaching out to via direct message or on their Instagram posts and stories with reader's advisory questions. If a particular title or writer has been popular in your library, consider asking the author what they're currently reading or loving, then share that response with your students. Chances are, you'll see books that have been championed by a beloved author spike in popularity.

Do you have students itching to ask their favorite authors questions about their writing life, their books, or anything else? Many writers are open to answering on social media. Some make an open call for questions at specific times on Instagram or Twitter, while others will answer them as they arise. YA authors Adam Silvera (@adamsilvera) and Julie Murphy (@andimjulie), for example, use Instagram ­stories to field queries sent via Instagram direct messages or in ­response to comments they've received on their grid images or stories. ­Authors Emily XR Pan (@exrpan) and Marissa Meyer (­@­marissameyerauthor) do this frequently, and, as with Silvera and Murphy, those Q&As can be found saved in their story highlights for revisiting.
While students with social media accounts can reach out to these authors on their own, libraries can take advantage of these opportunities for the benefit of their entire community.
Reaching out to authors via social media can be as simple as tagging them in conversations on Twitter or in booktalks or book reviews on Twitter, Instagram, Facebook, or YouTube. Sharing book reviews by young readers can also be an opportunity to connect them with the authors of books they love, as Amanda Jones, librarian at Live Oak Middle School in Denham Springs, LA, does. Her students recommend a book each week, and she shares those recommendations on Twitter.
"[W]e do booktalks on Tuesdays, and I tag the authors. When they retweet or like a post, I print it out and hang it in the library and give the kids a copy," she said on Twitter. Jones facilitates the interaction between students and the authors.
Kim Hazel Rudden, a library media specialist at Twain ­Elementary School in Carol Stream, IL, uses Twitter to foster interactions between young readers and authors. She developed a form for students to fill out if they wished to ask questions of their favorite writers.
"I then take pictures, post them, [tag the author], and share on our social media page. When there is a response, I print it out for the students to keep," she says.
Similarly, Joell Matlack, a library media specialist at Halstead (KS) Middle School, connects her students to authors via Instagram through book reviews. The school therapy dog, Bear, plays a role in the project, too.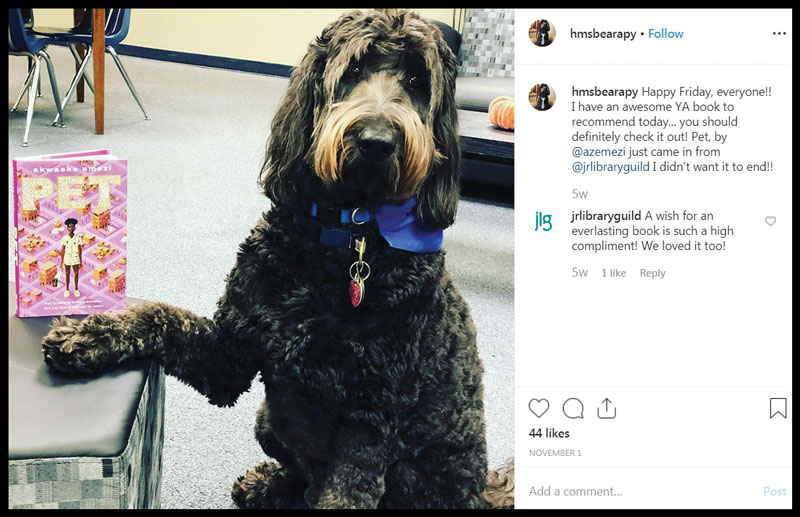 Bear, a middle school therapy dog, has an Instagram account.

Bear has his very own Instagram account (@hmsbearapy), which Matlack uses to recommend books to kids. She says students want to read books so they can have their picture taken with the dog and posted. Matlack tags authors, which garners reposts and comments. Writers who have been tagged and responded include middle grade authors Katherine Applegate, Laurie Morrison, and Erin Entrada Kelly.
Some educators have found that tagging or contacting authors via social media can impact young readers in a powerful, life-changing way. Marshall County (KY) Public Library branch manager Tammy Blackwell discovered this when one of her regular teen patrons experienced the death of both a friend and a parent in a short period of time. Blackwell wanted to do something to help bring some comfort to this book-loving patron.
"I [wrote] to a few of her favorite authors through Twitter DMs and email, gave them a brief overview of what she was dealing with, and asked if they would mind reaching out," she says. "[M]ost, if not all, responded. They were just short little tweets expressing sympathy and offering words of encouragement, but they meant the world to her."
Librarians and educators who see authors on Instagram stories soliciting questions: Take advantage! Use your own social media tools or a physical display in your library/classroom and invite readers to ask a question. Should the author answer, share the response with the student who asked, as well as with other readers. Again, use your own social media tools to do this—maybe create a Twitter Memory that collects those author interactions, develop a Facebook photo album of screen shots of those interactions, or print them out and create a bulletin board or post them on the ends of book stacks.
Social media can also fuel excitement when authors post "behind the scenes" views of what's going on in their writing lives—and anecdotes about the books their readers adore. YA authors Jenny Han (@jennyhan) and Leigh Bardugo (@lbardugo), for instance, provide news about their books and what's happening with the adaptations of their works. Han has highlights saved on Instagram that give fans a chance to view close-ups of main character Lara Jean's room from the Netflix adaptation of To All the Boys I've Loved Before, and she also offers life advice from questions submitted by fans under the "Dear Jenny" highlight. Bardugo's Instagram has saved highlights with FAQs about her works.
Ellen Stolarski, librarian at St. Marys Area (PA) Middle School, finds these behind-the-scenes to be especially fun for engaging young readers.
"If a kid is really into a book, I'll tell them what new updates are going on," she says. One example was when author Kwame Mbalia posted artwork on Twitter showing what Gum Baby, a character from his book Tristan Strong Punches a Hole in the Sky, looks like. "As my student was working, we took a few minutes and looked at it, and discussed how that was different than [what] we pictured in our head," Stolarski says.
Social media can be a tremendous tool for helping young readers become stronger writers as well. Many authors use Instagram to talk about the art and craft of writing. YA author Beth Revis (@bethrevis) regularly posts about the writing process, offering guidance as well as encouragement. YA author Robin LaFevers (@rllafevers) does this too, with easy-to-follow visuals to topics such as what the hero's journey looks like, what revision really means, and how to write a strong midpoint in a story. Use these tools with young writers in programming or simply share them with your library when engaging in writing-related lessons or just because. These peeks into writers' lives are an excellent reminder that authors struggle, too, but they've found methods that helped—and could assist other writers as they develop their skills.
Many authors like to post fan art submitted by readers, and librarians and educators can get involved in this in a couple of ways. First, consider sharing that art with students and, as Stolarski did, discuss the ways in which the representations of characters do or don't match what they imagined.
Another way to excite young readers is to post (with permission) the fan art that students have made. Put out a call in the library or on social media for readers to submit the fan art they created, then share those pieces with the respective authors via Instagram or Twitter. Again, it can be as simple as tagging them in a tweet or an Instagram grid photo or story; many authors can also get direct messages via either platform. Share any responses from the authors with the students.
---
Former teen librarian Kelly Jensen's books include Here We Are: Feminism for The Real World and (Don't) Call Me Crazy.