It might seem daunting or challenging, but with the help of a few resources, it's possible to develop rich connections between young booklovers and authors right in their own community—and schools and libraries are the key.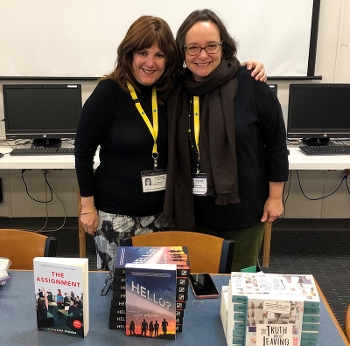 Liza Wiemer (left) and Natalie Blitt.
All photos by Amy Pine.
One of the most rewarding experiences for young readers—especially those who don't live in a major metropolitan area—is meeting an author in person. Schools and libraries have a powerful and unique opportunity to facilitate this by taking advantage of local authors. It might seem daunting or challenging, but with the help of a few resources, it's possible to develop rich connections between young booklovers and those who write books right in their own hometown.
Use Existing School—Library Connections
Amy Pine, author and Library Media Specialist at Lake Zurich High School (IL), has been involved in bringing authors to her students for a number of years. She took part in a long-running Writers Week at former employer Fremd High School, then adapted the idea for a Writers Day at her current school. Through networking and connecting with fellow librarians and teachers she's been able to find a wide range of authors local to the northwest Chicago suburbs.
"I've been really lucky to get to do a lot of networking through people I meet in both my writing life and educational life," said Pine.

Read: Celebrations of World Read-Aloud Day 2020
In search of authors who live nearby, Lisa Mulvenna, Head of Youth/YA Services at Clinton-Macomb Public Library (MI), says schools are the first place she goes. For her, tapping into local literacy and author-in-residence programs has been a boon. "Authors need to be able to make it to all of the schools in the district, and that gets too hard and costly when they live further away," she said.
Schools and libraries can help one another, too, by spreading the word about successful local author programs they've hosted. The peer-review system helps ensure strong talent and events that are worth the time—and money—to execute.
For Scott Reintgen (Ashlords, etc.), experience as a teacher has been the impetus to put the work in as an author to ensure he's offering value when he does events. "Librarians talk. And they're in a rather tight network most of the time. If you can deliver a great visit with one school, all it takes is asking that person to spread the word," he said. "And the positive word is what keeps local authors' names in the minds of schools and libraries."
Mulvenna agrees, emphasizing the importance of librarians sharing their author experiences with others in the field. "You will find out who is a good presenter and who you may want to avoid," she said.

Meet, Greet, and Develop a Database
Whether it's a paper list or a more well-developed digital tool, tracking the names of local authors in a database throughout the year is key. One of the easiest ways to do this is simply to jot down author information of those whose books pass by your desk.
"I have discovered a lot of new local authors that way," said Anna Haase Krueger, Children's Librarian at Ramsey County Library (MN), mentioning authors such as Siman Nuurali and David LaRochelle who came to Children's Book Week.
Any time she reads a book set near her Central Valley community, Faythe Arrendondo, Collection and Technical Services Manager at Tulare County Visalia (CA), researches the writer. Any author who can write about the area well, particularly when it comes to representing the diverse population, stands out.

Read: The Value of Objects and Memory
"It's important to us that we try and bring in authors who are either from the area, or from California and have written about our area, or have touched on experiences our Latinx population may have experienced," she said, naming authors like Isabel Quintero, Anna-Marie McLemore, and Tim Z. Hernandez who have been part of her library system's events. "It allows the teens to see someone who grew up in the same area as them, or who may look like them, and see that they achieved their dream of being a writer."
When Pine's library assistant finds an author bio that mentions being from the Chicago area, Pine adds the name and any website into a self-addressed email and saves it into a file for Writers Day planning.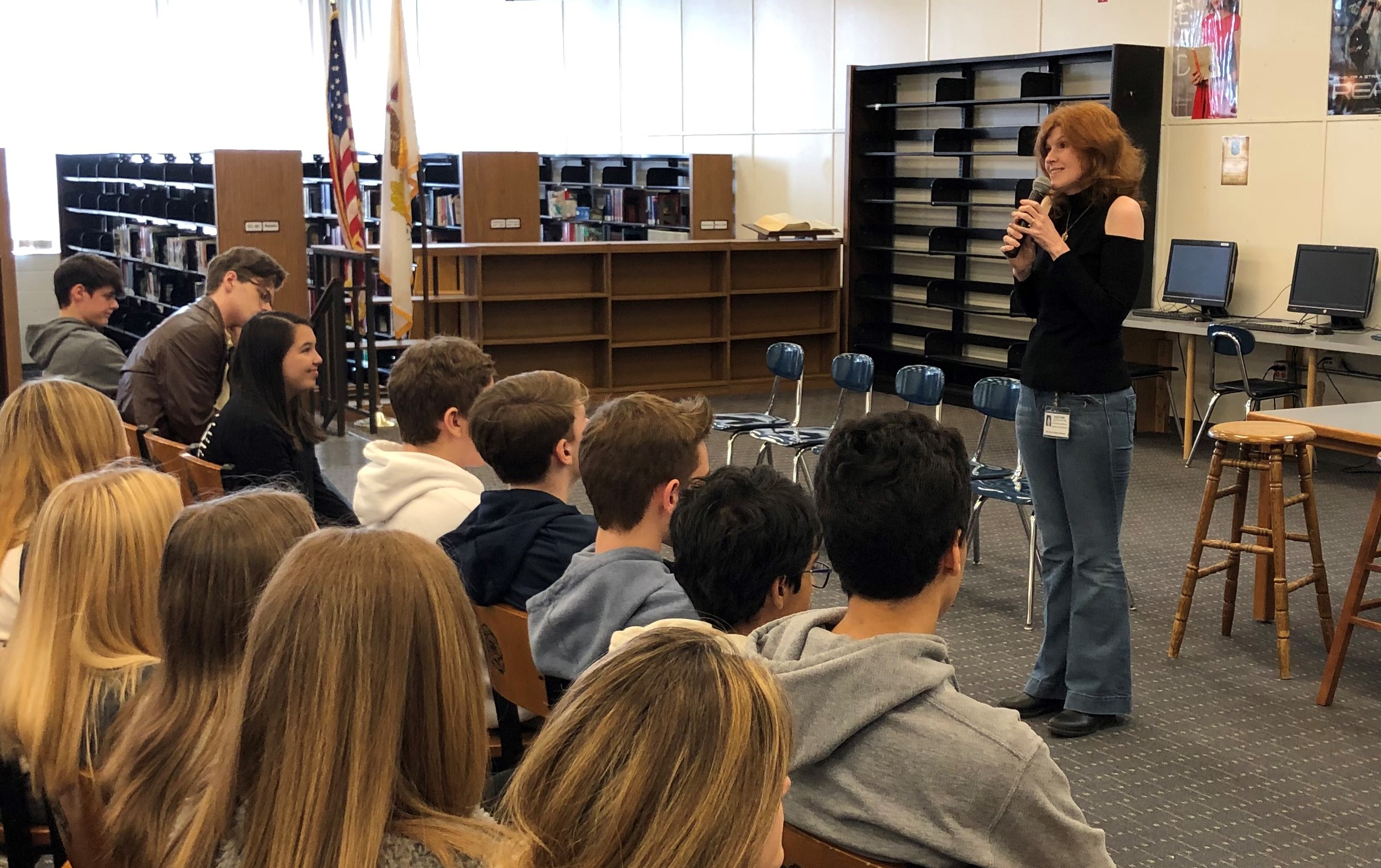 Joelle Charbonneau
Many authors who are eager to make connections in their community reach out to their schools and libraries. It can be overwhelming for educators and librarians to respond to every contact, of course, but scheduling time to read and respond to emails and phone calls will contribute to the bank of potential collaborators, especially in smaller and more rural communities.
For librarians and teachers eager to build interorganizational connections, consider a database open to contributions from one another. This could be as simple as a landing page on your website or an easy-to-edit shared spreadsheet. The tool serves not only organizations, but if made available, can be a public service for others seeking to reach out to or connect with local authors.

Conferences, Conventions, and Bookstores
Just as it is valuable to tap into community institutions that focus on literacy to find local authors, it's also worthwhile to network at professional meetings where there are authors in attendance. From local events to national conferences, these attract a pool of talent eager to make connections.
Don't feel limited by professional events, though. Fan conventions, local non-literary festivals, and events at your local bookstores can be great resources. In addition to attending those events and meeting people in person, reach out to those who coordinate and ask for contact information and/or insight into who is worth bringing into your library or school. Your local bookstore, even if it's 50 miles away, likely knows who is coming through for events and who is local to the community.

Additional Tools and Resources
Haase-Krueger emphasized the power of libraries connecting with literacy organizations and writing groups within the community—whether in person or virtual.
"Online librarian groups such as your state chapter of Storytime Underground are good places to find out who is local," she said.
Each state has a chapter of the Society of Children's Book Writers and Illustrators (SCBWI) and the national organization maintains a speakers bureau. SCBWI is an organization to which authors pay to be a part, meaning that the database is limited, but is an excellent pool of motivated speakers.
Many states and communities have their own hyperlocal databases created and maintained by booksellers, librarians, or writers who are passionate about building rapport among writers and literacy-focused institutions. Examples include KidLit603, a database of Vermont children's and young adult authors; Ypsi Writes, focused on authors local to Ypsilanti, Michigan; Wisconsin Author Review; and many more. Though no longer actively updated, YALSA also has a database of authors by state available .
Never overlook the power of a straightforward Google search, either. Pine notes doing a periodic search for local authors has helped her discover new-to-her writers, including Beth Evans, who attended her 2020 Writers Day event.

Read: Promoting Media Literacy for Vulnerable Populations
Last, ask the local authors you're already working with to recommend authors they know. Chances are, they're tapped into the community already. By fostering that relationship, both of you can expand your communities. It's worth the time and effort to reach out and forge those relationships.
"[L]ibraries are about promoting literacy," Mulvenna notes. "I see local authors as a part of that literacy. We want them to be successful and want to connect them with readers. This is at the heart of what we do as librarians."