Four administrators shared ways to connect with families, support and train teachers, and address the gaps laid bare in the pandemic.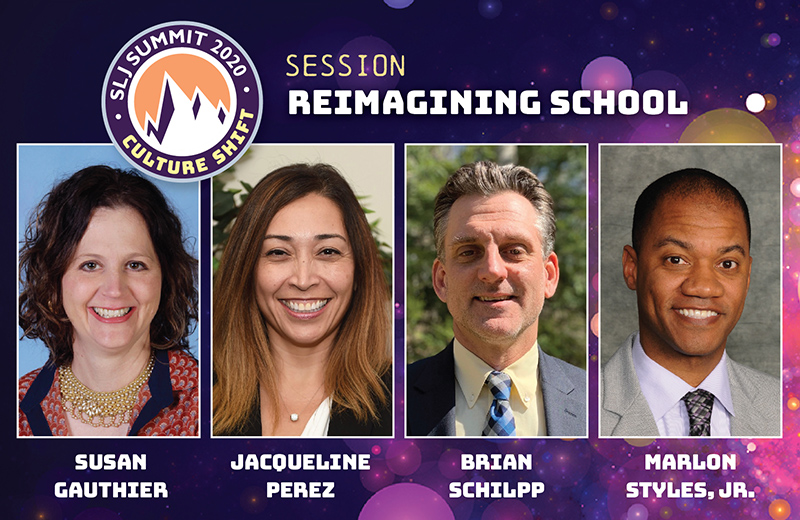 In response to significant challenges created and exacerbated by the pandemic, school leaders are using a range of strategies to address inequities and ensure that students have what they need to succeed.
At the SLJ Summit 2020 panel "Reimagining School," four school leaders shared ways they are connecting with students and families, providing support to teachers and staff, and partnering with local governments, community groups, and public libraries.
Marlon Styles, Jr., superintendent at Middletown City (OH) Schools, said that the "systemic racism, systemic inequities as well as resource inequities" in education have been staring educators in the face for years, and "we in education haven't really done anything about it." The pandemic has forced action, he said.
Styles was joined on the panel by Susan Gauthier, director of library services at East Baton Rouge Parish (LA) School District; Brian Schilpp, STEM supervisor at Garrett County (MD) Schools; and Jacqueline Perez, assistant superintendent of equity, access & community engagement at Riverside (CA) Unified School District. The panel was moderated by SLJ's news editor Kara Yorio. A recording of this, and all sessions, is available on demand to Summit registrants until January 24.
Connecting students and families
Styles said his district was "very aggressive" in the spring to make sure all students had devices and internet access. Every student took home a district-issued Chromebook that had upgraded digital platforms. And it's is not just for the duration of the crisis. The district's contract with T-Mobile, for example, is for two years.
"For us, this is about investment in our students to make sure we have excellence for all," he said. "That comes from opportunity and access to broadband as well as a reliable device."
The biggest challenge for Perez's district has been to find and support students who were not connecting and were not engaged in learning as they battled the impact of the pandemic.
"We have a lot more families who are struggling with poverty," she said. "Our families have lost jobs and lost a lot of the basics they had prior to the pandemic."
Principals and teachers in her district have reached out directly to families, gone to visit students at home, and delivered devices. Staff is working closely with families to help them learn about the technology and provide whatever support was needed. For example, as her community has a large number of Guatemalan families, the district connected with the Guatemalan consulate to help with translations and communication.
Styles encouraged all school librarians and educators to be creative in building relationships with families and engaging students.
"You can have office hours and schedule time where you talk directly with students about literacy and their interests and things they are passionate about reading about," he said. "Then come up with an exciting literacy plan and give them resources."
Schilpp's rural Maryland district has also been reaching out to families in different ways. Administrators have visited families at home, and families have been coming into school lobbies to get IT help, he said. The district also set up a website to explain to families how to use the new technologies, and it recently held a drive-in movie theater-style event in a school parking lot where families stayed in their cars and watched a presentation about how to use the school's learning management system.
"I feel like we are all in partnership together right now," Schilpp added.
Providing support for teachers
Providing ongoing support for teachers and staff has also been key this year, the panelists said.
Schilpp shared how his district used what he called an "aggressive professional development model" and ran virtual and in-person paid training over the summer to offer direct technical support to teachers. At the beginning of the school year, training centered on how to ensure that students are engaged online. Schilpp believes this kind of PD should continue after the pandemic to more immediately meet the changing needs of students.
The role of the librarians in Gauthier's district has been redefined during this school year. The librarians worked over the summer to make sure students had Chromebooks and internet access, and have been providing tech support to teachers, students, and families. Responding to past floods due to hurricanes, she had brought in many more fiction and nonfiction ebooks into her district in recent years, but when the pandemic hit and the ebook collection needed to serve the entire district, she realized it was insufficient. She has been building it since, paying particular attention to adding titles that aren't in English. The district has also used free resources from publishers that became available to educators during the spring.
"We had to rethink our reading culture," she said. "We had to get the word out to help students learn how to access the books, and how to get them to come into the virtual library." One tool her district has used is Beanstack, a site that provides reading challenges.
Perez talked about how her district has also done a big professional development push to ensure that teachers were fully trained to be in the virtual space since her district is currently all remote. The district is currently modifying some of its practices to help educators and students through "pandemic fatigue."
Connecting with local groups and public libraries
The panelists discussed ways they are assisting students who don't have adult support during the school day when they are learning remotely. Styles's district has partnered with local community leaders and connected with Boys & Girls Clubs, YMCAs, and faith-based groups to create remote learning hubs that are in different locations around the city and are staffed by community volunteers.
"We have created a learning environment that is safe and inviting for students to come to," he said. "They are free and equitably accessible for all students who need the support. If you can get your student there, our community is there to support you."
His district is also creating some evening support hubs.
"Parents are working," he said. "It's important to find an equitable solution that is free of charge where the community can rally together to create a safe space so students can come to those locations and have all the resources and adult supports they need to be able to learn successfully."
Perez noted that her district is also partnering with community organizations and also has neighborhood learning hubs which are being used to help students who are homeless and in foster care, and all students who need support during the day. Her district recently started online tutoring to help mitigate learning loss.
Gauthier's district has collaborated with local public libraries.
"We are getting digital library cards for all our students so they can access all the digital materials in our public library. That is increasing access for our students."
Public librarians have created great read-aloud videos that her district has shared with students in school, and local libraries have expanded the time when they provide Wi-Fi access so students can use it in the evening, she said.
Looking ahead, the panelists said they expect many of these solutions to continue after the pandemic is over.
"All educators are recognizing the inequities that are glaring all of us in the face," said Perez. "We have no choice but to address them. The normalization of failure is absolutely not an option."
Melanie Kletter, a freelance writer and editor in New York City, was previously a senior editor of TIME for Kids.