It was a salute to picture book art and children's literature in general at the annual award and fundraising event.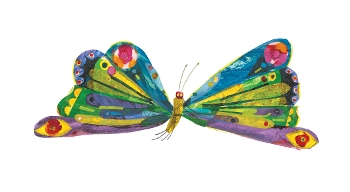 Butterfly from The Very Hungry Caterpillar by Eric Carle
Courtesy of The Eric Carle Museum of Picture Book Art
The Eric Carle Museum of Picture Book Art presented its annual Carle Honors last night at a gala in New York City. The awards celebrate the work of individuals and organizations that "enrich the world of children's books" and are given in four categories: Artist, Bridge, Mentor, and Angel. This year recipients were: Melissa Sweet (Artist); Chihiro Art Museum in Tokyo (Bridge); David Saylor, Scholastic Trade Publishing Group vice president, creative ­director, and founder of Scholastic's graphic novel imprint Graphix (Mentor); and REFORMA, The National Association to Promote Library & Information Services to Latinos and the Spanish Speaking (Angel).
"These honorees inspire us to speak in one voice as a community that believes that children everywhere should grow [up] with stories and art that speak to them, nurture them, and help them make sense of their world," the museum's executive director Alix Kennedy said to open the ceremony.
Carle, who turned 90 in June, took the stage and had the crowd laughing as he talked about convincing the United Nations to change its yearly week of meetings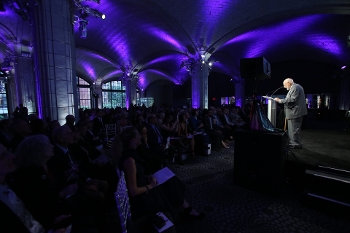 Eric Carle addresses the crowd. Photo by Johnny Wolf
to rid the area of terrible traffic on the night of the museum's annual event. The legendary illustrator told the story of the start of his career and how—as a new immigrant from Germany—he sought out Leo Lionni. Carle still remembers Lionni's phone number, which he called from a telephone booth in 1952. He also spoke of the impact of the Chihiro Art Museum, which he said was the model for his Massachusetts museum.
Takeshi Matsumoto accepted the Bridge award for the Tokyo institution and spoke about how he started it after his mother, children's book illustrator Chihiro Iwasaki, died. It began in 1977 with just her work, but he dreamed of an international collection. An art history major in college, he noted that no children's book illustrators were ever discussed in art history nor was there a museum for their work. He wanted to change that. When Carle added his art to the Chihiro collection in 1985, the dream was en route to reality. Today, the museum has two locations and 27,200 pieces by 205 artists from 34 countries and regions.
Saylor was recognized next, spotlighting the start of Graphix as he spoke about his career.
"It dawned on me that as publishers, we should be creating all types of reading experiences," he said, noting the publication of Jeff Smith's "Bone" series, which he said, "proved graphic novels for children would be enthusiastically embraced."
"Comics are for everyone," Saylor said. "Comics are books. Comics are literature. Comics are powerful and vibrant."
The Angel award is annually presented to a person or organization "whose generous resources are crucial to making picture book art exhibitions, education programs, and related projects a reality." REFORMA was recognized for its work—including the Children in Crisis program to support refugee and immigrant children, sponsorship of the Pura Belpré Award, as well as daily efforts promoting the development of library collections to include Spanish-language and Latinx-oriented materials, recruitment of bilingual and bicultural library professionals, and more.
REFORMA president Kenny Garcia accepted the award on behalf of the organization. SLJ spoke with Garcia a couple of weeks before the ceremony.
"It's an honor for REFORMA to be recognized by the Carle Museum with the Angel award; and it's a testament to the work REFORMA, the REFORMA chapters, and REFORMistas, which is what we call REFORMA members, have done," Garcia said. "REFORMA being awarded the Angel award speaks to the impact of the work throughout the years."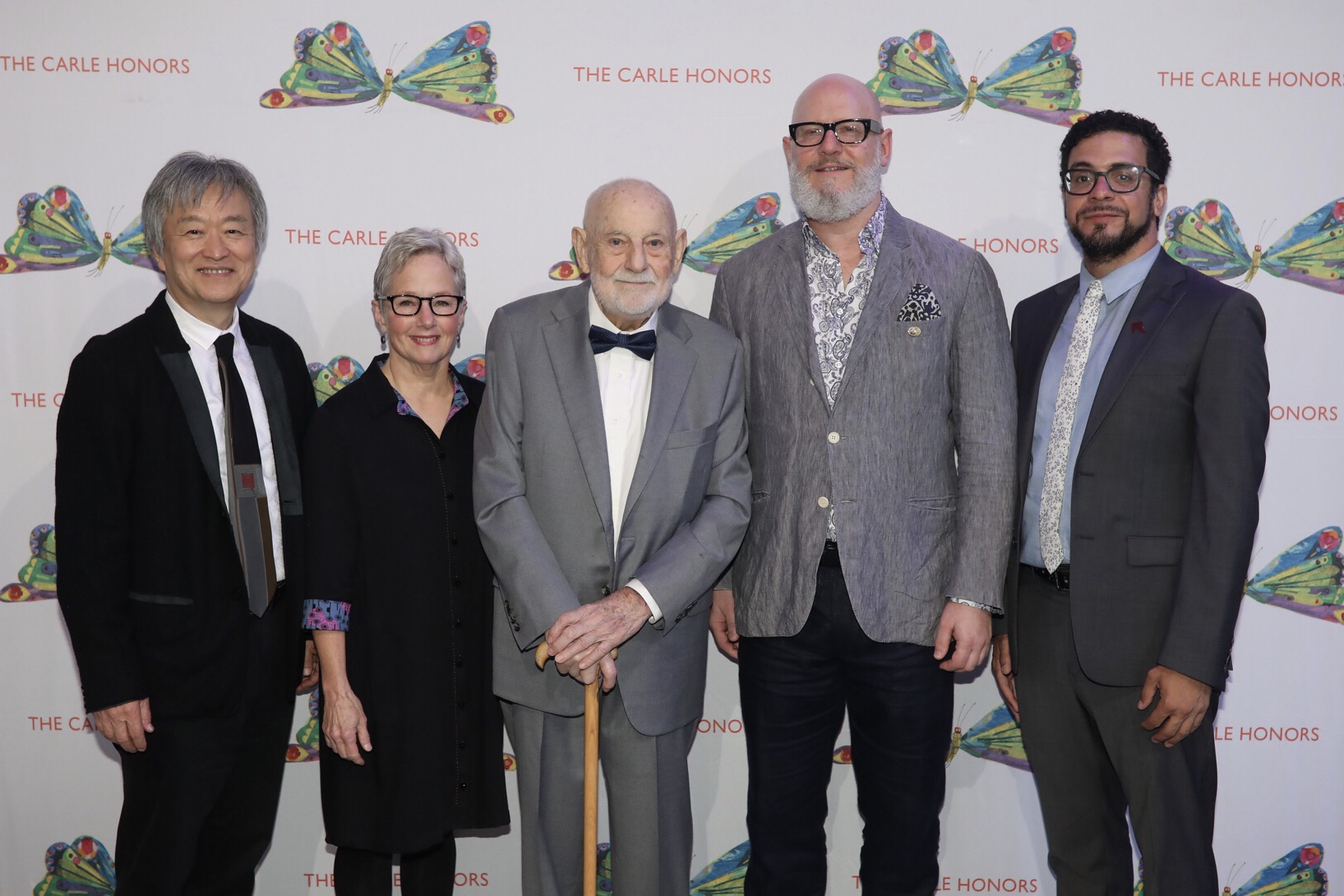 Eric Carle (center) with Takeshi Matsumoto, Melissa Sweet, David Saylor, and Kenny Garcia. Photo by Johnny Wolf
Children in Crisis, created in 2014, was meant to be a temporary program to support the influx of unaccompanied minors coming across the border. Five years later, the organization continues to help refugee children.
"We wanted to support the intellectual and emotional well-being of children, and REFORMA will continue to support the project as long as migrant children are being detained," he said. "Children in Crisis is still providing resources, still soliciting donations, and still delivering books to children."
The ceremony, which was hosted by children's book author and illustrator Grace Lin and book editor Alvina Ling, finished with the presentation of the Artist Honor to Sweet.
"Exuberance radiates from her illustrations, the details intricate and the colors luminous," Lin said in her introduction of Sweet. "While adults appreciate the sophisticated integration of color and collage, there's a definite, refreshing, intentional message for children. Her work says to children, Here's joy, here's beauty, I will give it to you with all of my heart."
When Sweet came to the stage, she shared her immediate reaction to learning she was going to be honored by the museum, saying to herself, "Wait a second, this is a lifetime award? But I'm just getting started."
The Carle Museum is a place made for kids like her, who love to create, she said. And she spoke about the life of an artist—taking their own quirky obsessions and creating something meaningful from them—and the reward of that process alone.
"We can measure success in what we've done or what we have," Sweet said. "But the ultimate privilege is going to the studio each day."
The evening, which included an art auction from pieces donated by children's book illustrators, raised more than $350,000 for the museum and its programming.