In this edition of News Bites, Caldecott winners find a way to properly pass the torch from one honoree to another, Nic Stone speaks out and a community rallies when Dear Martin is taken off a school reading list, and climate activist Greta Thunberg inspires a new picture book.
In this edition of News Bites, Caldecott winners find a way to properly pass the torch from one honoree to another, Nic Stone speaks out, and a community rallies, when Dear Martin is taken off a school reading list, and climate activist Greta Thunberg inspires a new picture book.
---
Caldecott Winners Start New Tradition
Wouldn't it be amazing if there was a sketchbook that got passed along from one Caldecott Medal winner to the next, with each artist drawing on one page and giving it to the next winner?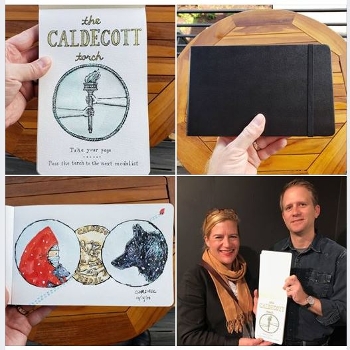 Matthew Cordell posted this collage of images
on his Facebook page.
Matthew Cordell and Sophie Blackall thought so. The 2018 and 2019 Caldecott winners for Wolf in Snow and Hello Lighthouse, respectively, started a new tradition to do just that. Cordell shared the news on his Facebook page:
"A new Caldecott tradition was started right here at the Virginia Children's Book Festival," he wrote. "Over the summer, when Sophie Blackall was picking up her medal for Hello Lighthouse at ALA Annual, I mentioned to her how it was rather sad that there wasn't any sort of passing-of-the-torch moment from one medalist to the next. Sophie then had the great idea of starting a sketchbook that would serve that very purpose! I knew I'd be seeing her at this festival, so I brought along a modest-sized watercolor sketchbook. (With a new Caldecott medal comes a new year of lots of Caldecott-related work and deadlines, so... not too big!) On my flight over and in the hotel, I whipped up a cover page plus my contribution. This is a 36 page book. So, provided this sticks, it should last the next 30 years or so. Then another book will need to be created. I love the idea of a literal "turning of the page" from one medalist to the next. And I love the idea of a book of drawings that belongs to no one. Can't wait to see what Sophie does with the next page. Can't wait to see who the torch will be passed to next. Here's to new traditions!"
---
Stone, Local Bookstore Act When GA Superintendent Rejects 'Dear Martin'
Nic Stone's Dear Martin was one of three books removed from the supplemental reading list at high schools in Georgia. The Columbia County Schools superintendent said she would not allow Dear Martin, along with The Curious Incident of the Dog in the Night-Time by Mark Haddon, and Regeneration by Pat Barker—all recommended by teachers—on the list.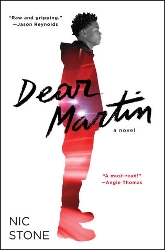 While the decision only impacts classroom reading, it may have a ripple effect into libraries and media centers. The district currently does not have a policy to review books in the schools' media centers, superintendent Sandra Carraway told the Augusta Chronicle, adding that she will look into creating one.
"We absolutely recognize we should, because books like Dear Martin and the content in that book—it's not a book that we would want sitting on a shelf," she said. "We're a public school district charged with educating children, and we have a certain level of responsibility for ensuring that the material that they have access to that's provided by us is appropriate."
Stone spoke with the local ABC TV affiliate about the situation. In the interview, she said that is was upsetting that those who cannot afford her book, and don't have the tools to access it, have now lost the opportunity to discuss the issues it raises in the classroom. She also wants to speak to the students in person.
"I'm going to go down to Columbia County [and] have a public event where I give a talk, where I talk about the book, where I talk about censorship, where I talk about the world as it is, where I talk about racism," Stone said. "and kids can come hear me speak. They can come meet me. I will sign their books that they are going to get for free."
Soon after, a public project started to get the book into students' hands for free. An Augusta bookstore, The Book Tavern, created a link for the public to buy copies of the book and the store would facilitate distribution to students.
"At The Book Tavern we believe that every banned book enlightens the world (to paraphrase Ralph Waldo Emerson)," the store's Facebook page stated. "Despite its blacklisting by the Columbia County School District-Evans, Georgia, you can purchase a copy of Nic Stone's Dear Martin to be distributed to high school students in Richmond and Columbia counties via a network of friends, librarians, teachers, booksellers and others. Order here: booktavern.com/product/dear-martin."
The post then went on to explain what happened and finished, "This decision leaves citizens wondering why a book focusing on race relations and police violence would be targeted, especially during a time when those issues are at the forefront of American consciousness. If you believe discussion of these issues should be encouraged, not silenced, please consider donating Dear Martin to a local reader."
Stone promoted the initiative on Twitter.
"Who wants to buy #DearMartin for a kid whose clutches it was snatched from in Columbia County Georgia," she tweeted. "All of you? Fabulous. Here's the link to do just that."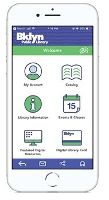 New York Public Library (NYPL) is getting a customized library app for patrons. It is working with Capira Technologies, LLC., a custom mobile app provider for public and academic libraries worldwide, including Brooklyn Public Library (BPL). The BPL app allows patrons to check out books using their phones and self-checkout system, manage a family's accounts from one app/one device, browse the catalog, find branch locations and hours, renew holds and pay fines. and more.
---
Greta Thunberg Inspires Children's Book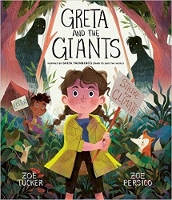 Climate activist Greta Thunberg has written a book and had books written about her. Now she has inspired an allegorical children's title based on her life and cause. Frances Lincoln Children's Books, an imprint of The Quarto Group, will publish Greta and the Giants on November 19th. The picture book by Zoë Tucker, with illustrations by Zoe Persisco, tells the story of a young girl named Greta who lives in a forest being threated by giants, who are chopping down the trees. She must do something to save her home.
The back of the book includes information about Thunberg, how readers can help her in her fight, and notes for teachers and parents.
"The book will be printed as locally as possible for various markets and on 100% recycled paper," the publisher said in its announcement of the release. It also promised that each sale will donate three percent of the cover price to the charity 350.org.