The Florida librarian is excited about new technology that facilitates more communication with her students.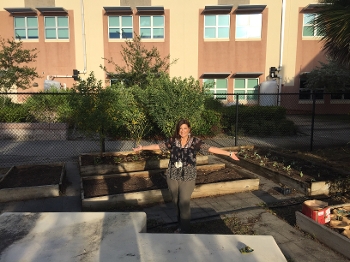 Nominations for 2020 School Librarian of the Year are due by Dec. 2. As we look forward to reading about the amazing things librarians are doing in school around the country, we are checking in with past honorees.
Sally Smollar, school librarian at Plumosa School of the Arts in Delray Beach, FL, was a 2015 School Librarian of the Year finalist. SLJ emailed Smollar to see what was new with her and in her library.
How has your job changed/evolved in the years since being a finalist?
It's changed with the addition of new technology tools for my library and students. Specifically, we now have Google Suite for Education and Chromebooks for all of my students as well as a SmartBoard for the classroom. This enables two-way communication with them at school and from home and is truly motivating for them. I can create and post a research project from my phone on the fly, and send it to all of my classes instantly.
What are you most excited about doing with your students this year?
Most exciting is creating and sharing projects with students, which we view on the "big screen" SmartBoard. I'm thrilled to see them become proficient users of technology and to discover, when I open my email at night, that they went home and worked on their projects.
This is especially rewarding for me because, as our Green Schools and School Garden coordinator, my students often research topics that relate to health and nutrition, so I love seeing assignments completed outside the classroom. For example, we researched World Food Day and learned ways to improve our health through our diet.
What are your biggest challenges right now?
There are far too many occasions where the library is closed for mandatory testing, which impacts student access tremendously.
What impact did being a School Librarian of the Year finalist have on you?
That one is easy—the connections!! I have met so many other professionals, both online and face-to-face, since being selected as a finalist and connected with them at various conferences, including at ALA.