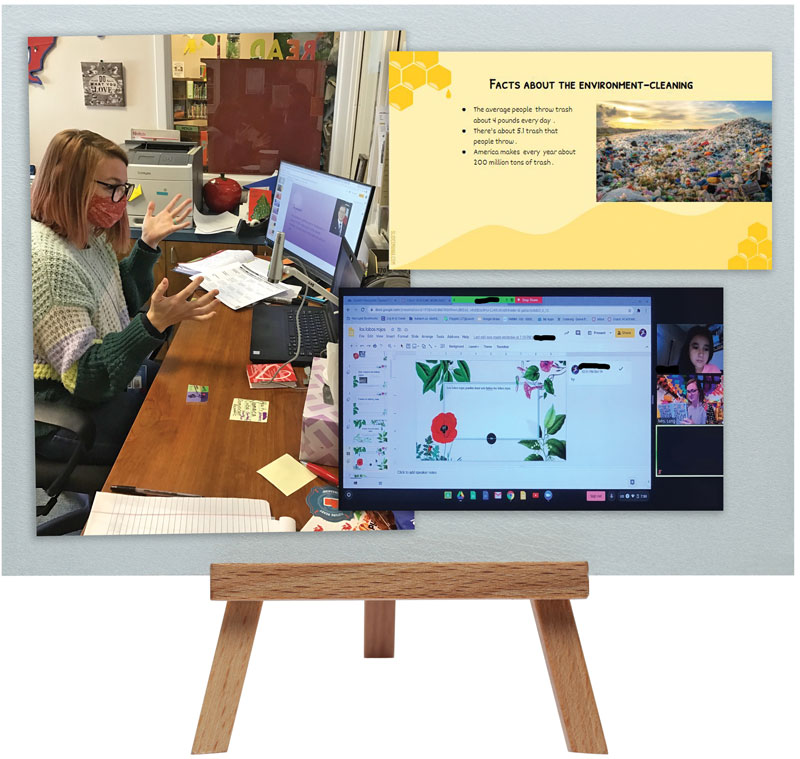 Jaclyn Long, librarian at Britain Elementary School, and PBL materials she uses during remote learning.
Courtesy of Jaclyn Long, Britain Elementary School (TX)

Last spring, the staff at Brambleton Middle School (BMS) in Ashburn, VA, faced a dilemma. When school suddenly went remote, staff were directed to stop teaching new material and instead focus on review.
At a school with a deep history of project-based learning (PBL), this missive didn't sit well with the school's teachers and librarians. With no ready-made remote learning lessons available, the English teachers and librarians hatched a new plan that not only met the school's mandate, but also satisfied their PBL goals.
Loudoun County Public Schools, where Brambleton is located, and other districts aim for deeper learning through PBL by giving students choice over what and how they study. Often focusing on addressing real-world problems, students are able to answer or research key questions, either solo or as part of group work. They then reflect on their work, critique their own work and the achievements of peers, and share their findings with classmates.
These skills, which have always been valued, can be especially effective now that so many students are working asynchronously, experts say. Through PBL, students often feel a deeper investment in the topic, and working across traditional subject areas can deepen their engagement.
At BMS, "We decided to take different themes [that they had already learned] and have the students create online lessons that their teachers could use in the fall," says Melissa Larson, one of the school's two teacher librarians. Larson and fellow teaching librarian Angela Couse provided resources to help students create their projects, such as lessons on word roots, affixes, and commonly confused terms. Students were able to review what they learned by creating new materials, and teachers ended up with student-approved lessons that they could use in the new school year.
When done right, PBL lessons engage learners, drive home key learning principles in meaningful ways, and help students learn how to work collaboratively while managing their time. There are plenty of ways to push PBL into remote learning, and in some cases, setting up engrossing projects with teachers is easier than ever, practitioners say.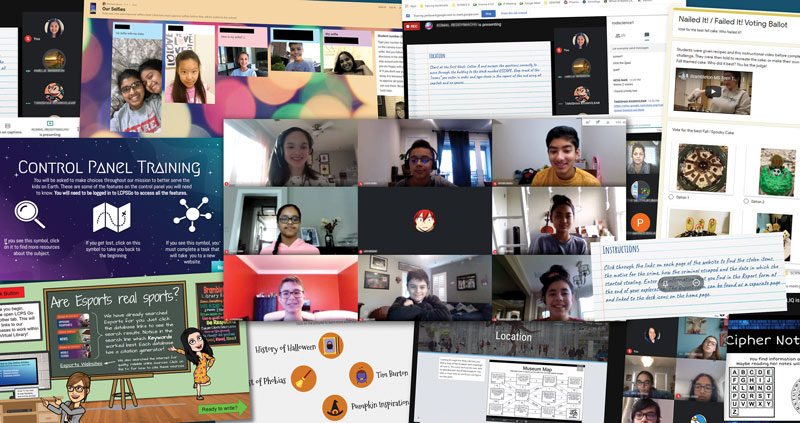 Brambleton Middle School students with PBL lessons developed by librarians Angela Couse and Melissa Larson.
Courtesy of Angela Couse and Melissa Larson, Loudoun County Public Schools (VA)
Online collaboration
Loudoun County Public Schools has a split block period scheduling during its remote days. That means the first half of each period is used by subject teachers, and the second half is open for collaboration, allowing both Larson and Couse to join classroom Zooms and consult with teachers and students to enhance lessons. "In the spring, it almost made it easier for Angela and I to collaborate with teachers," Larson says. "We had time to go through all their team meetings and we could pop in uninvited." Plus, with so much on their plate, teachers are more willing than ever to collaborate, she says.
The same dynamic played out across the district at Harmony Middle School in Hamilton, VA, a designated PBL Design School. "Before, we kind of had to wait for teachers to ask unless we had a relationship," says teacher librarian Susan Fiatte-McGilvray. Now, with online meetings easy to schedule, she finds herself coordinating with teachers who never sought her out in the past, such as math and art teachers. "They were desperate" to create a project, she adds.
While Harmony aims to deliver all learning through PBL, that doesn't mean that students are constantly doing projects. New content starts with students focusing on a complex question, researching the question, and then seeking to solve the problem through authentic experiences.
The library used Symbaloo, a cloud-based app that allows users to organize web links, to highlight more than a dozen Black artists for Black history art projects. With Symbaloo,
Fiatte-McGilvray also found graphs and simulations that math teachers could use in their transformation lessons. "Now we're a proven commodity," she says.
For schools like Loudoun County that have not returned to in-person learning since the spring, or others that are switching to remote learning with virus infection rates rising, setting up projects can help motivate students in the "long slog through the land of Zoom," says Suzie Boss, an educational consultant who is a member of the PBLWorks national faculty.
Librarians should be an important part of creating projects for several reasons, Boss adds. First, they have great awareness of what materials exist that can be folded into a project or offered to students to do their own research. Second, they typically know what's happening around the school, so they may be able to suggest ways to link, for instance, an English project with a history class.
Higher remote engagement
Boss points out that PBL is needed more than ever in these coronavirus times, as politicians and public health officials are highlighting daily the importance of critical thinking and collaboration skills to confront the pandemic. "The whole pandemic has shown us the urgency," she adds.
But she admits that many schools were initially too shell-shocked to institute these projects in the spring. At Harmony, Fiatte-McGilvray says, "We were all in survival mode." The rural school faced technology, bandwidth, and internet problems, she adds, making PBL impractical. But over the summer, she and teachers regrouped and found a way to bring an annual project online.
In eighth grade, students had always written fiction as part of national novel-writing month. Part of this project included a weeklong rotation through various stations in the library to learn how to improve and market their novels. Fiatte-McGilvray set up separate Google meet rooms, each supervised by a teacher, and students rotated through on their own schedule, choosing from sessions such as Great Openings to Your Story to Upgrading Word Choice to Making Your Dialogue Sound Like Real People. "It was absolutely exhausting, but fun," she says.
Meghan Sutton, who teaches grades 4-6 at Virginia's North Springfield Elementary School, had been using PBL extensively for three years when the pandemic hit. Sutton was originally out on maternity leave in March, but she returned to conduct mostly asynchronous instruction and only met with students for live instruction 45 minutes a day.
"It took about four to five weeks to get students comfortable with group work in a Zoom setting," she says. The long process included coaxing students to turn on their microphones and cameras to enhance connection with their peers.
Since she incorporated PBL into her classes, Sutton says participation has increased 85 percent. For a lesson about oceans, she had students create websites with ocean facts, aiming to persuade their audience to help protect the health of seas.
Jaclyn Long, a librarian at Britain Elementary School in Irving, TX, found that scaling back student choice helped ease the transfer as she moved an annual project to remote learning.
Students in her classes used to "run wild" through her library's database as they decided what topic to cover for Hispanic Heritage Month, she says. Without the ability to nudge wayward students back on track, Long found it better to have them each choose a person to write about, rather than writing about regions, music, or other topics. "It's more guided," she says, as she typically points students to the exact database they should use for research.
"Parents are overwhelmed" with remote learning, Long adds, including herself. "It made me realize that parents without my background have to be struggling, so my expectations have to be different. I changed my idea away from the product [they are making] to what they are learning."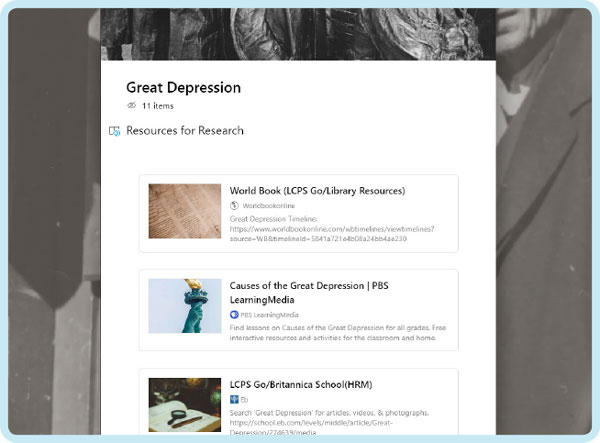 A Wakelet lesson on the Great Depression developed by Susan Fiatte-McGilvray, teacher librarian at Harmony Middle School.
Courtesy of Susan Fiatte-McGilvray, Harmony Middle School (VA)
Adapting to virtual classrooms
One way that Larson and Couse have been able to keep student choice, a key component of PBL, in their lessons, is to create pathfinder documents for students to follow. These documents allow students to "choose their own adventure," Larson says, while still hitting the key points of teaching students research, guiding them to make some sort of presentation, and even helping them learn how to properly cite sources.
"We like to find a different way to do the stuff we've always done," Larson says.
Fiatte-McGilvray also advised other teachers that not every PBL lesson has to be a big, time-consuming project. "We talk about [lessons] as experiences," she says. Teachers aim to get students quickly to the driving question and help them direct their own learning. "We're really giving students voice and choice."
She, too, has completed projects with a wide variety of teachers, not just the more typical English/history subjects. Her portfolio page shows projects with physical education and math teachers. For instance, her phys ed lesson uses web-based tool Wakelet to allow students to investigate common athletic injuries and how to avoid them.
While she remains cautious of overwhelming teachers, especially during the pandemic, she has created an infographic of past projects that can help teachers learn not only how she can help, but give them a wide range of projects that they could adopt for their classes.
"We've had these resources available forever, but this feels like the first time teachers really needed them," says Erica White, a librarian at de Zavala Middle School in Irving. "Last year, I spent a lot of time co-teaching in classrooms, but this year, because teachers are so overwhelmed, I've taken on a role creating resources for them to use digitally."
---
Wayne D'Orio is a freelance journalist covering education.