A school librarian in Virginia and district supervisor in New Jersey are among the educators, students, and makers using their expertise to make personal protective equipment during the novel coronavirus pandemic.
Nine 3-D printers run day and night in the basement of Nathan Sekinger's Virginia home. Nearly 300 miles away, nine 3-D printers do the same in the basement of Rolando Monserrat. These educators are part of a sort of civilian brigade that has formed across the United States to provide needed supplies during the novel coronavirus pandemic.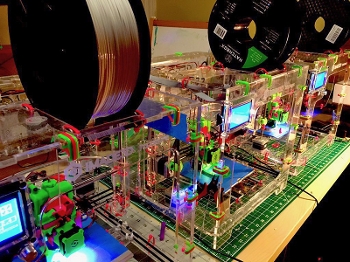 Printers in Sekinger's basement.
Sekinger, librarian at T. Benton Gayle Middle School in Fredericksburg, VA, and Monserrat, the Teaneck (NJ) School District supervisor of technology, engineering, and science, are producing personal protection equipment (PPE) for medical professionals and frontline workers. Around the country, educators, students, and public librarians are helping: High school robotics teams in Texas and Washington, and students in Washington, DC, Mamoroneck, NY, and Cambridge, MA, are among those combining their cooped-up quarantine energy and a desire to help with 3-D printer expertise.
Sekinger makes face shields, masks, and what his wife has named "ear gears," devices to alleviate tension and allow medical workers to wear the masks in different ways and prevent pain or cuts on their ears, for those working at the local hospital and long-term care facilities.
"We're excited to help, but it's also alarming or sad to see in our community that there is such a need," says Sekinger.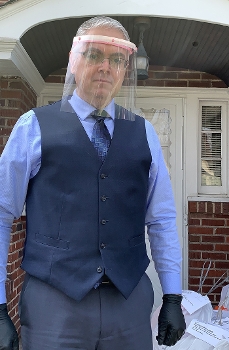 Rolando Monserrat wearing one
of his face shields outside his home.
In New Jersey, Monserrat makes face shields by printing the frame that goes around the head on the 3-D printer and attaching unused transparency sheets left behind at the high school from the days of overhead projectors. While medical personnel wear masks underneath, these shields supply an extra level of protection from fluids and for the rest of the face. Monserrat's town of Teaneck was an early COVID-19 hotspot, and its hospital, Holy Name Medical Center, was quickly overrun with patients and in need of PPE. Monserrat and members of the school district and town came together to help.
"We're able to fulfill a need, an immediate need in our community, and to be able to play a role in that is really fulfilling," he says.
Monserrat and Sekinger are both married to fellow educators who have taken on these projects with them, rearranging furniture, filling the basement with printers and filament, living with the constant white noise of the printers, and adding PPE production and delivery to the overwhelming new schedules of remote learning.
Sekinger has distributed about 500 pieces combined of shields, masks, and ear gear. Since a local news story covered his PPE work, he has had many more requests, including one for 900 masks for use at long-term care facilities. He has teamed up with a local public library, Central Rappahannock Regional Library, and librarians from the neighboring county school system, Spotsylvania Public Schools, "to expand our impact in making PPEs for our community."
While Sekinger notes that everyone is working in their own individual worlds, there is a collective feeling to the project that is bringing everyone together toward a common goal. He knows of one student sewing masks with her mother, and current and former students who frequented his school makerspace are checking in via email about what he's working on, while sharing what they are doing. On a larger scale, both he and Monserrat are printing the face shields off the open-source design offered by the printers' manufacturer, Prusa. The design for the ear gear Sekinger prints was created by a 12-year-old in British Columbia, he says.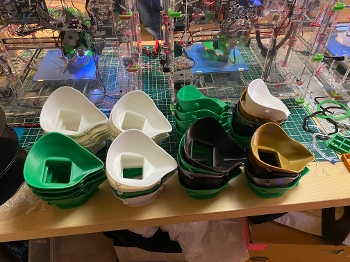 Sekinger's masks in production.
"The maker community has really been such an inspiration," says Sekinger. "I've always subscribed to that open-source mentality. One of the reasons I became a librarian is I felt like that ethos was deeply rooted in librarian culture—we share things; we don't charge for things. There have been lots of organizations internationally that have created something, tested it, shared it, and encouraged people to use it. We're not paying for any of this. I haven't designed any of these files. We're all just contributed to this collective knowledge base."
Monserrat has donated more than 1,000 shields to Holy Name Hospital Medical Center, family and friends who are healthcare workers, and a former student who is a physical therapist. He says it could only be done with a group effort.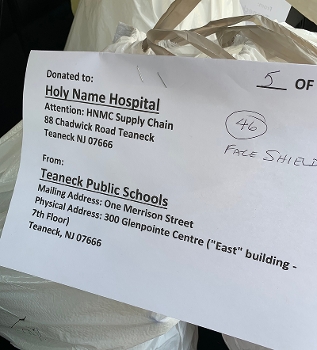 Monserrat's bags for delivery in front of his house.
"All of us working together really have made a difference," says Monserrat, gratefully crediting everyone who has helped—the principals who allowed him to take their printers home, the PTO that supplied filament, a 10th grade student and his family who helped assemble, the Board of Education member who connected Monserrat to the hospital, and his family, who tolerate the near-constant hum of the printers and have become part of the process.
In addition, Monserrat says one of the greatest things to come from this is the ability for students to see that they can play a major role in helping their community right now, and that what they are learning in school has real-world applications.
"There's nothing more powerful than having relevance to what your curriculum teaches in the lives of the students and, more importantly, in the lives of the community you live in," he says. "When they see what they're learning in the classroom can be applied in real-time to impact their community positively, there's nothing like that. That's really gold."
Meanwhile, Sekinger and Monserrat have their full-time jobs and families as well. Sekinger is part of a middle school librarian group in his county. He says they are all individually supporting teachers and staff. He has been part of technology distribution. In addition, the librarians group has created a webpage with daily content, virtual book clubs, and more. He has mostly been putting together maker videos for the site.
With more PPE requests coming in amid the ongoing pandemic crisis, Sekinger has had only a few moments to reflect on what's going on and how he feels.
"I'm certainly proud," he says. "I'm proud of my wife. I'm proud of my family. I'm proud of our community for being able to respond.…That's what's great in this moment in time—seeing all different individuals and groups who are trying to reach out and create something positive from this moment. That's how we're going to get through it."