Chills and thrills for young listeners.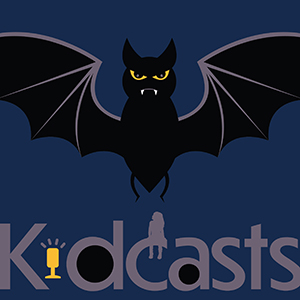 Horror fans of "Goosebumps" by R.L. Stine, The Last Kids on Earth by Max Brallier, or Scary Stories to Tell in the Dark by Alvin Schwartz: Look no further for more bone-chilling tales. This playlist of scary stories, from very friendly to spectacularly spooky, will appeal to a range of tween and teen patrons.
What makes a satisfying scary story, and why are podcasts an ideal format? Podcasts let imaginations run wild, with intense music and stirring sound effects ratcheting up the fright factor. You can listen while walking through a cemetery or somewhere grim and ghastly and be completely immersed.
Audio is also a superb medium to learn how to tell a scary story by tuning into narrators' inflections, pauses, and distinct character voices. Listening digitally allows you to stop and start the story until you have it down. Once you've rehearsed, why not share one of these tales in your own backyard or at a park under the stars? It's is a stellar way to practice performance skills, whether the tale is about a haunted house, sea monsters, dark fairytales, or other creepy things featured on our playlist.
Access the Scary Stories Playlist here.
Girl Tales "The Princess and the Musicians of Maple Street"
Ages 8-12—Girl Tales's executive producer/host Rebecca Cunningham and her diverse team create episodes that are a twist on feminist fairy tales for a new generation. In this particular tale blazer, protagonists Kitty, Birdie, and Turtle are preparing for the battle of the bands and need a rehearsal space. They start practicing in an abandoned mansion, but soon realize that the space is haunted. Things get slightly spooky when Cunningham challenges listeners to make their own spooky voice; otherwise, it's a gentle tale. One kid interviewer, Abby, takes the reins and interviews story author Amy Gijsbers van Wijk about the gratifying tale.
Grimm, Grimmer, Grimmest "The Glass Coffin"
Ages 8-12—Adam Gidwitz is best known for "The Tale of Dark and Grimm" series and his Newbery Honor book The Inquisitor's Tale. Gidwitz also narrates this eerie fairytale podcast series, based on "Dark and Grimm"; his master storytelling style translates well to this realm. This episode is a spinoff of a Rumpelstiltskin-like fairytale. The genius of this podcast is that it also includes audio clips of Gidwitz interacting with classroom kids listening to Gidwitz tell the stories, and Gidwitz asks for their thoughts as the tale moves forward. The podcast isn't too scary overall, though on the scale of Grimm, Grimmer, and Grimmest, this particular episode is Grimmest. At one point, Gidwitz suggests listeners "turn down the volume and count to five" if they need a break, a good strategy for grade-school listeners. Perfect for fans of adventurous storytelling with a dark twist.
Unspookable "Episode 24: Kraken"
Ages 8 Up—Unspookable stories center on creepy monsters and mysterious objects, favorite reading topics for kids, and the lore surrounding them in pop culture and global cultural history. Some of the best parts of the episodes are when kids share their thoughts, making it particularly appealing to young listeners. This episode is about the Kraken sea monster, frequently compared to a giant squid, and sometimes thought to be as big as a ship or an island. It explores references from Norwegian history from fishermen and sailors, the novel 20,000 Leagues Under the Sea, superhero comics, and more. While discussing what the Kraken might look like, and what is known and unknown about it… since there's much to be explored still when it comes to the Earth's seas.
The Creeping Hour "Meet the Creeps"
Ages 10-14—Apparently, listening to too many creepy stories can turn you into a creep—at least according to NPR's fiction podcast The Creeping Hour, from WGBH and director Elie Lichtschein. It's a well-written scripted audio drama with an anthology of episodes. In this first one, listeners hear about a slew of kids whose only thing in common is that they like to tell scary stories. That's how they turned into monsters. The sound effects and music are modern and attention-grabbing, and the voice-acting polished. Recommended for older grade schoolers and middle schoolers; the stories can be a bit spine-tingling with perplexing conclusions.

READ: 13 Middle Grade Thrills and Chills for Tween Horror Buffs | Summer Reading 2020
Book Power for Kids "The Whispering Skull"
Ages 11 Up—This podcast squad knows how to pick books with real kid appeal. Why? Because many of them are children. Book Power for Kids stars family members Chaska, Leilani, and Mirabel Power, with their dad, Brennen. The character voices in their book reviews add high-spirited merriment for listeners. In this episode, the squad picked the book The Whispering Skull by Jonathan Stroud, the second title in the "Lockwood and Co." series, about ghost hunters in London. The family reviews the book, with the kids providing a summary and offering analysis, and then reads from it together. It's a brilliant example of book reviews in podcast format and a good place to find a mix of recommended reads.
Snap Judgment Presents: Spooked "Sharp Tooth Boy "
Ages 13 Up—Snap Judgment podcast host Glynn Washington serves up another successful podcast that "features true-life supernatural stories, told firsthand by people who can barely believe it happened themselves." Washington sets the mood for each story in intriguing ways; These intimate tales brim with interesting personal details that make them feel very close to home. In this episode about a ghost boy with long, bloody teeth, the suspenseful storytelling and unexpected twists keeps you wondering what's going to happen next. Fortunately, it ends on an upbeat note after much it turns your stomach into knots. The devil presents in the episode at minute 25:00 until minute 26:00.

READ: Friendly Haints and Macabre Adventures | 36 Titles for Middle and High School Readers
Lore "Episode 143: Inside Information"
Ages 14 Up—The award-winning Lore has been around for many years and has won plenty of recognition from the media. This episode about "true-life scary stories" focuses on ghost stories from folklore and the inspiration behind literary characters such as Charles Dickens's Ebenezer Scrooge and Homer's Odysseus. Aaron Mahnke, host of the well-researched nonfiction podcast, knows how to select fascinating stories. Excellent listening for fans of history, especially those drawn to evergreen ominous tales. Lore has its own Amazon Prime series.
Mabel "Episode One: The Letters"
Ages 16 Up—If you're looking for a unique, eclectic take on how to tell scary stories, this is it! In the introductory episode and those that follow, it's a one-way conversation between a healthcare worker leaving messages on the voicemail of her client's estranged granddaughter. Tension builds as the worker divulges more and more about her situation and why she is not sure where to turn. With acting and writing by duo Becca De La Rosa and Mabel Martin, there are 40 episodes, so there's plenty to entertain. Note: Later episodes include language some may find objectionable and mention some violence.
To link or embed this playlist to share with your students, click here: Kidcasts: Scary Stories.
To add additional episodes, request to be a contributor to the link to the playlist.
Youth technology integration consultant Anne Bensfield helps libraries and schools implement new models for innovation.