Food—growing, preparing, sharing, and eating it—can create a sense of community, promote cultural understanding, and teach literacy. It can be an easy and accessible entry point to learning.
"Food provides a really universal context," says Liz Fitzgerald, director of the Culinary Literacy Center at the Free Library of Philadelphia.
The Parkway Central branch, located downtown, is home to rare collections, research publications, and a grand marble staircase. The building, which opened in 1927, is as much a city landmark and architectural marvel as it is a learning center. It is also where kindergartners create a meal from scratch and middle schoolers shell garbanzo beans destined to become part of a burrito as part of the Nourishing Literacy program.
And English language learners laugh and attempt conversation amid the clinking of silverware during the library's Edible Alphabet program, where participants learn to speak, read, and write in English while cooking and sharing a meal together.
The Culinary Literacy Center, which runs these programs and more, is a kitchen classroom that puts food at the center of the education—children and adults learn to cook and learn through cooking. This is not a library simply providing snacks or meals to hungry patrons.
"Libraries are spaces for lifelong learning in nontraditional learning spaces, and I think that's what the kitchen is, too," says Fitzgerald. "It just provides another vehicle for learning. Everyone eats and everyone has this universal experience of food and identity around food.
"Kitchens are the heart of your home much in the same way libraries are the heart of the communities that they serve."
Since opening in 2014, the center has served about 30,000 people and partnered with schools to run approximately 100 classes for Philadelphia students each year. While this was the first such space of its kind in a U.S. library, Fitzgerald notes they are not the first library to develop and run food literacy programs.
Over time, these programs became about more than just teaching healthy eating and reading.
"When we talk about literacy, we're talking about literacy in terms of how it's classically defined: learning how to read and having the skills to be able to read. But we also think about literacy in a more holistic sense of science literacy, historical literacy, technology, math," says Fitzgerald. "So there are all of these other literacies that have a place in our center and that we get to through food."
Making pasta at the Free Library of Philadelphia's Culinary Literacy Center.
Photo courtesy of the Free Library of Philadelphia

A national problem, a natural solution
In the United States, food lies at the heart of significant public health concerns. One in five citizens live in food insecure households, while more than 13 million children go to school hungry. Meanwhile, according to the U.S. Centers for Disease Control, obesity affects more than 90 million adults and is prevalent among nearly 19 percent of American children.
Studies indicate that improving food literacy by providing education about food, nutrition, healthy eating, and cooking can help combat these challenges. Libraries and schools are implementing programs to empower communities to make informed food choices.
Food literacy is defined in many ways. For a majority of people, it means knowing what we are eating and where it came from, and an understanding of how our food choices impact health, community, and environment. But as Fitzgerald noted, the idea includes using food and cooking as a tool for learning math, science, reading, and writing. Books that use food as a central part of their theme are also part of many food literacy programs.
"We are very intentional about being a kitchen classroom in the library," she says. "That means pulling resources from our collections, connecting to electronic resources, partnering with other departments in Parkway Central Library. It means making sure we're connected to all of the resources."
The library is a natural place to take on these programs.
"Illiteracy and lack of healthy food impact the communities that we serve," says Linda Devlin, director of the Camden County (NJ) Library System, just across the Delaware River from Philadelphia.
Great libraries, she says, "examine challenges that their communities face and see what can be done to help overcome them."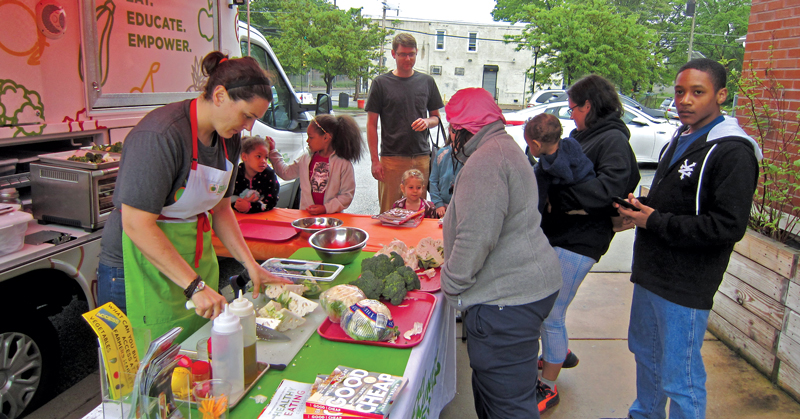 Books and Cooks in Camden takes its educating on the road.
Photo courtesy of Camden County Library

Bringing food to a desert
The city of Camden is a community of about 77,000 residents—with only one real grocery store.
"For food, most Camden residents rely on small stores and bodegas, which have limited healthy options," says Devlin, who was inspired after a visit to Fitzgerald's center in Philadelphia. "Many in Camden lack personal transportation, which also limits access to other areas."
In 2010, the U.S. Department of Agriculture designated Camden a "food desert"—essentially, a part of the country void of healthful whole foods typically due to a lack of grocery stores and healthy food providers. To help the community gain a vital understanding of cooking and healthy eating, Camden County Library created a culinary literacy program called Books and Cooks, which operates from a mobile kitchen with iPads and mobile hotspot access.
"This allows library staff to meet residents where they are—in their communities," Devlin explains. The mobile kitchen is complemented by a collection of books about nutrition, healthy eating, and consumer literacy.
Funded by a New Jersey Department of Labor grant, Books and Cooks was a new undertaking for Camden library. Staff had to create a budget, order the mobile kitchen and necessary supplies, and undergo training in food handling. They also developed a curriculum and identified vendors and partner organizations.
Books and Cooks classes focus on nutrition, cooking, recipes, and techniques. Participants can improve math literacy by measuring ingredients and reading recipes and learn how to create healthy, tasty meals on a budget.
For others like Devlin, who are inspired by the Philadelphia Free Library's center and program, Fitzgerald created an online toolkit. She stresses one key thing above all for librarians who may be too intimidated to start: "You really do not need a million-dollar kitchen, you can do this program anywhere," she says. "We do it in our neighborhood libraries. We can do it with an electric griddle and cutting boards and knives. You don't need a lot of space. You can build out a smaller kit that is really inclusive for a couple hundred bucks."
Philip Lee and June Jo Lee of Readers to Eaters.
Photo courtesy of Readers to Eaters
Reading and eating
In Washington State, food-related public health challenges inspired Philip Lee to advocate food literacy through books.
"Too many students were suffering from hunger and obesity," says Lee, co-founder of Lee & Low Books, a multiculural children's book publisher.
Lee learned that many students could not concentrate in school, because they didn't have access to a proper breakfast.
In 2009, Lee also sensed a growing societal concern and interest in improving the U.S. food system. At that time, First Lady Michelle Obama had just created a vegetable garden on the White House South Lawn. Two books about food by Michael Pollan—In Defense of Food and The Omnivore's Dilemma—appeared on bestseller lists.
Lee started pop-up bookstores with titles about food for children and adults at farmers markets in Washington. Following that success, Lee launched Readers to Eaters, a publishing program promoting literacy about and through food. He appreciates the power of books to highlight cultural connections.
"Through our books, we strive to encourage the joy of sharing meals, being mindful of where the food comes from, and appreciating food as part of rich cultural traditions," he says. For Lee, food literacy is knowing what, why, and how we eat. It also means promoting family reading through regular activities such as preparing meals, reading food labels and recipes, and sitting together and sharing meals.
"Parents do not have to build literacy just by reading a book," Lee explains. "Sharing food can be an important vehicle to nourish our bodies and our minds."
Readers to Eaters books offer fresh perspectives on what and how we eat. For example, Rick Swann's Our School Garden is about a child who adjusts to a new town after discovering his school's garden. In Katherine Pryor's Sylvia's Spinach, a picky eater embraces a disliked vegetable after growing it on her own.
Readers to Eaters also collaborates with like-minded organizations such as Supplemental Nutrition Assistance Program Education (SNAP-Ed) and Women, Infants, and Children (WIC). These USDA-sponsored community nutrition education initiatives use Readers to Eaters books as teaching tools.
Carting curriculum
Across the country, organizations have found exciting ways to reach communities and teach students about nutrition and healthy eating through cooking.
For example, the nonprofit Charlie Cart Project, combines a mobile kitchen classroom with a rigorous curriculum spanning math, English, language arts, science, and social studies.
"Charlie Cart has enabled us to offer fun cooking programs for kids that are run by staff," says Oakland (CA) Public Library (OPL) acting director Lana Adlawan. Recent cooking programs at OPL have featured dumplings, macaroni and cheese, and vegetarian chili.
In Camden, Books and Cooks collaborates with Vetri Community Partnership. The Philadelphia-based organization offers an out-of-school cooking lab that ties into science, technology, engineering, art, and math. The curriculum includes lessons on whole vs. processed foods, the importance of breakfast, reading nutrition labels, added sugar, and food marketing.
"They park their mobile food lab outside another library branch in our system," Devlin says. "Attendance and interest in the cooking lab are high—with 70 people served at each demonstration."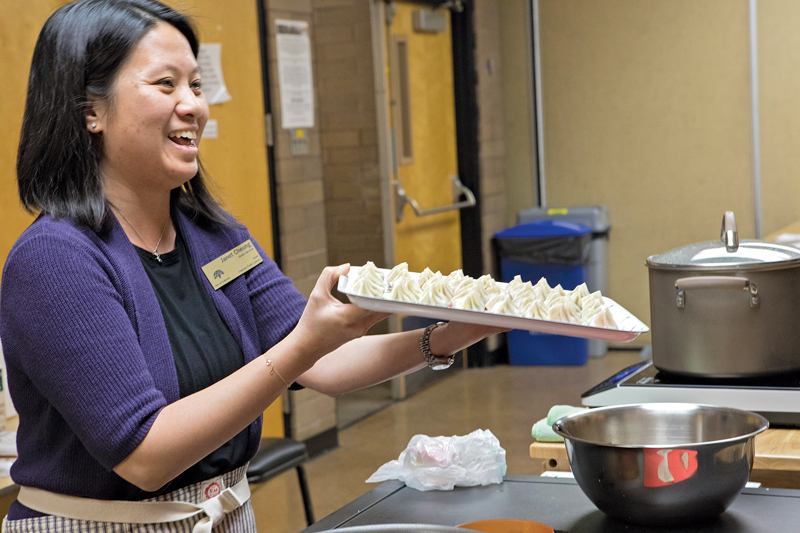 Librarian at West Oakland (CA) Public Library demonstrates making dumplings for Chinese New Year before the kids use the Charlie Cart to make their own.
Photo courtesy of Charlie Cart Project

In-school farming
In addition to cooking, data show that gardening is an effective, hands-on way to enhance food literacy. Gardening can also help reduce food insecurity by providing communities ready access to fresh, nutritious foods.
Toward these ends, several schools have embraced in-school gardening and farm-to-table education to help educate students about agriculture and sources of good food.
Emerson Middle School in Union City, NJ, has an innovative hydroponic garden. Hydroponic gardening systems rely on a designed flow of water-based nutrients. As a result, Emerson's garden does use or require soil and flourishes in the school's basement.
"Students are able to grow massive amounts of produce without ever touching soil, a pesticide, or a dangerous chemical," says school principal Mike Cirone. Additionally, because the garden is indoors, students can tend to it in any weather.
Funded through a Healthy Communities grant, the hydroponic garden has produced numerous types of vegetables. The food grown there is distributed free to students and local families. The garden also touches varied curriculum areas, including language arts. Students write logs describing their experiences.
Cirone notes that the students have learned so much about hydroponic farming that "some of them have started their own little indoor farms at home."
In Hyde Park, VT, the school district educates students with a full-cycle food curriculum from farm to kitchen to table and back to farm. At Lamoille High School, students collect kitchen food scraps and take them to the farm to feed their laying hens.
"To complete the food circle, students learn to cook what they produce and then sell farm products back to the school kitchen," says Karyl Kent, director of nutritional services.
The district's elementary students tend to school gardens and participate in food composting in the cafeteria.
"Younger students get very excited about where food waste goes," Kent says. "Students learn more about the food cycle if that compost can then return to the school for gardening activities."
Connecting cultures and communities
In all of these efforts, food is a recurring and crucial theme that naturally reflects and connects diverse cultures. This "universal language" has also helped form vital community partnerships to improve and promote food literacy.
In Washington, Readers to Eaters, along with other food literacy organizations and libraries, recently launched a successful campaign to establish September as Food Literacy Month. Washington became the second state to do so after California.
Camden's Books and Cooks collaborates with food educators, including local registered supermarket dietitians, as well as corporations and organizations concerned with food literacy, such as ShopRite and HealthBarn USA.
Devlin sees food education and literacy programs helping to connect library users who speak languages other than English.
"Our ESL conversation groups love talking about food and enjoy sharing native recipes," she says. "Students get excited when they see similarities among cultures and cooking."
For instance, Devlin says, a student from Italy brought in a mimosa cake in celebration of Women's Day, an Italian holiday. The group discussed how Women's Day is celebrated in many European and Asian countries.
In Oakland, where OPL provides meals in partnership with a local food bank, Adlawan sees how food programs connect people and strengthen the library.
"Our OPL staff is extremely diverse, and it's been important for them to share the food aspects of their culture with the community," she explains.
In addition, Adlawan says, the simple act of serving a lunch during the summer or meal after school has brought OPL patrons and staff closer together in ways that benefit the entire library.
"Food always brings people together," she says. "So why not bring them together at the library?"
---

Kelley R. Taylor is a freelance writer specializing in law and education.