Children's authors and illustrators are creating resources and reaching out to educators to help during the coronavirus school closures.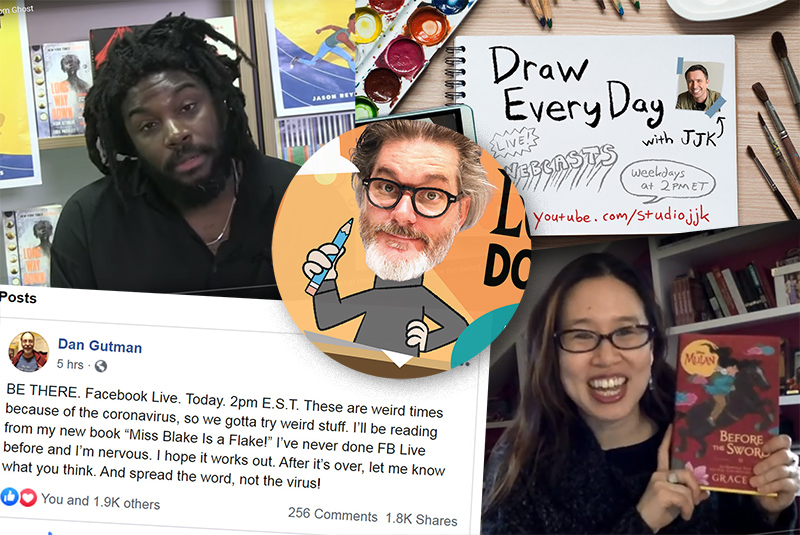 As educators, parents, and students enter this unknown territory of school closures and remote learning, kid lit authors and illustrators have been stepping up to help. Many are parents themselves and juggling the same school/work balance amid the stress and uncertainty.
"Gina and I are transitioning to homeschooling," tweeted Jarrett J. Krosoczka, creator of the graphic novel Hey Kiddo among other titles. "We need to keep the kids on a schedule, and we are imagining we are far from alone. We want to help. Every weekday at 2pm ET for at least the next few weeks, I'll host free webcasts for you and your kiddos. http://youtube.com/studiojjk "
Laurie Halse Anderson, author of Shout, is making herself available for a virtual Q&A.
"Do you or your students or kids have any questions about my books? Ask them! Since we're all homebound for a while, let's turn social media into a #QuarantRead book club! DM me if you want to ask your question anonymously."
While perhaps best known for her YA work, including Speak and Shout, she has written for all ages and is welcoming questions from everyone.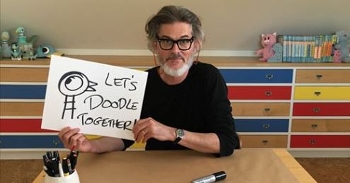 "All ages are invited: readers of my picture books, Vet Volunteers, Fever 1793, the "Seeds of America" trilogy, and all my YAs; from Speak to SHOUT. Students should be able to get extra credit for participating!" she tweeted.
Starting March 23, Stimola Literary Studio, representing kid lit and YA authors and illustrators, will host livetreamed readalouds, craft activities, and drawing demonstrations between 9:00 a.m. to 4:45 p.m. EST with Matt Tavares, Ellen Hagan, Shannon Stocker, and many others.
Mo Willems, who gave permission for noncommercial use of reading his books, is doing daily doodles at 1 p.m. ET through the Kennedy Center, where he is artist-in-residence. It will be a mini drawing workshop, and he promises to show kids a little bit about his studio, too. Unfortunately, in a sign of likely logistical issues to come, the webpage was downed by too much traffic minutes before the first doodling session was to begin.
Grace Lin (right) was scheduled to start a new podcast this week. She hoped Kids Ask Authors—a five to 10-minute podcast where a children's author would answer one question from a young reader—would help bridge the gap of kids' access to authors. In the current crisis, she calls the endeavor "even more poignant."

Read: Free Tools for Online Teaching and Learning During School Closures
"I hope by having questions, reviews, jokes, stories and poems by kids closing each episode it's also a way for kids to feel like their writing has purpose outside their now smaller confines," she said in a tweet.
Kids can submit a book review, poem, short story or joke to the podcast, which will end with submissions from children. Temporarily, she will release three episodes a week.

READ: A Crisis—as in School Closures Due to Coronavirus—Justifies Fair Use, Say Librarians

Lin is also using her personal YouTube channel to help, recording herself reading her books—including Mulan: Before the Sword and When the Sea Turned to Silver—and doing some drawing demos.
One of the major concerns has been copyright laws and authors have made their own efforts to inform teachers and librarians if their books can be used without breaking copyright laws. If it is authors reading their own books, it might not matter.
"I've decided not to do online read-alouds of my books due to copyright issues, but I recommend the Poetry Foundation for interviews and recordings of myself and other Young People's Poet Laureates," Margarita Engle tweeted.

READ: Tackling Copyright Concerns When Taking Storytime Online
Many authors have and are reaching out to their publishers for guidance.
"FOR EVERYONE (TEACHERS) ASKING ABOUT RECORDING READINGS OF THE BOOKS: I just checked with MY publisher, and they said it's technically not allowed, BUT as long as you can keep it somewhere only students can access, (like your own channel on YT) it's fine," Jason Reynolds tweeted.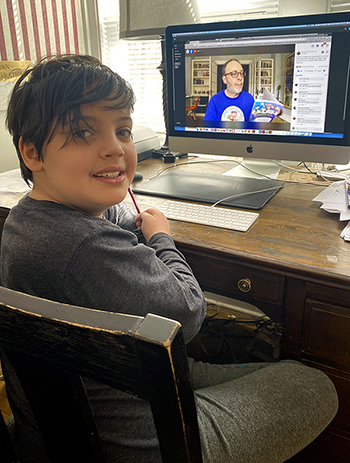 10-year-old superfan Ryu, daughter of SLJ's creative director, was one of 3,500 people who checked out Dan Gutman reading aloud from his latest "My Weird School" book, Miss Blake Is a Flake.
"Several teachers and librarians have contacted me, asking for permission to shoot and post videos of themselves reading my books for their students while their school is temporarily closed due to the coronavirus," tweeted Dan Gutman. "The answer is YES YES YES! I love it! Please do!"
Gutman planned a 2 p.m. ET reading of his Miss Blake is a Flake on his Facebook page.
Kate Messner has collected a list of "learning-at-home" resources from authors and illustrators that includes read-alouds, writing and drawing lessons, and research links, "all free & copyright friendly!" she tweeted.
Messner has been urging people to remember copyright laws even in these times. It is not up to the authors, she cautions, it is a publisher's decision. Reading only part of the books may be the answer for now as people work through the complexities of the law and try to find a solution.
"What I'd ask you NOT to do is share public read-alouds of entire books online," she tweeted. "That's less likely to be considered fair use and puts you in a shaky place. It's also more likely to harm creators, and may in the long term impact their ability to keep making books for your kids."

Read: In a Pandemic, Librarians Are Reporting to Work, Scared and Questioning Their Institutions