The shortlist for the 2019 National Book Award Young People's Literature was announced today. Here are SLJ's reviews of the finalists.
The National Book Foundation announced the five finalists for the 2019 Young People's Literature award today, including Akwaeke Emezi's YA debut, Jason Reynolds's middle grade collection of intertwined short stories, and Martin W. Sandler's enthralling exploration of the year 1919 in America.
EMEZI, Akwaeke. Pet. Random/Make Me a World. 208p. Sept. 2019. Tr $17.99. ISBN 9780525647072.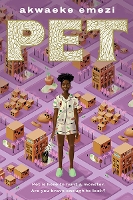 Gr 7 Up–The only world Jam has ever known is that of Lucille, a town where the angels have ostensibly banished the monsters and dismantled the structures that allowed monsters and monstrous deeds to pervade. Lucille is a post-prison, post–school shooting, post–police brutality society. A society where someone like Jam, a selectively mute transgender teen, can live with complete acceptance, support, and love. Still, she can feel the hard truths of the world, can sense them in the air, hear them in words unsaid. When Jam steals into her mother Bitter's painting studio and unleashes Pet, a winged, horned, eyeless creature and monster hunter, from one of the paintings and into their world, life as she's known it begins to dissolve. Jam must confront the harsh realities of her world as she tentatively partners with Pet and ventures forward to avenge a wrong not yet discovered. This is a heart-stirring atmospheric page-turner, a terrific and terrible yet quiet adventure. Emezi spins a tale that defies categorization as strikingly as their characters, forcing readers to deeply rethink assumptions about identity, family structure, and justice.
VERDICT A riveting and important read that couldn't be more well timed to our society's struggles with its own monsters.–Jill Heritage Maza, Montclair Kimberley Academy, NJ
This review was published in the School Library Journal July 2019 issue.
REYNOLDS, Jason. Look Both Ways: A Tale Told in Ten Blocks. 208p. S. & S./Atheneum. Oct. 2019. Tr $17.99. ISBN 9781481438285.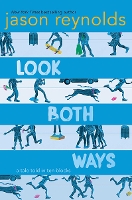 Gr 5-8–Ten short stories paint a picture of what happens one particular afternoon after the dismissal bell at Latimer Middle School. Each tale focuses on one student or group of friends. The magic of this book is Reynolds's ability to weave the same teachers and various students in and out of the ten stories. Students after school swirl and eddy. Ms. Post the crossing guard helps everyone cross the street while her son looks on from his spot by the stop sign; Ms. Wockley, the principal, stands in the hall yelling at students; and Ms. CeeCee sells penny candy from her house. Some backstory in each piece puts the characters' actions into perspective, with each entry ending with a bit of a surprise. The very last one ends where the first one begins, with a mythical flying school bus. Poetic language is used throughout to help distinguish one character from the next. ­VERDICT The perfect book to hand to reluctant middle grade readers, who will relate to the hectic and uncertain lives of these characters.–Elizabeth Kahn, Patrick F. Taylor Science & Technology Academy, Avondale, LA
This review was published in the School Library Journal October 2019 issue.
RIBAY, Randy. Patron Saints of Nothing. 352p. Kokila. Jun. 2019. Tr $17.99. ISBN 9780525554912.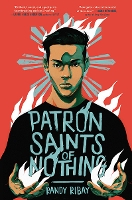 Gr 10 Up–Integrating snippets of Tagalog and Bikol, author Ribay displays a deep friendship between two 17-year-old cousins: Jay, born in the Philippines but raised in the United States since infancy, and Jun, born and raised in a gated community in Manila. Jay, considered white in an all-white school, is starting to get acceptances (and rejections) from colleges and finds out while playing video games that Jun, with whom he corresponded for years via "actual letters—not email or texts or DMs," is dead. His Filipino father doesn't want to talk about it, but his North American mother reveals that Jun was using drugs. Jay blames his uncle, a police chief, for his murder after researching the dictatorship of Rodrigo Duterte (the book includes a handy author's note and a list of articles and websites), who has sanctioned and perpetrated the killing of between 12,000 and 20,000 drug addicts by police and vigilantes since 2016. Jay, armed with his stack of letters, returns to Manila to search for the truth. Ribay weaves in Jun's letters so readers witness Jun's questions and his attempts to reconcile the inequity around him with his faith. Jay follows Jun's footsteps into the slums of Manila, the small house of his activist aunts, and the Catholic parish of his uncle, a village priest, and learns painful truths about his family, his home country, and himself. VERDICT Part mystery, part elegy, part coming of age, this novel is a perfect convergence of authentic voice and an emphasis on inner dialogue around equity, purpose, and reclaiming one's lost cultural identity.–Sara Lissa Paulson, City-As-School High School, New York City
This review was published in the School Library Journal June 2019 issue.
RUBY, Laura. Thirteen Doorways, Wolves Behind Them All. 384p. HarperCollins/Balzer + Bray. Oct. 2019. Tr $17.99. ISBN 9780062317643.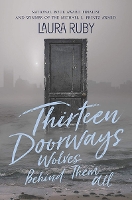 Gr 9 Up–Ruby's first young adult novel since her Printz Award–winning Bone Gap is a feminist historical ghost story that is based on the author's mother-in-law's childhood experiences in a World War II–era Chicago orphanage. In 1941, after losing his wife and struggling to support his family, Frankie's Italian immigrant father "temporarily" sends his three adolescent children to a Catholic orphanage. However, he soon remarries and moves away, taking only one of his children. Frankie and her sister, Toni, are left under the watch of the iron-fisted nuns with their oppressive rules. Frankie dreams of growing her hair past her ears, becoming an artist, and falling in love. She never suspects that someone unseen is actually watching over her and longing to protect her: the ghost of a teenage girl, Pearl, dead since 1918, who haunts the orphanage. As Frankie wishes for freedom, Pearl longs to have an impact on the physical world. And Pearl, like Frankie, has been let down by her family, been treated as a commodity, and suffered great loss. Each girl draws strength from her hardships, however, and refuses to submit to those who would control her. Some sexual content and brief, yet disturbing descriptions of violence make this title most appropriate for older readers. VERDICT Powerful plotting, masterful character development, and a unique narrative device set this work apart. Make room on the shelf next to Code Name Verity and The Book Thief.–Liz Overberg, ­Zionsville Community High School, IN
This review was published in the School Library Journal August 2019 issue.
SANDLER, Martin W. 1919: The Year That Changed America. 192p. bibliog. further reading. index. photos. Bloomsbury. Jan. 2019. Tr $24.99. ISBN 9781681198019.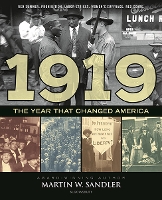 Gr 7 Up–This readable journey through the year 1919 begins with an attention-grabbing and rather strange episode in U.S. history, the Great Molasses Flood. Each subsequent chapter follows a different large-scale event in 1919 that greatly affected the United States: Prohibition, women's suffrage, the red scare, labor strikes, and the Red Summer. At the end of each section, a "One Hundred Years Later" segment takes the historical social issue previously covered and shows how it affects contemporary society, with relatable examples included. Time lines throughout the volume demonstrate for readers how progress isn't always linear and how change can happen slowly, if at all. Filled with full-color pictures and extremely descriptive captions, students are transported in time to a period of turmoil and victory. VERDICT Well researched and presented in an attractive manner, Sandler's text delivers a solid look at a pivotal year.–Stephanie Wilkes, Good Hope Middle School, West Monroe, LA
This review was published in the School Library Journal November 2018 issue.