The National Book Foundation announced its longlist for the 2019 National Book Award for Young People's Literature, among them Laurie Halse Anderson's simmering memoir SHOUT, Colleen AF Venable's tender and candid graphic novel Kiss Number 8, and Kwame Alexander's The Undefeated, a potent tribute to black life in America.
ALEXANDER, Kwame. The Undefeated. illus. by Kadir Nelson. 40p. HMH/Versify. Apr. 2019. Tr $17.99. ISBN 9781328780966.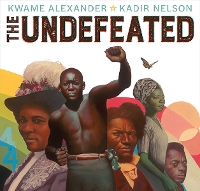 Gr 3 Up–This inaugural title from Newbery Medalist Alexander's new imprint is a poignant and powerful ode to the resilience and strength of black life and history in America. Originally performed for ESPN's The Undefeated in 2016, the poem adopts a picture book format with a new title, accompanied by stunning oil paintings in Nelson's trademark photorealistic style. The evocative illustrations stand out against stark white backgrounds and vary in their composition. On some spreads, the focus is on a single expressive portrait; others feature collages of African American icons from various disciplines, or refer to significant historical moments. The art functions in perfect harmony with the poet's spare, striking verse to electrify the Black American experience, and to celebrate black athletes, writers, musicians, activists, and heroes. From the unspeakable trauma of American slavery and the transatlantic slave trade to the brave service of black troops during the Civil War, from the fierce and unwavering fight for civil rights to the Black Lives Matter movement, from Selma to Birmingham to Harlem, this book is both a soaring tribute to the enduring perseverance and achievements of the past and a stirring call to action to "the dreamers and the doers" of the present and the future. Back matter includes an afterword from the author as well as additional information about the historical figures and events featured in the book. VERDICT Alexander and Nelson present an exceptionally moving and triumphant work. This book is an essential first purchase for all libraries.–Lauren Strohecker, McKinley Elementary School, Elkins Park, PA
ANDERSON, Laurie Halse. SHOUT. 304p. Viking. Mar. 2019. Tr $17.99. ISBN 9780670012107.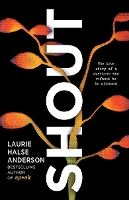 Gr 8 Up–Novelist Anderson has terrified adults and earned nods of recognition from teenagers with her unflinching portrayals of sexual assault, eating disorders, and self-harm. With this searing memoir in verse, she revisits the trauma that sliced through her and her family: the father shattered by memories of serving in World War II, the mother worn down by picking up the pieces, and the rape that buried teenage Laurie in a deep depression and laid the roots for her novel Speak. Anderson's wordplay is sophisticated, disturbing imagery underscoring her pain—a girl without eyelids, a girl submerged in cement. She's as witheringly sarcastic as her protagonists, yet she possesses hard-won wisdom and a mixture of honesty and tenderness. It's as though Speak's Melinda made it through the fire, emerging as a warrior bent on combating rape culture. Though the rape devastated Anderson, she stresses that a lifetime of seemingly small injustices (entitled boys, flirtatious professors) also eroded her self-worth. Her rage on behalf of all those who have been wounded is palpable, yet she envisions a different world, where consent and respect are the norm.VERDICT More than a gifted writer, Anderson is an advocate for anyone who feels alienated. Her sensitive, incisive book is essential for all young people.–Mahnaz Dar, School Library Journal
This review was published in the School Library Journal March 2019 issue.
An interview with Laurie Halse Anderson.
Anderson's op-ed on reading and writing in the Trump era.
EMEZI, Akwaeke. Pet. Random/Make Me a World. 208p. Sept. 2019. Tr $17.99. ISBN 9780525647072.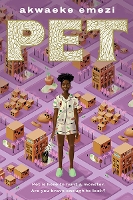 Gr 7 Up–The only world Jam has ever known is that of Lucille, a town where the angels have ostensibly banished the monsters and dismantled the structures that allowed monsters and monstrous deeds to pervade. Lucille is a post-prison, post–school shooting, post–police brutality society. A society where someone like Jam, a selectively mute transgender teen, can live with complete acceptance, support, and love. Still, she can feel the hard truths of the world, can sense them in the air, hear them in words unsaid. When Jam steals into her mother Bitter's painting studio and unleashes Pet, a winged, horned, eyeless creature and monster hunter, from one of the paintings and into their world, life as she's known it begins to dissolve. Jam must confront the harsh realities of her world as she tentatively partners with Pet and ventures forward to avenge a wrong not yet discovered. This is a heart-stirring atmospheric page-turner, a terrific and terrible yet quiet adventure. Emezi spins a tale that defies categorization as strikingly as their characters, forcing readers to deeply rethink assumptions about identity, family structure, and justice.
VERDICT A riveting and important read that couldn't be more well timed to our society's struggles with its own monsters.–Jill Heritage Maza, Montclair Kimberley Academy, NJ , Jun 30, 2019
This review was published in the School Library Journal July 2019 issue.
KADOHATA, Cynthia. A Place To Belong. illus. by Julia Kuo. 416p. Atheneum/Caitlyn Dlouhy Bks. May 2019. Tr $17.99. ISBN 9781481446648.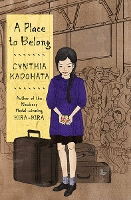 Gr 5 Up
–World War II has ended and 12-year-old Hanako, her five-year old brother Akira, and their American-born parents have spent the past four years imprisoned in a series of internment camps. Hana's parents accept an offer from the U.S. government to renounce their American citizenship and expatriate to Japan. Their plan is to live with Hanako's father's parents, poor tenant farmers outside the city of Hiroshima. Hanako is hopeful for her family's new chance in Japan and immediately loves her Jiichan and Baachan but is faced with the realities of life in an unfamiliar, war-blighted country. Resources are scarce; as her family toils endlessly to keep food in the house, Hanako is torn between providing for her family and sharing what little she has with the people she encounters around Hiroshima. In her trademark style, Kadohata unfurls the complex web of the girl's inner thoughts in a concise yet cutting third-person narrative. Hanako attempts to discern what it means to be good and how to belong in a place where one is not truly welcome. An afterword gives further details on the history of internment and expatriate Americans in Japan.
VERDICT
A first purchase for collections needing complex and emotionally impactful historical fiction.
–Darla Salva Cruz, Suffolk Cooperative Library System, Bellport, NY
This review was published in the School Library Journal May 2019 issue.
REYNOLDS, Jason. Look Both Ways: A Tale Told in Ten Blocks. 208p. S. & S./Atheneum. Oct. 2019. Tr $17.99. ISBN 9781481438285.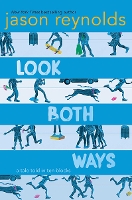 Gr 5-8–Ten short stories paint a picture of what happens one particular afternoon after the dismissal bell at Latimer Middle School. Each tale focuses on one student or group of friends. The magic of this book is Reynolds's ability to weave the same teachers and various students in and out of the ten stories. Students after school swirl and eddy. Ms. Post the crossing guard helps everyone cross the street while her son looks on from his spot by the stop sign; Ms. Wockley, the principal, stands in the hall yelling at students; and Ms. CeeCee sells penny candy from her house. Some backstory in each piece puts the characters' actions into perspective, with each entry ending with a bit of a surprise. The very last one ends where the first one begins, with a mythical flying school bus. Poetic language is used throughout to help distinguish one character from the next. ­VERDICT The perfect book to hand to reluctant middle grade readers, who will relate to the hectic and uncertain lives of these characters.–Elizabeth Kahn, Patrick F. Taylor Science & Technology Academy, Avondale, LA
This review was published in the School Library Journal October 2019 issue.
RIBAY, Randy. Patron Saints of Nothing. 352p. Kokila. Jun. 2019. Tr $17.99. ISBN 9780525554912.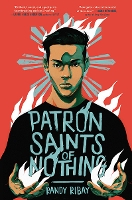 Gr 10 Up
–Integrating snippets of Tagalog and Bikol, author Ribay displays a deep friendship between two 17-year-old cousins: Jay, born in the Philippines but raised in the United States since infancy, and Jun, born and raised in a gated community in Manila. Jay, considered white in an all-white school, is starting to get acceptances (and rejections) from colleges and finds out while playing video games that Jun, with whom he corresponded for years via "actual letters—not email or texts or DMs," is dead. His Filipino father doesn't want to talk about it, but his North American mother reveals that Jun was using drugs. Jay blames his uncle, a police chief, for his murder after researching the dictatorship of Rodrigo Duterte (the book includes a handy author's note and a list of articles and websites), who has sanctioned and perpetrated the killing of between 12,000 and 20,000 drug addicts by police and vigilantes since 2016. Jay, armed with his stack of letters, returns to Manila to search for the truth. Ribay weaves in Jun's letters so readers witness Jun's questions and his attempts to reconcile the inequity around him with his faith. Jay follows Jun's footsteps into the slums of Manila, the small house of his activist aunts, and the Catholic parish of his uncle, a village priest, and learns painful truths about his family, his home country, and himself.
VERDICT
Part mystery, part elegy, part coming of age, this novel is a perfect convergence of authentic voice and an emphasis on inner dialogue around equity, purpose, and reclaiming one's lost cultural identity.
–Sara Lissa Paulson, City-As-School High School, New York City
This review was published in the School Library Journal June 2019 issue.
RUBY, Laura. Thirteen Doorways, Wolves Behind Them All. 384p. HarperCollins/Balzer + Bray. Oct. 2019. Tr $17.99. ISBN 9780062317643.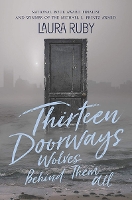 Gr 9 Up–Ruby's first young adult novel since her Printz Award–winning Bone Gap is a feminist historical ghost story that is based on the author's mother-in-law's childhood experiences in a World War II–era Chicago orphanage. In 1941, after losing his wife and struggling to support his family, Frankie's Italian immigrant father "temporarily" sends his three adolescent children to a Catholic orphanage. However, he soon remarries and moves away, taking only one of his children. Frankie and her sister, Toni, are left under the watch of the iron-fisted nuns with their oppressive rules. Frankie dreams of growing her hair past her ears, becoming an artist, and falling in love. She never suspects that someone unseen is actually watching over her and longing to protect her: the ghost of a teenage girl, Pearl, dead since 1918, who haunts the orphanage. As Frankie wishes for freedom, Pearl longs to have an impact on the physical world. And Pearl, like Frankie, has been let down by her family, been treated as a commodity, and suffered great loss. Each girl draws strength from her hardships, however, and refuses to submit to those who would control her. Some sexual content and brief, yet disturbing descriptions of violence make this title most appropriate for older readers. VERDICT Powerful plotting, masterful character development, and a unique narrative device set this work apart. Make room on the shelf next to Code Name Verity and The Book Thief.–Liz Overberg, ­Zionsville Community High School, IN
This review was published in the School Library Journal August 2019 issue.
SCHRIEVE, Hal. Out of Salem. 448p. Seven Stories. Mar. 2019. Tr $19.95. ISBN 9781609809010.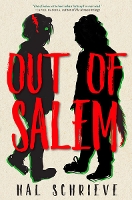 Gr 9 Up
–After the car accident that killed their family, genderqueer 14-year-old Z Chilworth is left a zombie. Becoming undead in the city of Salem, OR, in the 1990s pushes Z into a world of monsters, magic, and prejudice that they had not given much thought to before, despite being a talented witch before their death and rebirth. Among openly hostile classmates and teachers, unreliable guardians, and an abusive police force with deep hatred for monsters, Z wonders how they will spend what is left of their unnaturally extended life, which, by all accounts, won't last much more than a year. But when they become friends with Aysel, an unregistered werewolf, and Tommy, an unregistered shape-shifter, Z starts to feel like there might be people worth fighting for—and standing with—after all. In this urban fantasy debut, Schrieve layers magical prejudices and very real hatred to make a powerful statement about sexuality, identity, and discrimination. With gritty humor and an extensive cast of characters, this story weaves together multiple threads to craft a rich, complicated near-past where being different might be a death sentence. Despite the grittiness of Schrieve's world, the message of the novel is still one of hope: at its core, the story is "about loving someone, and seeing them as part of your family." And, as one character tells Z, "some people have the capacity to see different people as part of their family and some don't."
VERDICT
Purchase where urban fantasy is in high demand.
–Jen McConnel, Queen's ­University, Ont.
This review was published in the School Library Journal April 2019 issue.
SANDLER, Martin W. 1919: The Year That Changed America. 192p. bibliog. further reading. index. photos. Bloomsbury. Jan. 2019. Tr $24.99. ISBN 9781681198019.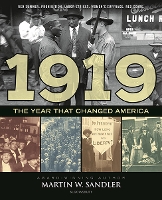 Gr 7 Up
–This readable journey through the year 1919 begins with an attention-grabbing and rather strange episode in U.S. history, the Great Molasses Flood. Each subsequent chapter follows a different large-scale event in 1919 that greatly affected the United States: Prohibition, women's suffrage, the red scare, labor strikes, and the Red Summer. At the end of each section, a "One Hundred Years Later" segment takes the historical social issue previously covered and shows how it affects contemporary society, with relatable examples included. Time lines throughout the volume demonstrate for readers how progress isn't always linear and how change can happen slowly, if at all. Filled with full-color pictures and extremely descriptive captions, students are transported in time to a period of turmoil and victory.
VERDICT
Well researched and presented in an attractive manner, Sandler's text delivers a solid look at a pivotal year.
–Stephanie Wilkes, Good Hope Middle School, West Monroe, LA
This review was published in the School Library Journal November 2018 issue.
VENABLE, Colleen AF. Kiss Number 8. illus. by Ellen T. Crenshaw. 320p. First Second. Mar. 2019. Tr $24.99. ISBN 9781250196934; pap. $17.99. ISBN 9781596437098.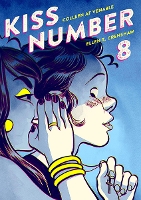 Gr 9 Up
–Mads lives in a conservative community with her deeply religious parents. Her social circle includes her friends from Catholic school, Cat, Adam, and Laura, but her best friend is her father. After overhearing a phone conversation that upsets him, she realizes that he's hiding something, but her parents refuse to answer her questions, leaving her angry and betrayed. Mads also wonders why her first seven kisses, with boys, aren't as stirring as kiss number eight, with Laura, and why she feels something deeper than friendship for Cat. A mysterious letter and an explosive confrontation with her parents and grandparents lead to a difficult realization, shaking up their relationships. This graphic novel addresses transphobia, sexuality, and hypocrisy. The art's retro feel serves the story well and is most powerful when depicting the contrast between truth and lies. The characters aren't especially deep but they help frame Mads's world. The resolution is realistically complicated, highlighting Mads's agency as she manages her conflicts. Though characters spend more time than necessary proclaiming their trans- and homophobic views, Mads's decisiveness and the clear look at how so-called "values" can mask harmful attitudes make this a thought-provoking book.
VERDICT A solid addition to YA shelves.–Carla Riemer, Claremont Middle School, Oakland
This review was published in the School Library Journal February 2018 issue.