The authors offer different takes on the literary canon in their keynote addresses. Read about that and other Summit highlights.
In his keynote address at the SLJ Summit 2020, author James McBride took on the debate about the literary canon, offering a different opinion than fellow author Tommy Orange had in his keynote earlier in the day. Orange spoke of the "old, horrible" books being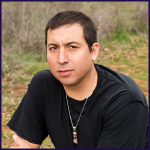 Tommy Orange
kept in public school curriculum across the country. While he didn't list many specific titles, McBride hit on a couple of books that are always part of this discussion.
"I understand there [are] some hot-button issues that are bothersome now in terms of classic novels and classic books," said McBride, author of The Color of Water and National Book Award winner The Good Lord Bird, which is now a critically-acclaimed limited series on Showtime. "I don't know that I have much wisdom to offer in that regard. I think Huck Finn's a great book, and it doesn't matter what kind of language is used in it. I feel the same way about To Kill a Mockingbird. These are just great books by great writers. Ralph Ellison's Invisible Man. Great books by great writers."
As a young man, McBride said, he read "quite a bit" and listed Black and white authors whose work impacted him, including Beverly Cleary, Toni Morrison, Harper Lee, and James Kirkwood.
"Every one of those books made me feel better about being myself," he said.
McBride noted that censoring certain books is not the answer when the goal is getting kids to read.
"Anything is good for our young people to read," said McBride. "I don't care what they're reading. I just care that they are reading. I think cell phones are like crack. They're worse than crack. They've invaded our lives and invaded the lives of our children. All of the librarians and teachers who are watching this, you're the last real line of defense in a country that seems to be losing its way."
McBride suggested he was ambivalent about discussing literature at this time, noting the importance of books yet the feeling of disconnect sitting around and discussing them.
"It feels kind of incongruous, feels like we're being incompatible with society to sit around here and talk about books when the lives of so many people have been destroyed, lost, children separated from their families, children separated from their parents," he said. "And, indeed, this is not who we are. Who we are is the books that you shepherd. And while we may not agree with some of the things that are in those books, we agree that we have the freedom to disagree, and we have the freedom to speak to each other truthfully, and those who do not speak truthfully should be censored or put out of business and should not be supported."

James McBride
McBride advised against spending too much time and energy criticizing and shaming those who read problematic books.
"Try not to get too upset if people are reading Little House on the Prairie and you haven't read it or you don't like it," he said. "I'm not too upset about the names people used to call each other. I'm more concerned about the respect or lack thereof we have for each other.…You have all these treasures at your disposal. Use the ones you have and if they need to be adjusted, ok, lets adjust them, but let's not cut each other's heads off and go wild."
While Orange didn't advocate that critics "go wild," he did discuss the personal and general negative impact of an industry built on white narratives told mostly by white men.
"The legacy of white male writers being the gold standard of capital-L literature is deeply damaging for people like me or people of color who don't see themselves at all in books," said Orange, the author of Pulitzer Prize finalist There, There. The books he was told to read growing up "seemed like somebody else's world and not one I belonged in," he said.
The best books, Orange said, "make you feel less lonely in the world."
He happily noted the progress publishing has made, offering so many more options to young readers, but added that education is lagging behind.
"Teachers are tied to curriculum and, especially in public schools, the people who hold the curriculum in place are stubborn and don't want to change, and there's a lot of old, horrible books that don't need to keep being taught," said Orange. "A lot of people are holding onto those books and the legacy of white male writers continues to this day. But librarians have a special role in that they are not tied to curriculum, and they can see a kid and say 'Hey, check this book out.'"

[Read: SLJ Summit: Challenging the Classics to Create an Inclusive Curriculum]
#OwnVoices
McBride also waded into another controversial topic: "the business of cultural appropriation."
"Apparently there is some talk in the literary community that if someone is Black they can't write about the whites; if you're writing about Mexicans you shouldn't be because you're not Mexican," he said. "Look, I really don't think that's relevant. I mean it's relevant to some people, it's not relevant to me, because you can tell what the author is trying to say and if the author is trying to say something good, then, by God—my house is on fire and my children are in it then I don't care who brings me water."
The metaphor was a rephrasing of something Rev. Joseph Lowery said at the Million Man March in 1995. To make his point clear, McBride added, "Kids need to read something. Doesn't matter if it's a hip-hop book or comic book. Reading is the key to freedom."
More Summit highlights
The "School Library Leadership" panelists shared the actions taken by their districts and librarians and media specialists to help their students and staff during remote and hybrid learning.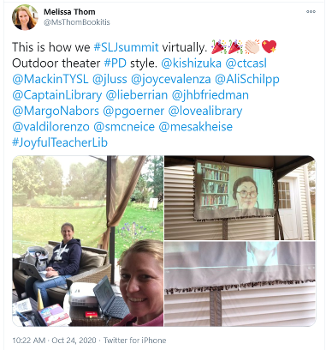 Approximately 8,000 people registered for this year's
SLJ Summit. Connecticut teacher librarian Melissa Thom
hosted a socially-distanced outdoor viewing.
Mount Vernon (NY) City Schools superintendent Kenneth Hamilton said that his district has created "wellness Wednesdays." Students have a synchronous instructional program but the focus is not strictly on academics.
"This is our opportunity to check in on our students and promote those character education pillars that help bring our district together, but more importantly to check in on our children in terms of their mental health," said Hamilton. We find it is so important for us not to take for granted what's happening, what children are seeing, how they are digesting this information. So Wednesdays are designated as days for us to literally check-in on every child to see where they are, how they're coping, what challenges they have."
Hamilton said his district's students are not only dealing with COVID, but the racial unrest in the country and poverty. When students' issues are identified, the district's library media specialists help teachers find the appropriate book to help the child cope with the situation with the assistance of age-appropriate text, he said.
Jenn Roush, a former school librarian who is now assistant director of curriculum and instruction at Fairfield-Suisin Unified School District in Fairfield, CA, said librarians have stepped up in new and needed ways during remote learning.
"Teacher librarians set up full day drop-in office hours for any teacher who is having trouble with technology or needed a strategy or needed support or just a place to vent, they have access to a teacher librarian," said Roush.
The district also created one email address that went out to all of the librarians and Roush. They gave the email to students, parents, and teachers and have a system so that someone is able to respond to them quickly.
Quotable
"The media center has to be that safe place where children can go and 1) ask questions, 2) learn how to navigate, and 3) learn how to express appropriate discretion with material that is age and content appropriate. We are revamping our curriculum so that it is a culturally relevant curriculum, and we have to start in the library. That has to be the place we begin this work, because it is the hub of the building; it is the nucleus where all things digital, all things print, all things informative have to begin in order for those tentacles to spread out into our buildings, across our schools, across our buildings and ultimately into our community."—Kenneth Hamilton, superintendent, Mount Vernon (NY) City Schools ("School Library Leadership")
"I think there's a way that people tend toward optimism, and that if we just believe our way into this, we'll just do it. Poof! We'll magically have an anti-racist school with an anti-racist curriculum. But taking a good hard look at what are our obstacles—are they systematic obstacles, are they personnel obstacles, are they resource obstacles, are they mindset obstacles? Then really breaking those obstacles down and seeing what can be removed, what can be addressed, and what can be changed."—Colleen Cruz, director of innovation, Teachers College Reading and Writing Project ("Beyond Book Clubs: Next Steps in the Work of Antiracism with Children")
"All educators are recognizing the inequities that are glaring all of us in the face. We have no choice but to address them. The normalization of failure is absolutely not an option."—Jacqueline Perez, assistant superintendent, equity, access and community engagement, Riverside (CA) Unified School District ("Reimagining Schools")