The creative book displays and fun in-person programming must wait until next year. Banned Books Week will be virtual this year, but the Office of Intellectual Freedom has ideas for addressing censorship during a Week of Action.
Like almost everything else, the ALA Office for Intellectual Freedom (OIF) Banned Books Week is going virtual for the time being. This year, from September 27 to October 3, rallying around the fight

against censorship and threats the freedom to read will be largely done online. The 2020 Banned Books Week theme, "Censorship is a Dead End. Find Your Freedom to Read," focuses on the barriers that censorship incidents enact, making it harder for readers to navigate the world and explore new perspectives.
The pandemic hasn't slowed those looking to control books, events, and information. The OIF continues to document attempts to "ban" materials and events, including "threats to intellectual freedom during the pandemic, including a community member who advocated for erotic literature e-books to be banned from the local library; a petition that demanded virtual Drag Queen Story Times be canceled at the library; and the removal of two award-winning books that address police violence and racial discrimination from a required-reading list."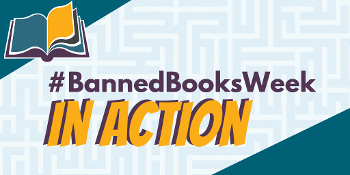 The OIF has put together a Banned Books Week in Action, with every day promoting a different action that spotlights literary activism:
Sunday: Read a banned book
Monday: Speak out about censorship
Tuesday: Create something unrestricted
Wednesday: Express the freedom to read in style
Thursday: Write about your rights
Friday: Watch, listen, and learn from others
Saturday: Thank those who defend the freedom to read every day of the year
A couple of longstanding Banned Books Week activities will work just as well in the current environment.
Stand for the Banned Read-Out has gone on since the start of Banned Books Week in 1982. Libraries and bookstores throughout the country staged local read-outs of banned and challenged books. This year, readers are invited to submit brief videos of themselves reading from a banned book or discussing censorship. A selection of submitted videos may be added to the Banned Books Week YouTube channel.
Dear Banned Author is a letter-writing campaign that encourages readers to write, tweet, or email their favorite banned/challenged author during Banned Books Week. The ALA Dear Banned Author webpage has postcards, author addresses and Twitter handles, and tips for hosting virtual programs. Examples of letters and programs are published on the Intellectual Freedom Blog. Those who use #DearBannedAuthor on Twitter will be entered into a grand prize drawing of Banned Books Week merchandise.
And there are two added virtual events this year: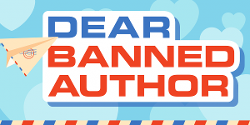 On September 29, SAGE Publishing and OIF will host the free webinar "COVID-19 and Academic Censorship," which will address e-books, internet control, and open data. The webinar is free but limited to the first 1,000 guests.
On October 2, OIF will host a national watch party of "Scary Stories," a documentary about the banned and challenged series "Scary Stories to Tell in the Dark" by Alvin Schwartz, followed by a Q&A with director Cody Meirick on the Banned Books Week YouTube channel. Anyone can stream the documentary on Tubi or Amazon Prime at 7 p.m. Eastern and join the conversation on Twitter with #CensorshipisScary or on the Facebook event page. ALA Office for Intellectual Freedom (OIF)
Additional program ideas are listed in the Intellectual Freedom Blog posts 40 Virtual Program Ideas for Banned Books Week and Banned Books Week Take Home Kit. Free graphics, coloring sheets, and cover photos can be downloaded.
To kick-off Banned Books Week on Sunday, September 27, OIF will publish the list of 100 Most Frequently Challenged Books From the Past Decade (2009-2019).