Last chance to apply for Jason Reynolds to come to your school, the 9th Annual Schomburg Black Comic Book Festival on January 13, News Literacy Week celebrates its second anniversary, plus we have story hours, streaming opera, and some free activities for kids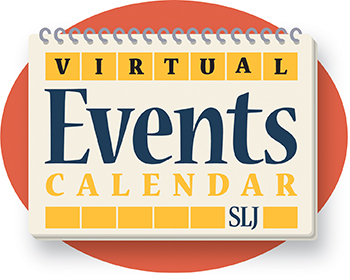 New!
Week of January 25
News Literacy Week
With information—and misinformation—surging around recent national events, the News Literacy Project and Scripps are again teaming up to launch a national public awareness campaign to promote news literacy and the role of a free press in American democracy. Read more and find out how classrooms can participate.
Deadline January 15
Every Ch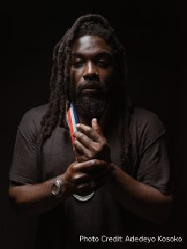 ild a Reader is currently accepting proposal submissions from schools interested in hosting an event with Jason Reynolds, the 7th National Ambassador for Young People's Literature. If you are a bookstore, library, or other organization, please connect with a school or group of schools in your area to plan an event. Find out more.
Now through January 16

The 9th Annual Schomburg Black Comic Book Festival
It's a new year, and time to celebrate Black fantasy, Afrofuturism, and Black imagination in world-building and freedom dreaming! Among the many highlights of the festival are launch events for several new titles, a how-to-draw Black superheroes workshop, and a tribute to award-winning actor and former Schomburg Center theater teacher Chadwick Boseman, presented by some of his former students.As always, the festival is free, and you can register here. Find a full schedule of eents
You can find the full festival schedule at SchomCom.org. Discover new Black comic artists at the Schomburg Shop and our Exhibitors Showcase.
The New York Historical Society offers virtual events for the entire family.
January 15
3:30 p.m. ET
Little New-Yorkers @ Home
For ages 3-6 celebrate Martin Luther King Junior's birthday and talk about love, compassion, and community as we readWe March by Shane W. Evans. Afterwards, create a dove paper airplane with a special message to share the words of love and hope from MLK at home.
Ongoing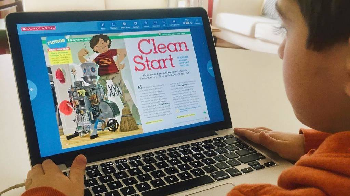 Learn at Home with Scholastic
Scholastic created Learn at Home, an online curriculum for students in grades Pre-K to 6—and made it free for all to use. A five-day program of lessons are posted every week one Mondays. There are texts to read, videos to watch, questions to answer and interactive activities. Why not reach out to other families who are also following Scholastc's Learn at Home, and let the kids video chat about the day's lessons? No registration is required, although you might need to sign up for a free trial of one of the book readers depending on the course.
Ages 3-13.
Khan Academy
From one of the most comprehensive educational resources in the world, with free online courses that address essentially every topic a student could encounter from Pre-K to 12th grade. Choose from interactive math tutors to video lectures that make history come alive.
The Smithsonian's "Fun Stuff for Kids Online " includes videos, readings, DIY projects and interactive games. The activities are super entertaining, and super educational—who wouldn't want to play Disaster Detector ?
Students Get Free Newspaper Access
The
New York Times
is offering free subscriptions to students through September 1, 2021. Share
this link
widely!
Virtual Bookish Events is Sarah Nicolas's amazing weekly calendar of writing events, author talks, and more. Sign up for her newsletter for all the details.
Open Submissions for Native Creators
In honor of Native American Heritage Month, Penguin Young Readers is trying to ensure that all voices are heard. They are opening up their manuscript submissions process to "do more to publish and promote Native voices." If you are a Native creator, find all the information you need to participate here.
10 a.m. ET
Time Out is partnering with the New York Public Library to present digital story times for pint-sized bookworms. Families can tune in Monday through Friday at 10am
right here . Don't forget to visit the library's website , check out its great activities for kids and subscribe to NYPL Kids ! Time Out magazine has partnered with the New York Public Library to provide daily readings for anyone who is signed up. All sessions are available in the archives after the first air date.
Try This! at NatGeo
National Geographic
continues to engage children with extreme, fun, and safe experiments for the mad scientist in everyone. The "Try This!" collection of videos leads to squishy eggs, child-powered spirographs and other activities that examine, test, and observe scientific research right at home. Get ready to take science to the extreme!
Click for the entire list
and more activities for children of all ages.
Metropolitan Opera's nightly streaming schedule:
Each stream becomes available at 7:30 p.m. ET and remains accessible for on-demand viewing until 6:30 p.m. ET the following day:
Thursday, January 14
Rossini's Armida
Starring Renée Fleming, Lawrence Brownlee, Barry Banks, John Osborn, and Kobie van Rensburg, conducted by Riccardo Frizza. From May 1, 2010.
Friday, January 15
Strauss' Capriccio
Starring Renée Fleming, Sarah Connolly, Joseph Kaiser, Russell Braun, Morten Frank Larsen, and Peter Rose, conducted by Sir Andrew Davis. From April 23, 2011.
Saturday, January 16
Handel's Rodelinda
Starring Renée Fleming, Stephanie Blythe, Andreas Scholl, Iestyn Davies, Joseph Kaiser, and Shenyang, conducted by Harry Bicket. From December 3, 2011.
Sunday, January 17
Dvořák's Rusalka
Starring Renée Fleming, Emily Magee, Dolora Zajick, Piotr Beczala, and John Relyea, conducted by Yannick Nézet-Séguin. From February 8, 2014.

Supplementary content—including synopses, articles, and more—is available here.