Here we are. Well into a new school year—sort of. The fall has brought no relief from uncertainty, and we have a ways to go. So we asked, and Jarrett Krosoczka and Jerry Craft were on board to illustrate our October 2020 issue.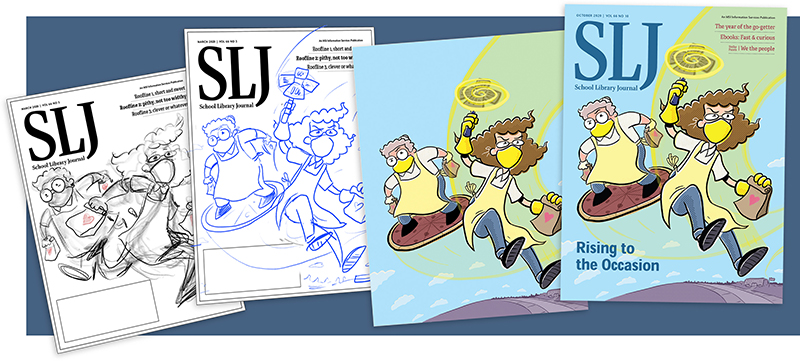 Jarrett Krosoczka did the honors for SLJ's October 2020 cover story on reading during the pandemic.
Here we are. Well into a new school year—sort of. The fall has brought no relief from uncertainty, and we have a ways to go. Whether or not you have kids of your own or work with children, I think we're all feeling the particular impact that 2020 has wrought for students.
At SLJ, we're carrying on, heads down, providing coverage and reviews, and producing events and other programs to offer our readers information and resources during this period, roiled by a pandemic.
But each month, the question looms for us: What do we do for a cover?
As you might imagine, some thought goes into these things, and we decide the concept a month in advance of publication. And planning ahead has been dicey of late. Who's to say where we'll be in a month's time?
This round, we turned to a story by Betsy Bird ("Can Pre-COVID Books Still Speak to Kids?"). "It can be scary to exist during a moment in history when you don't have a reliable roadmap on hand to deal with it. And if you think it's difficult for adults, imagine you're a child," she writes in her consideration of reading in the time of COVID-19.
"Kids rely on stability, a concept whose stock decreased at an alarming rate in 2020. Where to turn then but to literature? If the bulk of the books written this year weren't penned with a pandemic in mind, that doesn't mean they haven't anything to say to us."
Mark Tuchman, SLJ creative director, then recalled the comfort offered by favorite book series. "They're like worlds of their own that kids visit," he says. "Think about children's books that do take place in environments that are different in 2020, especially schools. What would those books and characters look like adjusted for the moment? 'Lunch Lady' and New Kid are in-person, school-based books. In late 2020, the worlds would be very different. So let's see that."
Jarrett J. Krosoczka, creator of the "Lunch Lady" series of graphic novels, was all in. Likewise Jerry Craft, who centered Jordan Banks, protagonist of his Newbery Medal-winning graphic novel New Kid, for our interior illustration.
Rendering a hallway scene featuring the full cast of New Kid characters, Craft went to town, dropping in details to communicate the times, says Tuchman. There's hand sanitizer in the locker. Everyone's masked up, save the bully, Andy. "I suggested he add a mask around Andy's neck instead of having it completely missing, as I wondered how he would get into the school without one," he adds.
When I asked Krosoczka how things were going, he reported hearing from more and more librarian friends who have been reassigned to classrooms. "But in the end, every single adult who is working with young readers is doing their damned best," he says.
Krosoczka turned around a sketch for the cover and finished art within a few days of the assignment.
And what would be the next frame? What would Lunch Lady do in the pandemic?
"If [the SLJ cover] is one panel in the comic," he responded, "the next panel would show Lunch Lady and Betty valiantly sticking up for their students. It is within the fabric of their nature, just as it is with the real-world superheroes who serve our students, be they in a physical classroom or appearing over Zoom."

Kathy Ishizuka
Editor-In-Chief
@kishizuka