School Librarian of the Year nominations are being accepted through Dec. 2. Let us know what you or a librarian in your district is doing.
Ali Schilpp transformed a rural Maryland school by seeing potential instead of limited possibilities for the media center at her new school. She brought in technology, earned grant money, and expanded the library's collection. Schilpp's commitment and outside-the-box efforts were just a couple of the reasons she was named SLJ's 2018
School Librarian of the Year
.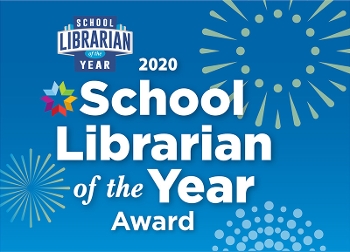 Now we're looking for the 2020 honoree. Nominations close Dec. 2 on this annual award which judges librarians on criteria including:
Exemplary service to fulfill the needs of students and school community
Creativity in programming and use of content
Collaboration with teacher peers, staff, and administrators
Effective integration of library services with curricula
Demonstrated student engagement
Exemplary use of technology tools
Outreach to parents, families
Effective promotion of the library and what it offers
Past nominations that were not selected are welcome to re-submit. Nominate yourself or a deserving colleague, but please do as you tell your students and read everything closely so the application is complete. Incomplete submissions will not be considered.
And there is more than just bragging rights. The winning librarian receives:
$2,500 cash award and $2,500 in-kind digital and/or print products for their library.
A Scholastic Book Fairs "Mr. Schu's Picks" collection of books.
A visit from John Schumacher, Ambassador of School Libraries, Scholastic, including a book giveaway for every student in the school.
An invitation to participate in a 2020 Scholastic Book Fairs Summer Reading Summit (including airfare, one night hotel stay and summit registration)
A feature profile in the April 2020 issue of SLJ.