Aimed at parents, these volumes discuss how to foster healthy emotional health and raise children of character in these challenging times.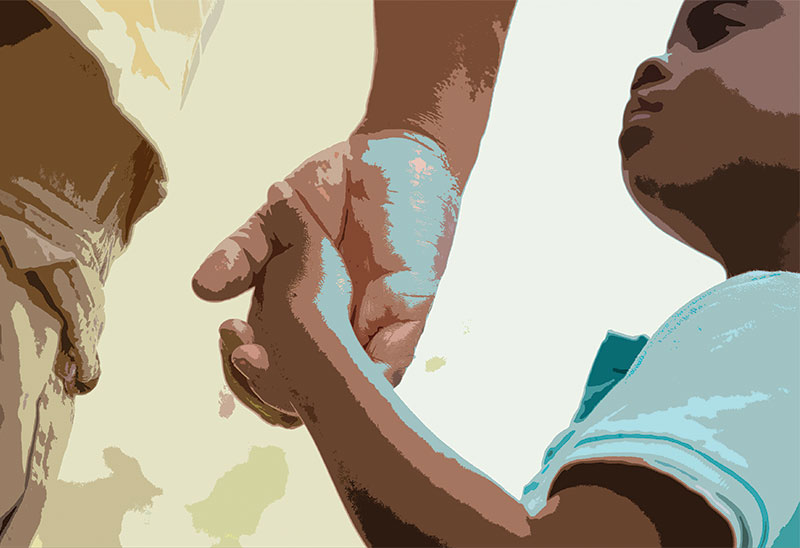 Photo by digitalskillet/Getty Images (modified)
Food insecurity, limited access to health care, and separation from grandparents and other loved ones are just a few of the devastating challenges that children have faced over the past year due to COVID-19. It's no surprise that mental health issues have skyrocketed and that statistics and anecdotal evidence demonstrate higher reports of teen depression and anxiety. Published within the last few years, these volumes address the emotional health of both parents and young people and offer help for raising children of character in these challenging times.
BARKLEY, Russell A. 12 Principles for Raising a Child with ADHD. Guildford. 2020. ISBN 9781462542550.
With decades of clinical psychology work under his belt, Barkley (Taking Charge of ADHD) returns with a book for busy parents seeking quick, reliable ways to meet the needs of children who have attention-deficit hyperactivity disorder (ADHD). The author, who disagrees with the notion that ADHD is a gift, shares how the parents of TV host Ty Pennington, Olympic gold medal swimmer Michael Phelps, and others helped their children harness their strengths. Given that roughly 6.1 million children are diagnosed with ADHD in the United States, this deeply informative manual is an important addition to parenting shelves.
BERRY, Mike & Kristin Berry. Securely Attached: How Understanding Trauma Will Transform Your Parenting. Northfield. 2020. ISBN 9780802419651.
Many adoptive and foster parents find themselves unprepared to cope with behavior caused by trauma when a new child enters the home. The Berrys, who are the parents of eight adopted children and 23 foster children, note that trauma affects how we see the world and ourselves; they stress that understanding a child's perspective is key, explore the effects of trauma on the brain, and offer guidance for parents attempting to help their children heal.

BOYCE, W. Thomas. The Orchid and the Dandelion: Why Sensitive Children Face Challenges and How All Can Thrive. Vintage. 2019. ISBN 9781101946565.
Orchid or dandelion? Resilient children (or dandelions) and more sensitive ones (orchids) alike can thrive given the right support, according to pediatrician Boyce. Discussing how both genetics and environment influence children's behavior, he turns conventional wisdom on its head, demonstrating that in the right setting, orchids can outperform their peers. Believing that each child possesses a rare and remarkable gift, Boyce lays out advice for helping all young people succeed. An invaluable resource for parents, teachers, and those working in the mental health field.
HEALY, Maureen. The Emotionally Healthy Child: Helping Children Calm, Center, and Make Smarter Choices. New World Library. 2018. ISBN 9781608685622.
Describing herself as a wild child who grappled with intense emotions growing up, Healy is the perfect author for a book focusing on teaching children to master their feelings. An expert in children's emotional health, she lays out tools to help kids move forward on the path to wholeness and stresses the importance of mindfulness in teaching kids to stay calm and make sound decisions.
KILBRIDE, Melissa & Samantha Sweeney. Working with Worry: A Workbook for Parents on How to Support Anxious Children. Bull. 2021. ISBN 9781945188459.
Though anxiety is not a new topic, it's at the forefront of many parents' minds due to the pandemic. Social worker Kilbride and psychologist Sweeney provide a hands-on workbook on coping with anxiety, chock-full of ideas that are easy to understand and implement. Encouraging parents to reflect on their own experiences with anxiety, the authors discuss mindfulness, creativity, and self-regulation.
LAHEY, Jessica. The Addiction Inoculation: Raising Healthy Kids in a Culture of Dependence. HarperCollins/Harper. 2021. ISBN 9780062883780.
Born to a family with a history of alcoholism and drug abuse, Lahey (The Gift of Failure), a recovering alcoholic herself, is now a teacher in substance abuse programs for teens, making her eminently qualified to write about one of the country's most devastating, but preventable, health problems: addiction. In this invaluable, research-based guide, the author shares how to discover children's risk factors for addiction, recognize alcohol abuse early on, and discuss these issues with kids throughout childhood and into adolescence.

LEVINE, Madeline. Ready or Not: Preparing Our Kids to Thrive in an Uncertain and Rapidly Changing World. HarperCollins/Harper. 2020. ISBN 9780062657756.
Psychologist Levine (The Price of Privilege) believes that high expectations for kids—such as placing importance on attending the "right" schools or scoring well on tests—have led to anxious, exhausted children unprepared to face the world. Citing developments in neuroscience, Levine offers simple solutions to help children develop resilience, mental agility, and other skills necessary to navigate an evolving world.
LICKONA, Thomas. How to Raise Kind Kids: And Get Respect, Gratitude, and a Happier Family in the Bargain. Penguin. 2018. ISBN 9780143131946.
Relying on brain research and traditional wisdom, developmental psychologist Lickona (Raising Good Children) shares strategies for promoting kindness in an often toxic culture. He notes that humans possess compassion from birth, as babies cry longer and louder when they hear the sound of another child wailing. Lickona advises that we "feed" kindness—an important and timeless lesson.
NAYANI, Farzana. Raising Multiracial Children: Tools for Nurturing Identity in a Racialized World. North Atlantic. 2020. ISBN 9781623174491.
Parent, educator, and diversity, equity, and inclusion consultant Nayani addresses a quickly growing demographic: children who identify as multiracial. Breaking down the history of race in the United States, the author covers microaggressions, intersectionality, and privilege and offers suggestions on how to explore race with children.
REBER, Deborah. Differently Wired: A Parent's Guide to Raising an Atypical Child with Confidence and Hope. Workman. 2018. ISBN 9781523506316.
Start with yourself, parent from your strengths, connect with like-minded parents, let go of your time line of expectations—these are a few words of advice from author and life coach Reber. When her son was diagnosed as being on the autism spectrum and having ADHD and labeled gifted, she was introduced to the lonely and difficult journey of parenting an atypical child. Featuring practical tips and resources, this is an important guide for parents and teachers of exceptional children.

SCOBIE, Olivia. Impossible Parenting: Creating a New Culture of Mental Health for Parents. Dundurn. 2020. ISBN 9781459746541.
Many parents struggle to live up to unrealistic expectations. A social work counselor and educator in perinatal mood, birth trauma, and mental health, Scobie takes a shame-free approach with this mindful guide to empowering parents. Focusing on the early years, this is a valuable volume for those who want to go from overwhelmed to calm and joyful.
SIEGEL, Daniel & Tina Payne Bryson. The Power of Showing Up: How Parental Presence Shapes Who Our Kids Become and How Their Brains Get Wired. Ballantine. 2021. ISBN 9781524797713.
Psychiatrist Siegel and psychotherapist Bryson, who together wrote The Whole-Brain Child and No-Drama Discipline, state that in a world full of packed schedules and distractions, the key to healthy child development is having parents who are present and aware of what their kids are going through. The authors believe that every child needs to experience the 4 S's: knowing they are safe, seen, soothed, and secure. Rooted in scientific research and filled with straightforward strategies, this book is sure to be another favorite from Siegel and Bryson.
---
Julia Reffner is the parenting columnist for Library Journal.