Cicely Lewis partners with Lerner Books to develop Read Woke Books.
Cicely Lewis—SLJ's 2020 School Librarian of the Year, founder of Read Woke, and an SLJ columnist—has signed a book deal with Lerner Publishing Group to start Read Woke Books.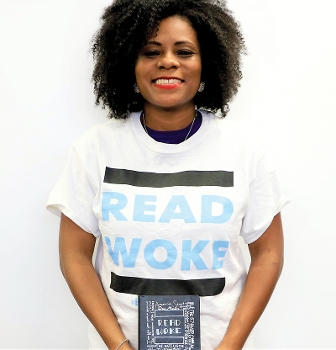 The librarian at Meadowcreek High School in Norcross, GA, developed and co-authored the first six titles in the line's "Issues in Action" series. Written by Lewis and Elliott Smith, those six books being released this fall are: Gun Violence and the Fight for Public Safety;Immigration, Refugees, and the Fight for a Better Life; Income Inequality and the Fight over Wealth Distribution; Mass Incarceration, Black Men, and the Fight for Justice; The Opioid Epidemic and the Addiction Crisis ; and Use of Force and the Fight Against Police Brutality.
"I hope these books break down the barriers of hate and bring us closer together," Lewis tweeted when the deal was announced this week. "This has truly been a labor of love."
There are 12 more titles scheduled—six in spring 2022 and six more for fall 2022.