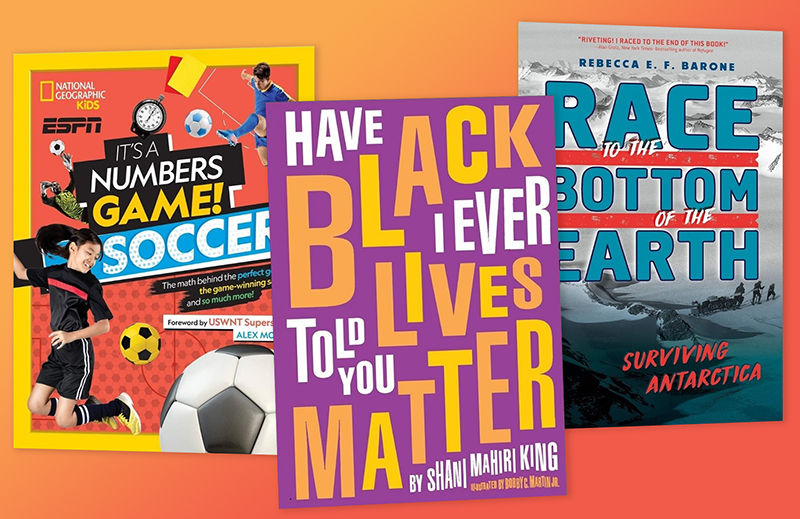 History, science, current events, and social sciences are explored in these highly engaging narrative and expository nonfiction texts for middle grade readers.
The Undefeated by Kwame Alexander. illus. by Kadir Nelson. HMH/Versify. ISBN 9781328780966.
A poignant and powerful ode to the resilience and strength of black life and history in America. Originally performed for ESPN's The Undefeated in 2016, the poem adopts a picture book format, accompanied by stunning oil paintings in Nelson's trademark photorealistic style.
Bots and Bods: How Robots and Humans Work, From the Inside Out by John Andrews. Andrews McMeel. ISBN 9781524862756.
This illustrated nonfiction title provides an orderly journey through various systems within humans and robots. The text discusses how the human body works in relation to movement, senses, and intelligence, then explains to what degree robotics can imitate those abilities.
Race to the Bottom of the Earth: Surviving Antarctica by Rebecca E.F Barone. Holt. ISBN 9781250257802.
In 1911, teams led by Norwegian explorer Roald Amundsen and English naval officer Robert Falcon Scott raced one another to be first to the South Pole. More than a century later, American endurance athlete Colin O'Brady and another Englishman, army officer Louis Rudd, scrambled for the honor of finishing the first solo traverse of the Antarctic continent. In alternating chapters, engineer and STEM advocate Barone traces each of the campaigns.
Moon Mission: The Epic 400-Year Journey to Apollo 11 by Sigmund Brouwer. Kids Can. ISBN 9781525300363.
An engaging second-person point of view narrative puts readers into the place of the astronauts in this detailed exploration of the triumphs and near-disasters of the Apollo 11 mission and the science and scientists who made it possible.
Machines That Think! by Don Brown. illus. by author. Abrams/Amulet. ISBN 9781419740985.
A look at machines through the ages, from the abacus to 16th-century thinker Blaise Pascal's Pascaline to Ada Lovelace's analytical machine to the early computers used by NASA, and, finally, to smartphones.
It's a Numbers Game!: Soccer: The Math Behind the Perfect Goal, the Game-Winning Save, and So Much More! by James Buckley Jr. National Geographic. ISBN 9781426339233.
Buckley's book teaches readers about soccer with the help of basic geometry and statistics. The text is a combination of soccer strategies, facts, and instruction, which is told through the balanced perspective of male and female players at both the professional and beginner level.
Warrior Dog: The True Story of a Navy SEAL and His Fearless Canine Partner by Will Chesney with Joe Layden. Feiwel & Friends. Jun. 2020. ISBN 9781250244901.
Written in smooth first-person narration, this book tells the often sad story of Chesney and his best friend Cairo, a 70-pound Belgian Malinois. Chesney, who had been a SEAL for most of his six years in the Navy, became the handler of Cairo, a military working dog. They trained together, along with Chesney's team, and became a cohesive duo.
Draw a Comic! by JP Coovert. illus. by author. First Second. ISBN 9781250152114; ISBN 9781250152121.
A step-by-step guide to drawing comics—including how to create informative, nonfiction comics modeled on the publisher's popular "Science Comics" series. Supplementary materials, including a glossary of comics terminology and a further reading list, round out this clarion call to expertly draw it yourself.
Give Us the Vote!: Over Two Hundred Years of Fighting for the Ballot by Susan Goldman Rubin. Holiday House. ISBN 9780823439577.
In this intriguing look at the struggles faced by voters in the United States through history and into modern times , Rubin studies the history behind winning the right to vote, both for women and people of color, and confronts issues still faced today.
The Outdoor Scientist: The Wonder of Observing the Natural World by Temple Grandin. Philomel. ISBN 9780593115558.
Grandin is a renowned American scientist and one of the most well-known public figures with autism. She connects with her audience in a personal and fascinating style while detailing her early scientific observations about the natural world. The book combines memoir, biography, informational text, and engaging projects.
Lafayette!: A Revolutionary War Tale by Nathan Hale. illus. by author. Abrams/Amulet. ISBN 9781419731488.
About-to-be-executed spy Nathan Hale entertains his captors and readers by telling stories about U.S. history in this popular graphic novel series. In this installment, Hale returns to the setting of the American Revolution to focus on the early life of French aristocrat and Revolutionary War hero Marie-Joseph Paul Yves Roch Gilbert du Motier, Marquis de Lafayette.
Birds: Explore Their Extraordinary World by Miranda Krestovnikoff. illus. by Angela Harding. Bloomsbury. ISBN 9781547605293.
Birds evolved from dinosaurs. As they spread across the world into almost every habitat, they showcased flight, plumage, and distinctive songs and calls. Harding's vivid linocut illustrations complement short chapters that detail specific habitats. The text also explains how avian characteristics such as feathers and beaks ensure the bird's success in these environments.
Torpedoed: The True Story of the World War II Sinking of "The Children's Ship." by Deborah Heiligman. Holt. ISBN 9781627795548.
Heiligman tells a story of bravery, courage, and despair through the eyes of the passengers on the SS City of Benares, a ship commissioned to sail to Canada with 100 children on board during World War II. The ship was torpedoed by a German submarine.
Murder on the Baltimore Express: The Plot To Keep Abraham Lincoln from Becoming President by Suzanne Jurmain. Little Bee/Yellow Jacket. ISBN 9781499810448.
Through a series of spy missions to infiltrate the clandestine group meetings of Abraham Lincoln haters, his protectors outsmarted the antagonists and delivered Lincoln away from Baltimore where the assassination was to occur, to Washington, DC, for the swearing-in ceremony.
Have I Ever Told You Black Lives Matter by Shani Mahiri King. illus. by Bobby C. Martin Jr. Tilbury House. ISBN 9780884488897.
This inspiring title chronicles African American accomplishments from the Revolutionary War to the present. On alternating pages, the question, "Have I ever told you that...?" is posed, then answered by focusing on important Black trailblazers in disciplines such as science, arts, and politics.
Amazing Treasures: 100+ Objects and Places That Will Boggle Your Mind by David Long. illus. by MUTI. What On Earth Bks. ISBN 9781912920501.
The text defines a treasure as "anything that's important or valuable to someone." That definition encompasses an array of items, places, and natural wonders. Pages teem with exciting discoveries, such as the Svalbard Seed Vault in Norway, the Moai of Easter Island, and the Benin Bronzes.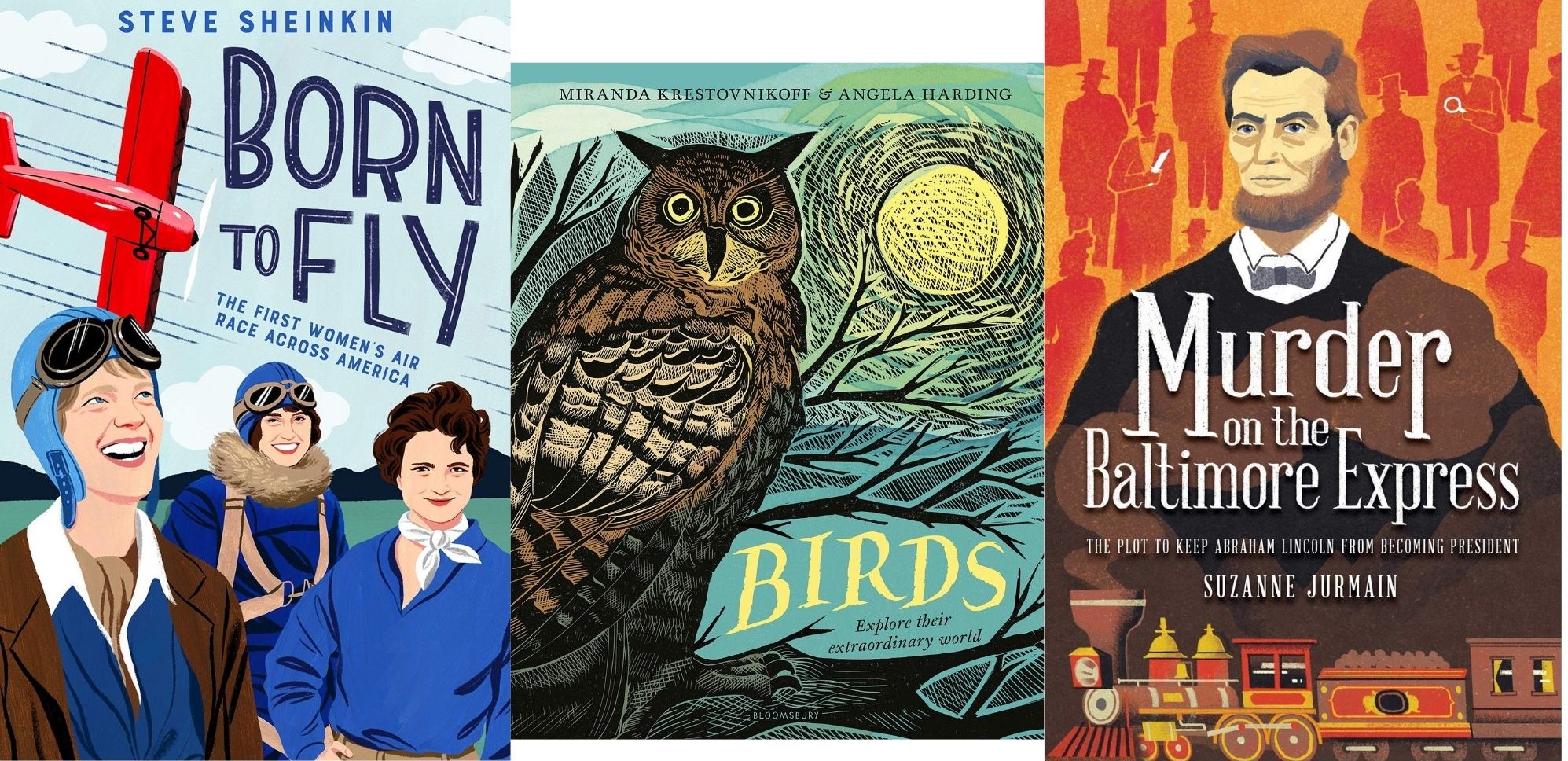 Thrill Seekers: 15 Remarkable Women in Extreme Sports by Ann McCallum Staats. Chicago Review. ISBN 9781641604802.
This collective biography profiles 15 extreme sports female athletes, who have reached the highest levels of competition in their chosen sport. The featured sports include wingsuit diving, iceberg diving, parkour, downhill mountain biking, and ultra running.
Spaceman: The True Story of a Young Boy's Journey To Becoming an Astronaut by Mike Massimino. Delacorte. ISBN 9780593120866.
Massimino's young readers' adaptation of his best-selling adult autobiography is more than just an appealing and accessible chronicle of becoming an astronaut. The chronological narrative describes the author's nontraditional path to joining NASA, and his personal, academic, and professional challenges.
The First Conspiracy: The Secret Plot To Kill George Washington by Brad Meltzer & Josh Mensch. Roaring Brook. ISBN 9781250244833.
In this young reader's edition of their best-selling book, Meltzer and Mensch trace a shadowy plot to kill Washington that may have originated with New York's royal governor, William Tryon. This title is amply researched, well documented, and as engagingly written as a spy thriller.
Our World Out of Balance: Understanding Climate Change and What We Can Do by Andrea Minoglio. illus. by Laura Fanelli. Blue Dot Kids. ISBN 9781735000534.
This book is packed with information about the climate crisis, from the rise in sea levels to intensive farming to threats to biodiversity. Each section explains the problem, then includes a before-and-after section that describes what happened prior to the accelerating climate crisis and what is happening now.
The Friendship Book by Wendy L Moss. Magination Pr. ISBN 9781433832291.
Moss provides a guide to friendship for young readers. Topics include making friends, social media, and how friendships can change over time. The text features engaging quizzes and relatable scenarios or scenes that readers might have experienced directly or indirectly.
Bill Nye's Great Big World of Science by Bill Nye & Gregory Mone. Abrams. ISBN 9781419746765.
Nye's middle grade science text covers a wide range of topics, including the human body, zoology, botany, evolution, laws of motion and thermodynamics, plate tectonics, and the solar system. Combine the effervescent and enduring appeal of Bill Nye with solid science and the result is a winner.
Born To Fly: The First Women's Air Race Across America by Steve Sheinkin. illus. by Bijou Karman. Roaring Brook. ISBN 9781626721302.
Using a collected biographical approach, Sheinkin presents the history of early American aviation and the changing role of women in society, culminating in the Women's Air Derby of 1929. Societal norms prevented women from competing in air races until the 1929 derby.
Chance: Escape from the Holocaust by Uri Shulevitz. Farrar. ISBN 9780374313715.
Caldecott Medalist Shulevitz offers a profoundly honest memoir that chronicles his childhood during the time of the Holocaust. His relationship with art, as a means of genuine expression and as a constant companion, is apparent not only in the memories he shares but also in his drawings.
Enemy Child: The Story of Norman Mineta, a Boy Imprisoned in a Japanese American Internment Camp During World War II by Andrea Warren. Holiday House. ISBN 9780823441518.
In 1941, when Norman Mineta was nine years old, Japan attacked Pearl Harbor, and his life changed forever. Using more than 100 photographs and many quotes from Mineta, the book chronicles his family's experiences living in an internment camp in Wyoming.
There's No Ham in Hamburgers: Facts and Folklore About Our Favorite Foods by Kim Zachman. illus. by Peter Donnelly. Running Pr. ISBN 9780762498079.
Where do some of our favorite foods come from and how did they get their names? Zachman tackles this mystery and the history of favorite foods. with fascinating facts, cultural influences, a little kitchen science, and some lighthearted fun along the way.