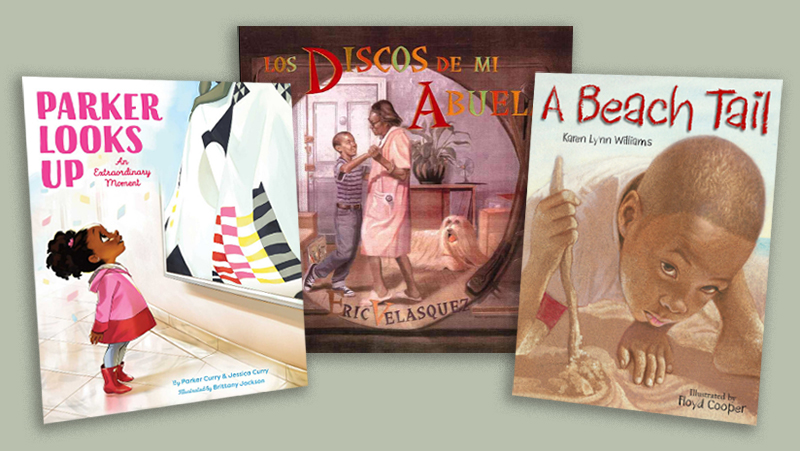 Hope, family, love—these universal topics are the center of this list of picture books, with their exuberant illustrations and positive prose, offering portraits of Black joy.
Crown: An Ode to the Fresh Cut by Derrick Barnes. illus. by Gordon C. James. Agate/Bolden. ISBN 9781572842243.
Barnes's rhythmic text describes the experience of a young African American boy as he gets a "fresh cut" and how a trip to the barbershop changes the way he feels about the world and in turn how the world perceives him.
Grandma's Purse by Vanessa Brantley-Newton. illus. by author. Knopf. ISBN 9781524714314.
A little African American girl eagerly awaits her grandma Mimi's arrival, because when Grandma comes, there is always a treasure in her purse!
I Am Perfectly Designed by Karamo Brown with Jason "Rachel" Brown. illus. by Anoosha Syed. Holt. ISBN 9781250232212.
As a boy and his father take a walk through the city, they revisit some of their special experiences together, including dressing up like syrup and waffles for Halloween, and pretending to be statues in the park.
Rocket Says Look Up! by Nathan Bryon. illus. by Dapo Adeola. Random. ISBN 9781984894427.
Young Rocket, an admirer of astronaut Mae Jemison, never stops telling others to "Look up!" Rocket is preparing herself to be the "greatest astronaut, star catcher, space walker who has ever lived."
Freedom Soup by Tami Charles. illus. by Jacqueline Alcántara. Candlewick. ISBN 9780763689773.
A beloved grandmother and granddaughter prepare a bubbling pot of Freedom Soup, which celebrates Haiti's liberation. This book is a start-to-finish celebration of family, history, and culture.
Hair Love by Matthew A. Cherry. illus. by Vashti Harrison. Penguin/Kokila. ISBN 9780525553366.
A wonderful slice-of-life tale about family support, Black hair, and embracing individuality.
Jabari Jumps by Gaia Cornwall. illus. by author. Candlewick. ISBN 9780763678388.
Jabari has completed his swim lessons and is ready to jump off a diving board. His story will help assuage the fears kids experience when faced with a new and daunting adventure.
Parker Looks Up: An Extraordinary Moment by Parker Curry & Jessica Curry. illus. by Brittany Jackson. Aladdin. ISBN 9781534451865.
Based on a true story, this book follows Parker, a young African American girl, as she visits the National Portrait Gallery in Washington, DC, with family and friends.
Snow Globe Wishes by Erin Dealey. illus. by Claire Shorrock. Sleeping Bear. ISBN 9781534110311.
A family of four, which includes a dark-skinned mother, son, and daughter, and a light-skinned father, eat dinner sitting on the floor in front of a roaring fireplace while the snow quietly deepens outside the window. This warmhearted story of family and community, filled with goodwill and hope, will have children wishing for a snow day.
Last Stop on Market Street by Matt de la Peña. illus. by Christian Robinson. Putnam. ISBN 9780399257742.
An inquisitive young boy named CJ and his nana travel through their urban neighborhood. This lovely narrative highlights topics such as urban life, volunteerism, and thankfulness, with people of color as the main characters.
Sunday Shopping by Sally Derby. illus. by Shadra Strickland. Lee & Low. ISBN 9781600604386.
Filled with heartfelt homespun sentiment, Derby's picture book is an homage to imagination and familial love.
Hair, It's a Family Affair by Mylo Freeman. illus. by author. Cassava Republic. ISBN 9781911115687.
Young Macy stands proudly in front of her seated classmates and states: "I'm going to tell you all about my family's hair!" A sweet exploration of family and expressing love through hair care rituals.
The Hula Hoopin' Queen by Thelma Lynn Godin. illus. by Vanessa Brantley-Newton. Lee & Low. ISBN 9781600608469.
This refreshingly original story follows Kameeka, who is determined to beat the neighborhood competition and become the Hula-Hoopin' Queen of 139th Street.
In Plain Sight: A Game by Richard Jackson. illus. by Jerry Pinkney. Roaring Brook/Neal Porter Bks. ISBN 9781626722552.
Sophie's grandfather lives in her house, and while his mobility is restricted, his tender feelings for his granddaughter know no bounds. An appealing story about a dynamic intergenerational relationship.
Julián Is a Mermaid by Jessica Love. illus. by author. Candlewick. ISBN 9780763690458.
Young Julián lives with his abuela and is obsessed with mermaids. His grandmother takes Julián to a mermaid festival, where he finds a newfound community.
How To Find a Fox by Nilah Magruder. illus. by author. Feiwel & Friends. ISBN 9781250086563.
This simple but charming tale depicts a girl who is determined to photograph an elusive fox.
Every Little Thing by Cedella Marley. illus. by Vanessa Brantley-Newton. Chronicle. ISBN 9781452142906.
This fun book by Bob Marley's first-born daughter, Cedella, pairs her father's beloved song with images that explore the ups and downs of a child's typical day.
Saturday by Oge Mora. illus. by author. Little, Brown. ISBN 9780316431279.
Ava cherishes the one day each week she gets to spend with her working mother. A story that weaves mindfulness, appreciation of family time, and the lesson that parents are human, into a gorgeously produced package.
Thank You, Omu! by Oge Mora. illus. by author. Little, Brown. ISBN 9780316431248.
In her apartment on the top floor, Omu (Igbo for queen) makes a tasty, thick red stew for her dinner. A memorable tale of community and the unexpected rewards of sharing.
Hey Black Child by Useni Eugene Perkins. illus. by Bryan Collier. Little, Brown. ISBN 9780316360302.
Collier's characteristic watercolor-and-collage masterpieces bring joy and gravity to Perkins's inspirational poem.
Puppy Truck by Brian Pinkney. illus. by author. S. & S./Atheneum. ISBN 9781534426870.
Carter wants a puppy, but when he receives a truck instead he doesn't let it stop him for a moment. A sweet story that depicts the limitless wonder of imagination.
M is for Melanin by Tiffany Rose. illus. by author. Little Bee. ISBN 9781499809169.
A joyful tribute to, for, and of Black children everywhere.
Mary Has a Little Glam by Tammy Sauer. illus. by Vanessa Brantley-Newton. Sterling. ISBN 9781454913931.
A fun and lively read-aloud about a budding fashionista named Mary.
I Got the Rhythm by Connie Schofield-Morrison. illus. by Frank Morrison. Bloomsbury. ISBN 9781619631786.
A young girl discovers a world of exuberant rhythm in her neighborhood.
Layla's Happiness by Mariahadessa Ekere Tallie. illus. by Ashleigh Corrin. Enchanted Lion. ISBN 9781592702886.
A handsome and helpful primer on self-reflection for Black and brown children.
Grandma's Records/Los discos de mi abuela by Eric Velasquez. illus. by author. Walker. ISBN 9780802776600; Spanish edition ISBN 9781933032184.
A boy spends the summer with his grandmother in her apartment in Spanish Harlem listening to her records. A book that celebrates and brings light to the Afro-Latinx experience.
Looking for Bongo by Eric Velasquez. illus. by author. Holiday House. ISBN 9780823435654.
An Afro-Latino boy searches for his missing stuffed toy. Velasquez's warm oil paintings illuminate in obvious and not-so-obvious ways the family's love of music, literature, and their African roots.
A Beach Tail by Karen P. Williams. illus. by Floyd Cooper. Boyds Mills. ISBN 9781590787120.
This charming summer tale of creativity and discovery features a young boy and his father at the beach.