These male protagonists—from single dads to married men, uncles, and grandfathers—reflect a range of caring adults who are key figures in black children's lives.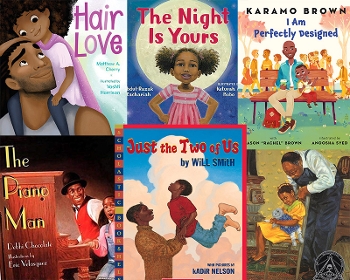 I have been on a mission to ensure that all children see representations of caring black fathers and father figures in books. My quest was spurred in part by a 2013 study by the Center for Disease Control (CDC) on father involvement with their children that debunked the stereotype of absentee black fathers. Some of the findings:
Black fathers were more likely to have bathed, dressed, diapered, or helped their children use the toilet every day than white and Hispanic fathers (70 percent vs. 60 and 45 percent).
More black fathers between the ages of 15 and 44 took their children to or from activities every day, compared to white fathers (27 vs. 20 percent).
More Hispanic and white fathers had not helped their children who didn't live with them with homework at all in the previous four weeks compared to black fathers (82, 70, and 56 percent).
I hope and suspect that paternal involvement among all groups has only risen since that report was released. Librarians often discuss the need for diverse books that reflect kids' lives, including families that look like their readers' families. If we don't, we literacy professionals are, by inaction, reinforcing the stereotype of absentee black men, fathers, and caregivers to an entire generation of children.
This selection of engaging picture books includes positive images of black men bonding with their families. I selected titles featuring single dads, married men, uncles, and grandfathers, in order to reflect the diversity of black males who are important figures in the lives of black children. While this brief selection is just a start, it represents books I've read to children that they clearly enjoy, and they are worthy additions to any library, classroom, or personal collection. Please make more suggestions in the comments.
I Am Perfectly Designed by Karamo Brown with Jason "Rachel" Brown, illus. by Anoosha Syed. Holt, 2019. This is a lovely story about an uncle who decides to raise his nephew as his son. The two main characters' favorite pastime is walking through the neighborhood together. Throughout this story, the uncle also spends time with his own son, assuring him that he is loved and "perfectly designed."
Hair Love by Matthew A. Cherry, illus. by Vashti Harrison. Kokila. 2019. This is an endearing contemporary story about a father's journey as he learns how to style his daughter's natural hair on wash day. When his wife isn't available just before a big event, the responsibility falls to the dad. After many twists and turns, he prevails, creating a beautiful hairstyle for his little girl before his wife returns home.
Grandpa, Is Everything Black Bad? by Sandy Lynne Holman, illus. by Lela Kometiani. Culture C.O.O.P., 1995. This wonderfully illustrated book portrays a grandfather educating his grandson about negative stereotypes of black people and the richness of his African heritage. The grandfather teaches the boy about the beauty of black history, culture, and inventions. The story continues with an equally dynamic sequel, We All Have a Heritage (Culture C.O.O.P., 2002).
Uncle Jed's Barbershop by Margaree King Mitchell, illus. by James Ransome. Scholastic, 1993. This beautifully illustrated work of historical fiction, set in the South during the 1920s, tells the story of an uncle who loves his niece so much that he spends all the money he has saved to open a barbershop to pay for her hospital bill when she falls ill. After she recovers, the uncle, who is the only black barber in his county, starts saving all over again, and finally is able to purchase a shop, his lifelong dream.
Just the Two of Us by Will Smith, illus. by Kadir Nelson. Scholastic, 2001. The lyrics of Smith's eponymous song supply the words for this picture book, a sweet story about Smith's father-son relationship with his first child. Some highlights include Smith bringing his baby home from the hospital and having special moments with his son while raising him. The engaging illustrations convey an unconditional love and bond between the two characters.
The Piano Man by Debbi Chocolate, illus. by Eric Velasquez. Walker. 1998. Velasquez received the Coretta Scott King New Talent Award for this work, in which a grandfather tells his granddaughter about his experience being a piano player during the silent film era. The books ends with the granddaughter gaining a respect for her family history while also witnessing her grandfather's ongoing love of piano.
The Night Is Yours by Abdul-Razak Zachariah, illus. by Keturah A. Bobo. Dial. 2019. This story is narrated by the father of the main character, Amani, as she plays an evening game of hide-and-seek with other black children in an apartment courtyard. Amani gains affirmation to go out into the world and to be adventurous.

Chicago native Tiffany A. Flowers is a children's author, literacy advocate, and assistant professor of education in the department of cultural and behavioral sciences at Georgia State University Perimeter College. Contact Dr. Flowers at tflowers@gsu.edu.