Students at Meadowcreek High School make it work on the runway in high style, with books in hand.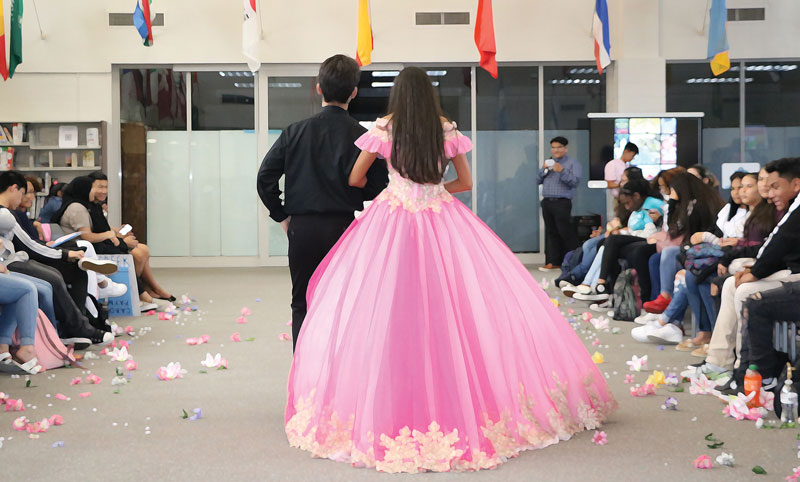 The Prom Book Fashion Show in the Meadowcreek High School media center.
"Short and sweet—that's the cool, summery look of the cover of the novel Sequins, Secrets, and Silver Linings. Get the book to add the finishing touch to your look!" That was our student MC describing a model at our standing-room-only Prom Book Fashion Show, where students walk the runway holding a book. Our students haven't always felt excited about the prom. Many are from countries where proms aren't part of the culture. I came up with the fashion show idea while brainstorming ways to promote the prom… and reading. It combines two of my favorite things—books and fashion! Here are tips to plan your own.
Reach out to local boutiques. I contacted a store called Cinderella's Closet and described my idea. They were happy to participate and lend gowns. Our school Care Closet was also full of dresses, so we included some of those. Along the way, students became more aware of free clothing available to those in need. The second year, boys joined the show. Our prom sponsor connected me with K&G Fashion, which provided tuxedos and shoes. They received the most applause!
Create a buzz. Originally, I was going to make my shy, book-loving library science students model the gowns, but not all wanted to. I created an ad seeking "Meadowcreek's Next Top Model," with a photo of Tyra Banks. After posting on social media and our school scrolling announcements, I received a huge response. Students of all sizes joined. One student, who is female but was assigned male at birth, participated and helped the students walk the runway and encouraged another LGBTQ+ student to join. The first year, models picked a book from a list of reviews by my library science students. The second year, I required models to check out a book and write their own review. My library circulation shot up.
Practice! Practice! Practice! We met after school to discuss how to walk in a gown. We also talked about persuasive language and how to write a book review. It was a great bonding experience.
Let the students lead. The first year, I did everything. The second, two participants asked if they could help. They hosted a better event than I did, and I was thrilled that they took ownership. The students submitted a playlist for my approval. Our student DJ brought in his own equipment, including strobe lights and a mic.
Write a grant. This year, I received a grant from WE Teachers via Walgreens to provide self-care kits for participants. I want the students to learn how to properly take care of their skin and develop a healthy personal hygiene routine.
Schedule for maximum attendance. We hosted ours during lunch, and since our school has four lunch periods, we had four different shows. It was packed, with students sharing photos and videos on Snapchat.
Set the stage. We rearranged the media center to make a runway lined with books. I asked our student council president to emcee. The Cinderella's Closet manager, her assistant, and I helped the girls dress. Our regular lunchtime students were stunned by the transformation. They took their seats and waited excitedly. Then the show began! Models walked the runway, proudly displaying their book selections. It was awesome. Reading never goes out of style.
Cicely Lewis is SLJ's 2020 School Librarian of the Year.