Sherman Alexie's "The Absolutely True Diary of a Part-Time Indian" tops the list.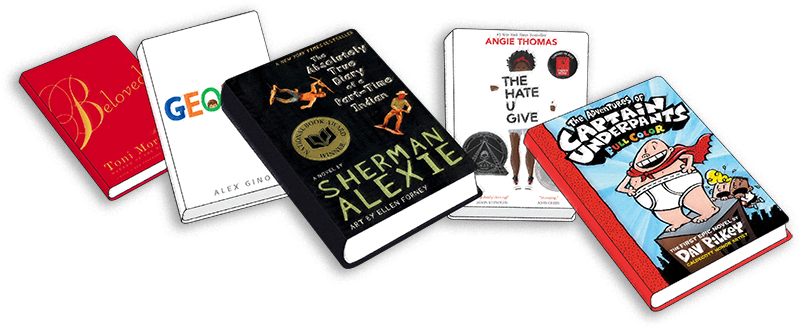 The American Library Association's Office for Intellectual Freedom (OIF) kicked off Banned Books Week today by releasing the Top 100 Most Banned and Challenged Books of the Decade (2010-2019). Sherman Alexie's The Absolutely True Diary of a Part-Time Indian is No. 1 with the "Captain Underpants" series by Dav Pilkey, Thirteen Reasons Why by Jay Asher, Looking for Alaska by John Green, and George by Alex Gino rounding out the Top 5. George was the most challenged book of the last two years. Among the week of events on the Banned Books Week Facebook page, the OIF will host a Q&A with Gino about censorship and the importance of representation in literature on Wednesday, September 30 at 2 p.m. Eastern.
Year after year, LGBTQIA+ content is the top reason for challenges, and the OIF has reported a rise in those attempts in recent years. Some newer titles with LGBTQIA+ themes and characters vaulted up the list thanks to challenges over the last few years. A Day in the Life of Marlon Bundo by Jill Twiss, a parody book about vice president Mike Pence's pet rabbit from the staff of Last Week Tonight with John Oliver, was released less than three years ago but cracked the Top 20 of the all-decade list at No. 19.
Familiar titles and authors from decades ago share the list with later generations and more recent releases. There's Mark Twain, Maya Angelou, John Steinbeck, and Harper Lee, as well as Angie Thomas, Raina Telgemeier, and Mariko Tamaki. Toni Morrison and Walter Dean Myers appear twice. Eric Carle's Draw Me a Star, challenged for an illustration of a naked man and woman, is No. 64, a couple of spots behind Anne Frank: Diary of a Young Girl at No. 62 because of its sexual material and homosexual themes. The Holy Bible checks in at No. 52, challenged for having a religious viewpoint. (The Bible made the Top 10 in 2015 when then director of the OIF James LaRue noted that at times the challenge to the Bible is a counteraction after a religious group challenges another title.)
The OIF has been compiling an annual list of most banned and challenged books since 1990. This list represents both public and confidential reports OIF received but is only a glimpse at what is happening at schools and public libraries around the country. Anywhere from 82 to 97 percent of challenges go unreported, according to OIF, which compared its database with the results from independent students of third-party Freedom of Information Act requests regarding school and library book censorship. The books are challenged for different reasons, including LGBTQIA+ content, sexual references, religious viewpoints, content that addresses racism and police brutality, and profanity.

[Read: Virtual Banned Books Week Ideas and Events]
Here are the Top 100 of 2010-2019:
The Absolutely True Diary of a Part-Time Indian by Sherman Alexie
Captain Underpants (series) by Dav Pilkey
Thirteen Reasons Why by Jay Asher
Looking for Alaska by John Green
George by Alex Gino
And Tango Makes Three by Justin Richardson and Peter Parnell
Drama by Raina Telgemeier
Fifty Shades of Grey by E. L. James
Internet Girls (series) by Lauren Myracle
The Bluest Eye by Toni Morrison
The Kite Runner by Khaled Hosseini
Hunger Games by Suzanne Collins
I Am Jazz by Jazz Jennings and Jessica Herthel
The Perks of Being a Wallflower by Stephen Chbosky
To Kill a Mockingbird by Harper Lee
Bone (series) by Jeff Smith
The Glass Castle by Jeannette Walls
Two Boys Kissing by David Levithan
A Day in the Life of Marlon Bundo by Jill Twiss
Sex is a Funny Word by Cory Silverberg
Alice McKinley (series) by Phyllis Reynolds Naylor
It's Perfectly Normal by Robie H. Harris
Nineteen Minutes by Jodi Picoult
Scary Stories (series) by Alvin Schwartz
Speak by Laurie Halse Anderson
A Brave New World by Aldous Huxley
Beyond Magenta: Transgender Teens Speak Out by Susan Kuklin
Of Mice and Men by John Steinbeck
The Handmaid's Tale by Margaret Atwood
The Hate U Give by Angie Thomas
Fun Home: A Family Tragicomic by Alison Bechdel
It's a Book by Lane Smith
The Adventures of Huckleberry Finn by Mark Twain
The Things They Carried by Tim O'Brien
What My Mother Doesn't Know by Sonya Sones
A Child Called "It" by Dave Pelzer
Bad Kitty (series) by Nick Bruel
Crank by Ellen Hopkins
Nickel and Dimed by Barbara Ehrenreich
Persepolis by Marjane Satrapi
The Adventures of Super Diaper Baby by Dav Pilkey
This Day in June by Gayle E. Pitman
This One Summer by Mariko Tamaki
A Bad Boy Can Be Good For A Girl by Tanya Lee Stone
Beloved by Toni Morrison
Goosebumps (series) by R.L. Stine
In Our Mothers' House by Patricia Polacco
Lush by Natasha Friend
The Catcher in the Rye by J. D. Salinger
The Color Purple by Alice Walker
The Curious Incident of the Dog in the Night-Time by Mark Haddon
The Holy Bible
This Book is Gay by Juno Dawson
Eleanor & Park by Rainbow Rowell
Extremely Loud & Incredibly Close by Jonathan Safran Foer
Gossip Girl (series) by Cecily von Ziegesar
House of Night (series) by P.C. Cast
My Mom's Having A Baby by Dori Hillestad Butler
Neonomicon by Alan Moore
The Dirty Cowboy by Amy Timberlake
The Giver by Lois Lowry
Anne Frank: Diary of a Young Girl by Anne Frank
Bless Me, Ultima by Rudolfo Anaya
Draw Me a Star by Eric Carle
Dreaming In Cuban by Cristina Garcia
Fade by Lisa McMann
The Family Book by Todd Parr
Feed by M.T. Anderson
Go the Fuck to Sleep by Adam Mansbach
Habibi by Craig Thompson
House of the Spirits by Isabel Allende
Jacob's New Dress by Sarah Hoffman
Lolita by Vladimir Nabokov
Monster by Walter Dean Myers
Nasreen's Secret School by Jeanette Winter
Saga by Brian K. Vaughan
Stuck in the Middle by Ariel Schrag
The Kingdom of Little Wounds by Susann Cokal
1984 by George Orwell
A Clockwork Orange by Anthony Burgess
Almost Perfect by Brian Katcher
Awakening by Kate Chopin
Burned by Ellen Hopkins
Ender's Game by Orson Scott Card
Fallen Angels by Walter Dean Myers
Glass by Ellen Hopkins
Heather Has Two Mommies by Leslea Newman
I Know Why the Caged Bird Sings by Maya Angelou
Madeline and the Gypsies by Ludwig Bemelmans
My Princess Boy by Cheryl Kilodavis
Prince and Knight by Daniel Haack
Revolutionary Voices: A Multicultural Queer Youth Anthology by Amy Sonnie
Skippyjon Jones (series) by Judith Schachner
So Far from the Bamboo Grove by Yoko Kawashima Watkins
The Color of Earth (series) by Kim Dong Hwa
The Librarian of Basra by Jeanette Winter
The Walking Dead (series) by Robert Kirkman
Tricks by Ellen Hopkins
Uncle Bobby's Wedding by Sarah S Brannen
Year of Wonders by Geraldine Brooks

[READ: The 10 Most Challenged Books of 2019]
See the full press release from ALA: