It's Black Lives Matter at School Week of Action. Resources and a starter kits are available, along with the new contest-winning logo from a South Carolina high schooler.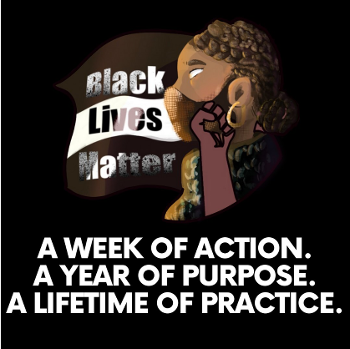 The first week of February is Black Lives Matter at School Week of Action. This year, BLM at School is not limited to February's Black History Month. Instead, the Week of Action comes in the midst of BLM at School's Year of Purpose, during which every month of the academic year focuses on a specific principle. February's principle is "Unapologetically Black." The website offers resources, including a starter kit, for the Week of Action.
The 2021 student creative challenge prompt is, "What makes you feel free to dream, safe to thrive in schools and communities?" Students are asked to share their response on social media with the hashtag #BLMAtSchoolChallenge.
[Read: Curricular Correction: Using Resources To Teach Black History and Culture]
South Carolina high school student Naima Whitted won the 2021 Black Lives Matter at School logo contest.
"I wanted to show the importance of #BlackLivesMatter by showing the past and present coming together," said Naima, a high school freshman in Columbia, SC. "The girl in the image has modern braids and wears a COVID mask, but the Black Power fist has a history from the 1960s that still has meaning today."
The logo appears on merchandise and social media posts.
"I want people to try to see the bigger meaning behind my art, which is if this person can be strong and stand up for what they believe in then it is possible to make a change," Naima said via email. "And I hopefully inspired other young artists or artists in general to speak their mind through art and not violence. Because art can speak louder than words."
Naima said she took part in the contest because she wanted to "do something for my commmunity to show that I stand with them in all the things that they believe should be done."
"And as a young black girl I wanted to find some way to also stand with those who believe in BLM and my talent is Art, so I wanted to use that power to release a positive message the best way I can."

She believes it is important to use the BLM at School curriculum and lessons "so that the next generation of children learn what should happen and what was done incorrectly in the past to prevent that from happening again. If it isn't taught then people won't learn, and children are influenced by what they see the people they look up to doing. And if they are surrounded by harmful energy then that's all they know, and they will carry that on into their future."