Proper ventilation is an important mitigation strategy for opening school buildings safely; the CDC has issued more detailed ventilation guidance.
The Centers for Disease Control (CDC) released more detailed guidance on ventilation for safely opening school buildings across the country. After reissuing guidelines with mitigation strategies for schools earlier in February, the CDC has now expanded on recommendations for improving ventilation as a meaningful way to cut down on the spread of the virus.
The documented airborne aerosol transmission of the novel coronavirus means proper ventilation is needed for mitigation and "Just open the windows" is not adequate advice. As educators note repeatedly on social media, "Open the windows" is not a viable option in places where the windows don't open, the weather is too cold or too hot, there is too much noise outside, or the air quality is dangerously poor. The goal is educating students (not just having them in the building) and that can't be done if they are freezing through hats and mittens, trying to breathe through dangerous heat and humidity or pollution.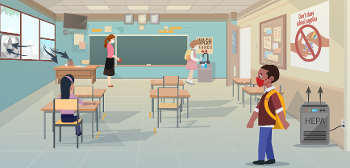 While opening windows or using window fans where possible is a primary recommendation, the CDC offered many more suggestions to help better ventilation to prevent COVID-19, including using portable HEPA air purifiers, making sure exhaust fans in kitchens and bathrooms are on and working, and in larger rooms like gyms, auditoriums, or even libraries, installing ultraviolet germicidal irradiation systems.
All of these additions and upgrades cost money, and federal funds may be provided. The American Rescue Plan, the COVID-19 relief bill recently passed by the House of Representatives (and now waiting on a vote in the Senate) has almost $130 billion designated for K-12 education. That money would go toward repairing and improving ventilation systems, reducing class sizes, implementing social distancing, hiring support staff, and purchasing personal protective equipment, according to the House Committee on Education and Labor fact sheet on the bill. Twenty percent of any funds granted to a district must be used to "address learning loss."
Read the full CDC ventilation recommendations below.