The CDC's Operational Strategy for K-12 Schools through Phased Mitigation lists five strategies that must be "strictly implemented" for safe in-person school.
The Centers for Disease Control and Prevention (CDC) today released Operational Strategy for K-12 Schools through Phased Mitigation, guidelines meant to help more schools open buildings to students and help those that already have students in classrooms operate in the safest way.
The 33-page document says teachers should be prioritized for vaccination, but that vaccinated school staff is not a necessary component of safely opening school buildings.
"Evidence suggests that many K-12 schools that have strictly implemented mitigation strategies have been able to safely open for in-person instruction and remain open," the document said. "This document provides an operational strategy to support K-12 schools in opening for in-person instruction and remaining open through an integrated package of mitigation components. These essential elements include:
1. Consistent implementation of layered mitigation strategies to reduce transmission of SARS-CoV2 in schools
2. Indicators of community transmission to reflect level of community risk
3. Phased mitigation and learning modes based on levels of community transmission
It called testing and vaccination of staff "additional layers of COVID-19 prevention in schools."
The five mitigation strategies, regardless of community transmission, that are "essential" to in-person instruction and must be "strictly implemented," are:
• Universal and correct use of masks
• Physical distancing. The CDC notes the safe distancing is at "at least six feet" and should be maximized to the greatest extent possible. (Previous CDC guidelines had said three feet was enough if six feet was not possible.) It adds, "Cohorting or podding is recommended to minimize exposure across the school environment."
• Handwashing and respiratory etiquette
• Cleaning and maintaining healthy facilities. Included in this section are ensuring all water systems are safe and "improving ventilation to the extent possible." It mentions opening windows when that is safe, but it does not discuss minimum ratings needed for HVAC filters or system upgrades.
• Contact tracing in combination with isolation and quarantine, in collaboration with the local health department
The guidelines also include a color-coded system for how community transmission should impact the type of schooling in an area (fully in-person, hybrid, all virtual) and mitigation strategies.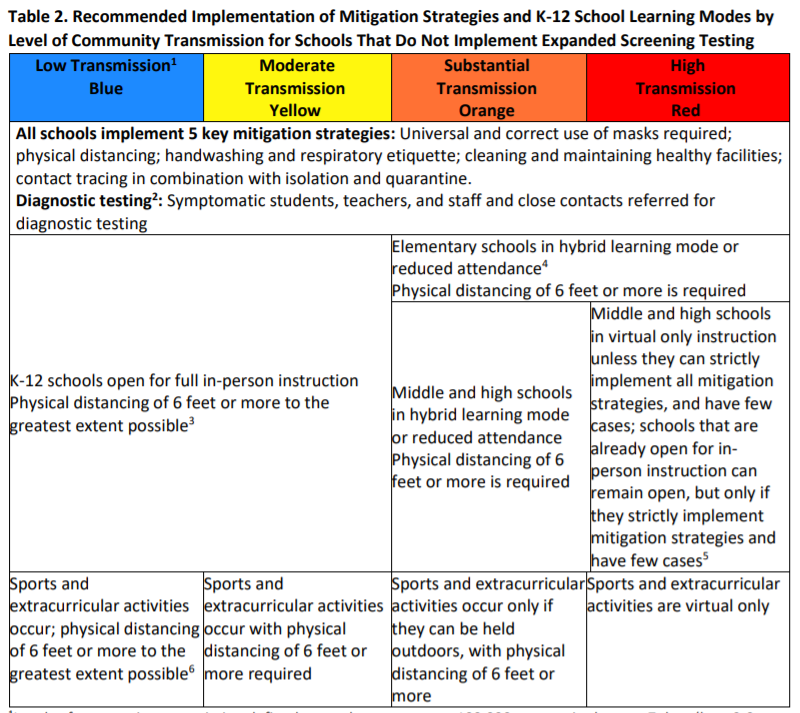 The CDC points educators and administrators to its K-12 Schools COVID-19 Mitigation Toolkit , which includes resources, tools, and checklists to help prepare schools for safe in-person instruction.