Famed actor and activist George Takei will kick off School Library Journal's annual Summit. This year's theme: Making "good trouble."
Famed actor and activist George Takei will kick off School Library Journal's (SLJ) 14th annual Leadership Summit in a morning keynote on Saturday, October 27, at the New York Marriott at the Brooklyn Bridge.
With a theme of making "good trouble," the two-day event will feature a range of other speakers—from author Adam Gidwitz and star librarian Elizabeth Bird to Grammy-Award winning musical artist Dan Zanes and vocalist Claudia Eliaza—breakout sessions, Drag Queen Story Hour (in a half hour), and much more.
More than 300 registrants, leaders in libraries nationwide, are expected to attend the October 27–28 gathering, the largest SLJ Summit to date and supported by Capstone (platinum sponsor); Follett (gold sponsor); and sponsors ABDO, Gale, Lerner, Mackin, Rosen Publishing, and TLC.
This year, the Summit will feature a special technology showcase led by Games for Change: The XR for Change Immersive Arcade. Throughout Saturday, attendees can try virtual and augmented reality experiences in the Arcade, including Breaking Boundaries VR from Filament Games, 3D Bear AR, and Greenland Melting.
Takei, known for his founding role as Hikaru Sulu in the iconic television series Star Trek, has been a prominent activist for marriage equality and other social justice causes. His graphic memoir, They Called Us Enemy, will be published by Top Shelf next summer.
Also on Saturday, "Read Woke" librarian Cicely Lewis will discuss representation in YA lit with authors S.K. Ali, Ellen Hagan, Renée Watson, and Ibi Zoboi. Meanwhile, a sustainability initiative of the New York Library Association, four "supers," and the Lilead Project will present on the leadership front. In that vein, SLJ is pleased to introduce Ali Schilpp, School Librarian of the Year, who will discuss her work on Sunday morning.
Jake Barton, principal and founder of Local Projects, an award-winning creator of digital and physical museum experiences, will close out the Summit with a keynote on "Learning, Literacy, and Love: Experiences that Move You."
For more information about the SLJ Summit, visit the event page, and follow SLJ on Twitter, Facebook, and Instagram. The event hashtag is #sljsummit.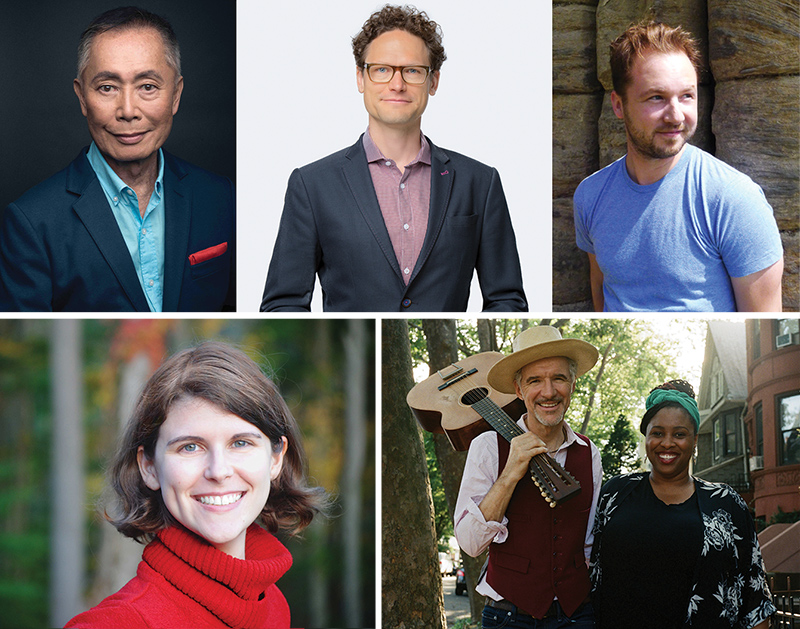 Clockwise from top left: George Takei, Jake Barton, Adam Gidwitz, Dan Zanes & Claudia Eliaza, Elizabeth Bird.