A read-aloud of Kyle Lukoff's book about a transgender boy in elementary school led to parental complaints and the school calling in counselors for the students who listened to the story.
Every day across the country, books are challenged. Public libraries are told to remove a title from the shelves, and schools field complaints from parents about something deemed "offensive."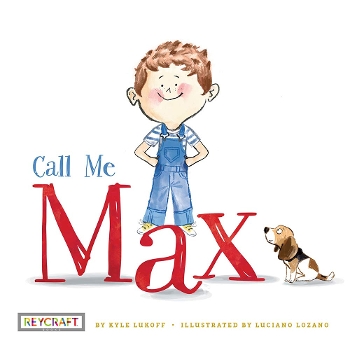 Libraries are expected to have a procedure in place for handling challenges, and decisions are made based on that protocol and further inquiry. Typically, these stories remain local issues. There is a commonality to most challenges no matter the location, though. For many years, titles with LGBTQ+ content have dominated the American Library Association's list of Top 10 Most Challenged Books. It is often the No. 1 reason for books to be challenged.
Every once in a while, a challenge and the response ripple across the country. The latest children's book to receive national attention because of objections to its use in school is Call Me Max by Kyle Lukoff, former elementary school librarian and author of the Stonewall Award–winning When Aidan Became a Brother.
Call Me Max, a story of a transgender boy navigating elementary school, was read aloud to a fourth-grade class at an elementary school in the Eanes Independent School District in Austin, TX. Parents complained, and some even called for the teacher to be fired.
This is common. In fact, Call Me Max, published in 2019, was at the center of a similar uproar in Utah earlier this year. But in that case, what happened next was not the usual response. In a district email to parents, chief learning officer Susan Fambrough wrote, "Counselors were made available to support students, and the school administration worked with families to provide an explanation and reassurances."
Lukoff—who will be moderating the SLJ webcast "Disrupting Literary Hegemony: Trans and Nonbinary Author Spotlight" on March 25—responded with a public letter to Fambrough.
"I spent eight years as an elementary school librarian, and am familiar with the situations where so many resources are expended to ensure the wellbeing of students and families—after the Sandy Hook shooting, for example, or after a death in the school, or some other crisis," Lukoff wrote in a letter he posted to his blog and on social media. "Do you believe that a read-aloud about a transgender child is an equivalent trauma? How do you think transgender people in your community felt having their identities treated like a disaster? Do you provide similar resources after a student in your district experiences homophobia or transphobia? Do you provide similar support to students experiencing other forms of oppression, like racism or ableism?"
Bringing in counselors wasn't necessarily the thing that pushed Lukoff to respond, although it was a factor—along with Fambrough's repeated use of "gender identity" while not once using "transgender" and writing that the "good news" was that no other teacher shared the book.
Lukoff is familiar with the stress experienced by the teacher who did share his book. He has seen book challenges from both sides.
"I know what it's like to put a book on the shelf knowing that it might open you up to a challenge," he told SLJ via email. "And I know what it's like to debate putting a book on a shelf because you're not sure you can weather the consequences. And I know what it's like to put a book on your shelf and quietly hope that no kid comes across it, and when they do, that anxiety that comes from knowing that you might get an angry email, or worse, when that book comes out of the kid's backpack."
He describes a challenge that he managed as a librarian "one of the most upsetting moments in his career." He felt responsible. He doubted himself. He wanted to find the magic words that would diffuse the situation. That incident, however, helped him handle challenges to his books.
"When I was a baby librarian, I thought that I was ready for challenges, and I wasn't," he said. "But I got ready, and that experience has proved invaluable in dealing with this whole situation, and I'm so grateful to the work of my former colleagues—current colleagues? I'm still a librarian at heart—who are putting the needs of their patrons first."