The adorable book-swap boxes weather criticism while spreading books around neighborhoods.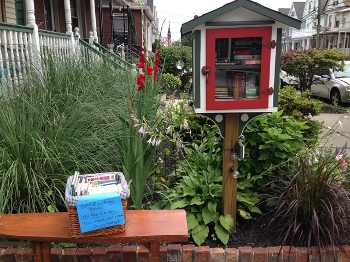 There are over 70,000 registered Little Free Libraries (LFL) in all 50 U.S. states and in more than 80 countries. The tiny boxes full of books are sometimes mistaken for miniature dollhouses and birdhouses. Some are constructed from scratch, others born from recycled materials. They can be found in front yards, public parks, and elsewhere.
Off-Broadway Books: Little Free Library of Bayonne, NJ (Charter #42727), is one of them, and I'm the steward. I'm also a high school English teacher at Country Prep High School in Jersey City, NJ, and I was inspired to start a LFL after reading The Little Free Library Book by Margret Aldrich. Her stories of stewards caught my attention, and my kids were enthusiastic. My carpentry-savvy father-in-law recycled a medicine cabinet to make our LFL. My husband taught our kids how to dig a post hole in our front yard, pour cement, and set the post. On a sunny day in December of 2016, we unveiled our green-and-white library with the red door.
Immediately, skeptics began asking, What kind of work is this going to entail for you? Aren't you worried about vandals? I wasn't worried about either. I spread the word about our LFL on social media, and friends were the first to arrive. Soon after, I started receiving phone calls and emails.Can I drop off books on your porch? How many books do you accept?
I learned being a steward means accepting all donations, sorting them, and weeding out encyclopedias and diet books from the 1980s. Why didn't people just recycle outdated material? I wondered. A fellow LFL steward in Scotch Plains, NJ, thinks it has to do with the fact that "people want a place for their books to live on."
This struck a chord with me. One of the earliest donations I received was from a woman who had lost her son to cancer years ago. Showing up at my house with boxes of his books, she said she was able to part with them because they would be in the hands of children who enjoy reading. As I paged through the picture books, his name still written on the inside covers, I read dedications: "Happy birthday" and "Merry Christmas." I understood for the first time what John Milton meant when he said, "books are not absolutely dead things, but do contain a potency of life in them."
Off-Broadway Books has a top shelf for adult and teen books and a bottom shelf for children's titles. My experience choosing culturally relevant and diverse reading material for my high school students helps me keep a balance of selections in the LFL. We're a block away from an elementary school and two blocks from a city park in a neighborhood full of children. Parents have thanked me for providing a variety of culturally diverse books. And of course I am aware that literacy improves if readers have choices.
My positive experience echoes others' stories on the LFL stewards' Facebook page. However, there have been quite a few derisive portrayals of LFL stewards as privileged do-gooders who do nothing but promote their own book collections. I could not believe the vitriol aimed at the organization, much of it coming from literacy advocates. Some public librarians have complained that LFLs mostly appear in wealthy neighborhoods that already have free books available through public library systems. I wanted to know how the company responded to such negativity, so I contacted the headquarters. A few days later, founder Todd Bol spent an hour on the phone chatting with me.
Bol admits the LFLs will never be enough in some critics' eyes. Even though they are recognized by the Library of Congress, they do not exist to replace public libraries; in fact, many public schools and libraries sponsor LFLs in their communities. Of all the stories Bol told me, one resonated the most. He described visiting a gymnasium-size hospital room in Mumbai where the patients outnumbered the nurses. He asked the nurse, "How can you take care of all these people?" To which she replied, "We can't, but look how well we do with watchers." She pointed to the watchers, people standing near the beds, feeding the patients, checking their vital signs, and comforting them. Bol sees LFL stewards across the globe as watchers--they don't aim to eradicate illiteracy on their own, but to support literacy where they can.
Some consultants have suggestions that Bol project a single vision for LFLs—libraries that focuses either on community or literacy. They tell him, "Pick one!" But he believes their broad impact can't be confined to a single cause.
Bol believes that the strength of LFL lies in its stewards, particularly in cities such as Lake Worth, FL, where there are 30,000 residents and more than 100 LFLs in seven square miles. The broader Lake Worth literacy success story lies in its community involvement, according to lead steward Mary Lindsey. Begun in 2015, the literacy initiative has support from the city's Vice Mayor, the Palm Beach County School District, which donates books annually to LFLs , and the Palm Beach County Sheriffs, who run a mobile book program. Lindsey's exuberance traveled over the phone as she told me how the Lake Worth community was "fertile ground already with the generosity of neighbors. What our LFLs did was take away the boundaries that existed in neighborhoods."
Taryn Venner Ashe is a mom, a high school English teacher, and a writer, who is learning to juggle all three jobs gracefully.