As hospitals and healthcare workers face a shortage of personal protective equipment, makers across the country are trying to help.
The lack of personal protective equipment (PPE) is one of the biggest challenges for healthcare workers across the country as they try to treat patients with COVID-19. In recent days, companies have donated equipment they had on hand. Facebook, for example, had hundreds of thousands of masks to protect employees during California wildfires and gave them to healthcare workers. Meanwhile, manufacturing corporations are attempting to aid in the production of ventilators, surgical masks, faceshields and visors, and individual makers are also trying to step up.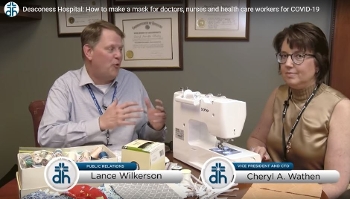 In Italy, parts for ventilators are being 3-D printed, but in the United States, the focus at the moment has been on PPE.
Librarians at Columbia University have released a Guide and Design for Rapidly Manufacturing Face Shields with a 3D printer and household tools.
GetUsPPE.org/makers has a list of projects that "have been reviewed and approved by medical professionals," according to the website. It allows makers to register, offers sewing and 3D printing options for needed supplies, and talks people through the process of finding a place to donate to and how to disinfect tools.
While medical experts and the Centers for Disease Control website note that any homemade equipment is for worst-case-scenario use when hospitals run out of commercial supplies, they also acknowledge that time may come soon, if it hasn't already. Healthcare workers are reporting that they are re-using masks meant to be thrown away after treating one infected patient.
Resources are widely available online for anyone with a 3D printer and the proper materials or a sewing machine and access to the correct fabrics. 3-D printing companies 3D Copper and Prusa made their resources available in an effort to share information during the coronavirus pandemic.
Digital Scholarship at Columbia tweeted, "Have access to a 3D printer? You can help medical professionals by printing PPE. "Guide & Design for Rapidly Produced Face Shields." Design & process by @thedatarealist, w/assistance from @elotroalex & @muziejus @columbialib" along with a link to designs.
Members of a new Facebook group called New England COVID-19 Maker Outreach are sharing resources and ideas, and all are trying to make sure they use the proper materials, test masks for fit, and get feedback from healthcare workers as quickly as possible.
Cambridge University has provided research on the best fabrics to use for sewn-at-home surgical masks, and the results can be helpful to anyone trying to make their own to give to local hospitals and medical offices.
Deaconess Health System in Indiana released a how-to video for creating make masks. Washington's Providence St. Joseph Health, which started a #millionmaskchallenge, offers a face shield design and a video for making surgical masks.
The hashtags for sharing resources, attempts, and solutions include #3DprintersN95masks, #N95masks, #PPEShortages, #HackThePandemic.
Gary Price and InfoDocket contributed to this article.