These lizards can be excellent ambassadors for school libraries.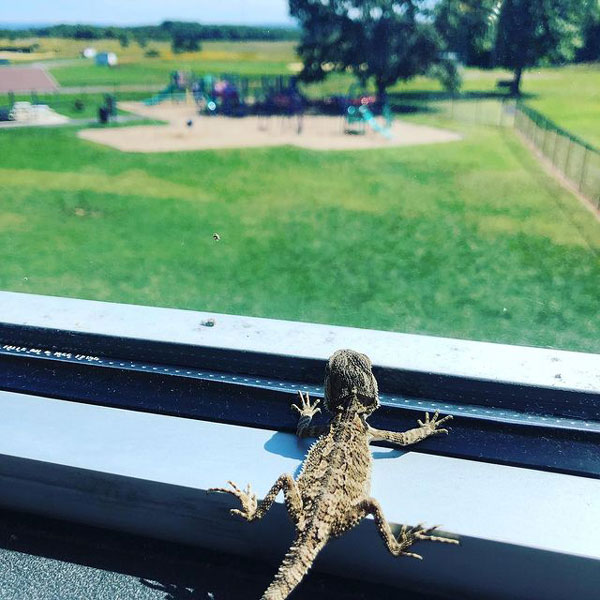 Dewey the Library Dragon watches the playground at Moshannon Valley Elementary School.
While many librarians are devoted to their resident felines, others prefer cozying up to bearded dragon lizards, or "beardies." Library media specialists who have beardies on site agree that these little lizards are great ambassadors for school libraries.
The reptiles' laid-back, sweet personalities make them ideal educational animals that will charm students and staff alike. Bearded dragons grow to 16-24 inches long, weigh one to two pounds, and can live for eight to 10 years. They eat vegetables and insects such as crickets and mealworms. Though they are solitary creatures that don't get along with one another, they love people. They will often run to the front of their tanks to greet students, and they like to be held and even snuggled.
Bearded dragons can be purchased at a pet store or breeder for $25-$50. They can also be adopted from an owner who needs to rehome them. The Pets in the Classroom grant awards up to $125 to purchase or adopt a reptile and supplies. School librarians in public and private schools, Pre-K to ninth grade can apply. While the initial cost to set-up a beardie can be about $300, adult beardies that are no longer growing cost $30-50 per month to maintain.

Safety and sanitation
Beardies are safe, sanitary animals to have in the library. Their teeth are tiny compared to the those of their fearsome, mythical counterparts. They are relaxed and rarely bite, unlike small mammals and birds that may nip students when agitated or scared. If beardies do become stressed, the "beard" under their chin will turn black, so it's easy to tell when they need some quiet time. They produce a mild venom, but it's harmless to humans. And while furry friends such as dogs, cats, and rodents cause the most allergic reactions in people, reptile allergies are very rare, according to the American Academy of Allergy, Asthma & Immunology.
Unlike most pets, beardies and their tanks are virtually odorless, thanks to their polite bathroom habits. Because they digest their food slowly, they only defecate once a day at the most and are more likely to take care of business outside or in a warm bath instead of on an unsuspecting third grader. Though reptiles get a bad rap for their potential to have Salmonella in their stool, the CDC notes that all pets can carry the bacteria and handwashing is the best way to prevent the spread to humans.
Already have a library pet? No problem! Beardies are known to get along very well with cats, dogs, and small animals with supervision.
Learning with lizards
Media specialist M.J. Rosensweet at Central Elementary School in Hillsborough, NC says library beardie Dart—short for D'artagnan from The Three Musketeers—is a great advertisement for the library. Many of the students at the Title 1 school have never interacted with a bearded dragon before, let alone seen a lizard of that size, so Dart is a great draw to bring students into the library.
"If I can get my kids in the media center, then I can get a book in their hands or a thought for a future visit," Rosensweet says.
At Moshannon Valley Elementary School in Houtzdale, PA, librarian Jamie Wagner's students also get excited to come to the library to see the bearded dragon. They love to watch Dewey the Library Dragon hang out in his habitat or on the playground during a warm day. They especially enjoy helping to feed Dewey and watch him shed his skin. During STEM instruction, students "build elevators, cars, and slides, for him; measure him using non-standard units; and chart his growth," Wagner says. The library's "Read a Book to Dewey" station always has a line of students eager to read to their patient pal. Wagner notes that students who are "reluctant to come to the library due to reading insecurities always enter with a smile on their face because they get to see Dewey."
Beardies also encourage students to do research and learn responsibility. Lizzie the Lizard resided at the Oak Hill Elementary School library in Somerset, KY for a year, during which students enthusiastically researched the care, habitat, and life cycle of bearded dragons. Librarian Jennifer Garner Duell says that younger students enjoyed having Lizzie at story time, and, with the older students, she discussed the cost of the setup and maintenance and what the lizard would need as she got older.
To kick off learning about these lizards, librarians can make use of Appreciate a Dragon Day on January 16th and Reptile Awareness Day on October 21st. At Barbers Hill Elementary South in Mont Belvieu, TX, librarian Kimberly Manegre-Schultz dresses herself and beardie Max in cute, matching costumes for book character days to get students excited to read.

From left: Dewey participates in a K'Next competition; Dewey with a dragon stuffie; Lizzie the Lizard relaxing at Oak Hill Elementary School.
Beardies on the go
A huge advantage bearded dragons have over other library pets is their ease of portability. Beardies happily attend programs inside or outside the library as long as the weather is warm. Dart happily rides on Rosensweet's shoulder while he walks through the halls, and Dewey likes to go out with Wagner during recess, to the delight of students. For longer trips out of the tank, beardies can be easily trained to walk on a leash with a harness.
Charlie—the library beardie at Watertown Regional Library, a public library in South Dakota—spent the summer of 2020 taking daily walks outside to greet people and attending fire hydrant parties around the community. "Charlie made many friends and calmly ran through the grass with multiple kids in tow," says library paraprofessional Sarah Overvaag. When it's too chilly for Charlie to go outside, his fans come see him. During non-pandemic times, Overvaag said he "gets a lot daily visitors, including kids who bring him gifts like pretty leaves from outside," and adults. Charlie has helped with "breaking the 'prim and proper shushing' stereotype" and has captured the hearts of children, adults, and staff, Overvaag adds.
When it's too cold for a stroll, beardies can also travel virtually. Charlie conducts class visits via Zoom and often graces the library's Facebook page. Dewey has his own Instagram page (@dewey_the_library_dragon) and a Google picture file in Wagner's bitmoji classroom.
"Students like to see pictures and videos of him to bring back something that is 'normal' from last year," Wagner says. She said students feel a special bond to Dewey, and one student who moved away from the area and then moved back told Wagner how happy he was that Dewey would return to school as soon as all the students resumed in-person learning.

Caring for a dragon
Like any pet, bearded dragons have specific requirements to stay happy and healthy. Growing beardies need to eat more bugs and more often than adults. Tanks for adult dragons should be 60-90 gallons and have a secure screen on top. They need a UVB light, a heat light for "basking," a thermometer at each side of the tank, and a hygrometer to measure the humidity. Lights can be plugged into timers so beardies can be comfortable if they remain in the building during off hours, though some librarians choose to take them home evenings and weekends. Tanks need an enclosed "hide" for beardies to retreat to when they need a break from the world. Beardies will also use their hides during their "brumation," which is similar to hibernation in mammals and can last anywhere from a couple weeks to a few months. What time of year? Not great if it hides for a few months during the school year
Additional accessories to make your beardie bestie's tank a home include rocks, branches, hammocks, and fun tank backgrounds. Females need a lay box handy because they may lay infertile eggs. Tanks can be lined with washable reptile carpet, tiles, or paper towels. Though beardies love to dig in sand, they often accidentally ingest it which can lead to impaction, especially in young lizards. Because of this, librarians who choose to use sand in their beardie's tank should purchase a special type that can be ingested.
While beardieslive longer than other small pets, the day will come for them to cross the rainbow bridge. When they do, librarians and teachers can work together to help students process their feelings and build resiliency. Pets in the Classroom recommends using simple, honest language to explain what happened and creating activities that let students reflect on and share their feelings.
Beardies are easy, affordable, safe, and loving animals that can make the perfect addition to your library team.
Stephanie Katz is a librarian with the Manatee County (FL) Public Library System and editor in chief of 805 Lit + Art, an award-winning literary magazine published by her library.