Myers's 145th Street: Short Stories, celebrating its 20th anniversary, highlights the beauty of Harlem and the people and stories that make the neighborhood unique.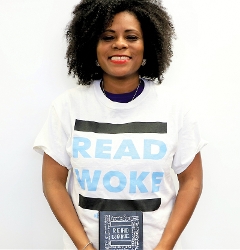 An infographic published in 2019 illustrating the lack of Black representation in children's literature left many people devastated. In 2018, animal characters received more representation in these books than children of color! Twenty-seven percent of books starred animals, while 23 percent featured nonwhite characters overall. The remaining 50 percent were white.
That would have been no surprise to Walter Dean Myers. "In 1969, when I first entered the world of writing children's literature...children of color were not represented, nor were children from the lower economic classes," he wrote in a 2014 New York Times editorial shortly before his death. "Today, when about 40 percent of public school students nationwide are black and Latino, the disparity of representation is even more egregious. In the middle of the night I ask myself if anyone really cares."
I asked myself the same question as I returned to begin a new school year in 2017 and started the Read Woke movement. Myers's 145th Street: Short Stories highlights the beauty of Harlem and the people and stories that make the neighborhood unique. A forthcoming 20th-anniversary edition features wonderful photos of Walter and his son, Chris Myers, along with tributes from prominent YA authors and educators. Jason Reynolds, Nic Stone, Renée Watson, Natasha Díaz, and others share how Myers inspired them. I also share how he inspired me to Read Woke.
Short stories such as "Big Joe's Funeral," a funny tale about a man who plans his own funeral while he's alive and invites all his friends, will resonate with readers in this age of overpolicing. Joe wants to be celebrated in life rather than wait for death.
I truly believe that short stories can be a great tool to foster a love of reading, and those in Myers's collection will appeal to our striving readers. The language is so rich and full of life, you can practically hear the voices coming off the page.

Read: Paying Homage to Walter Dean Myers | Listen In
A voracious reader as a child, Myers grew up in poverty and amid violence. He said he wished he could have encountered James Baldwin's Sonny's Blues, about an algebra teacher whose brother comes home after ­being incarcerated for selling heroin, as a child rather than an adult. I wished someone had handed me one of ­Myers's books. As a child who felt alone, I used stories as my ­escape. It would have been nice to have them as a mirror.
Because of my experiences, I have made it my life's mission to provide students with books that educate, heal, and empower. Myers's memoir Bad Boy follows his journey from a young man who grew up in a loving Harlem home and fell into trouble, to one of the greatest writers of YA fiction.
His novel Dope Sick asks: What if you could watch a movie of your life and, using a TV remote, look back on past decisions or fast-forward to see what the future holds? Shot in the arm, Dope Sick protagonist Lil J hides from police in a crack house, where he's given the opportunity to rewind and have a second chance.
Myers's Monster, also adapted into a graphic novel, shows the injustices of the criminal justice system for people of color. Written in the form of a screenplay, this story of a 16-year-old boy on trial for the murder of a Harlem drugstore owner never ages: It's as relevant today as when it was first published in 1999.
While conducting research for Monster, Myers interviewed a prosecutor who explained that his goal when representing juvenile clients was to humanize them to the jurors. Myers realized that is what he hoped to achieve with his literature.
In a time when children are being locked in cages at the border, unarmed Black boys are being shot for carrying toy guns, and nearly two million LGBTQ teens contemplate suicide annually, we need this humanization. We need 145th Street: Short Stories.