The 2020 SLJ Summit finished with a personal, thought-provoking conversation between Cullors and Tennessee school librarian Erika Long.
The 2020 SLJ Summit finished with a personal and thought-provoking conversation between Black Lives Matter (BLM) cofounder Patrisse Cullors and Tennessee school librarian Erika Long. The two discussed Cullors' reason for writing her memoir, the impact of a lifetime of racism, how young people are pushing the country to be better, and the role of educators now and going forward. It starts with "courageous conversations."
"First and foremost, having courageous conversations are such a critical part of how we evolve as a country and as a people," Cullors said Saturday as the day-long Summit came to a close. "One of the first courageous conversations that educators should and need to be having is the courageous conversation about race and racism in this country. You can't get around it. You can't avoid it. Everybody's seeing it. So be as educated as you can be about these topics. Don't wait for a student to bring something up. You bring it up, and you bring it up in a constructive and innovative way, and you bring it up in a creative way, a way that makes other students feel comfortable talking about race and racism."
For too long, she said, people in this country were afraid to have these conversations. That can't be the case anymore.
"Now is the time for educators to approach the conversation around race and racism with a lot of curiosity," she said. "Your young people are already talking about it, already seeing it all over social media. They're going to be with you the majority of the day, so might as well allow for it to be a place they get to learn and grow, instead of creating a dynamic where they feel shame around it or feel like they shouldn't be talking about it."
Cullors's 2016 memoir, When They Call You a Terrorist, was recently adapted for middle grade and YA readers. The SLJ review called the title "an essential purchase for all high school libraries. Students will learn about BLM's beginnings and empathize with the pilgrimage of one individual discovering her true self."
At one point in their discussion, Long read an excerpt from the book in which Cullors discussed her father's death, questioning the impact on him of a lifetime of racism and knowing his childhood dreams were dismissed, his life not valued in this country.
"How do you measure the loss of what a human being does not receive?" Long read, visibly moved.
What is the impact of racism on Black lives? Long asked Cullors.
"I don't even think we as Black people fully know the impact," Cullors said. "We live the impact. We die early because of the impact. But I often think about those of us who survive and what we had to witness, what we are fearful of becoming truth for us and our families, what often does become truth for us and our families.
"We cannot keep living in the ways that we lived and the ways that we are living right now," she continued. "It's not sustainable—not just for Black people, but it isn't sustainable for any of us. I often say this, we're not just in a fight for humanity, this is a planetary fight. We are trying to shift the way human beings—a specific set of human beings in particular—have been treated for a very long time. We have to shift that. It is the only way out of this very, very painful and tragic reality that exists for us. And we have to do it together. It shouldn't just fall on Black folks to change the country, although it does, time and time again, especially Black women. We need everybody involved to change the course of history."

[Read: SLJ Summit: Challenging the Classics to Create an Inclusive Curriculum]

Educators are crucial to that work and can use her book, and that of fellow BLM cofounder Alicia Garza The Purpose of Power: How We Come Together When We Fall Apart, to further the conversation, Cullors said.
"You're reading some of the civil rights leaders' thoughts and feelings, what we've gone through, and how we are trying to change the course of this country," she said. "Every educator should be positioning these books as an opportunity to teach the next generation of leaders."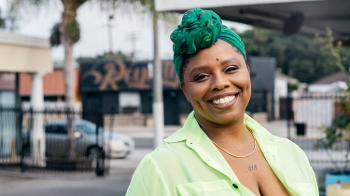 Students can not only learn about their stories but be empowered to act themselves.
"Young people need to know they have the ability to become leaders right now," she said. "I was a young activist, and I was gratefully honored by so many adults in my life to really support me and remind me that my leadership was critical and necessary for this country. Educators need to be on the front lines of supporting the voice and vision of young people. They have the ability to provide the tools to a new generation of leaders."
The younger generation gives Cullors reason to believe things will get better. She talked about the hope she felt seeing reports of early voting that showed a massive increase from four years ago in 18- to 24-year-old voters.
"There is a vibrancy to this moment that is very different than 2016, and everybody feels it," she said. "This is both about young people and their relationship to wanting to change the country, but I also want to say it's about our movement. It's about the Women's March. It's about Black Lives Matter, MeToo, March for Our Lives, Times Up, so many movements that have said, 'We can change the course of history.' Voting is such an important part of changing the course of history. Whatever happens in November, what we know is we are changing the way people we related to civic engagement."
Despite these difficult times, Cullors sees people coming together—providing mutual aid, supporting communities, and creating a new political infrastructure.
"It's a powerful time," she said. "It's a powerful time, and it's a tragic time. But I have so much motivation and so much hope for the people. The people change the world. The people change the world. That's how it's happened over and over and over again. So, the people are my guiding light right now."