In 2020, school and public libraries pivoted and innovated to meet the needs of students and patrons during the concurrent pandemic, social justice uprising, and volatile political divide, according to ALA's report.
On April 5, the American Library Association (ALA) released its annual State of America's Libraries Report —this year focusing on the COVID-19 pandemic and how public, school, and academic libraries stepped up to meet patrons' and communities' needs. Issued during National Library Week, April 4–10, the report features snapshots of libraries throughout the United States—highlighting the ways they've adapted to the changes, restrictions, budget contractions, and opportunities created by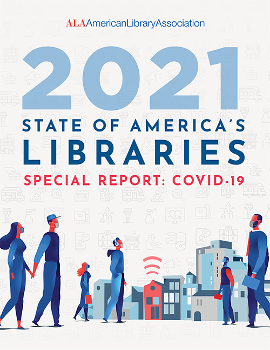 the pandemic—and includes a list of the Top 10 Most Challenged Books of 2020.
In addition to figuring out new ways to serve their communities and campuses after closing on short notice, libraries of all types supported accurate U.S. Census counts, fought political and scientific disinformation, helped facilitate voting in the November general election, and took part in conversations about social unrest and the need for greater equity both within and outside library walls. Topics ranged from use and access to funding and legislation, Wi-Fi and broadband, advocacy, programing, ebook lending, and learning support from K–12 through higher ed. Authored by ALA Communications and Marketing Specialist Steve Zalusky, the report featured input from a range of ALA divisions and offices including the American Association of School Librarians (AASL), the Association of College and Research Librarians, the Office for Diversity, Literacy, and Outreach Services, the Office for Intellectual Freedom, the Public Library Association, United for Libraries, and more.
"Nothing about 2020 was business as usual in any part of American society, and libraries and their workers, users, and services were all deeply impacted by the pandemic," the report begins. "In reflecting on the year, the only way to tell the stories of America's libraries is through the lens of the challenges and opportunities presented by COVID-19."
The story it tells is not only about libraries, noted ALA President Julius C. Jefferson Jr. "We talk about the report being a snapshot of libraries and communities and resilience," he told LJ. "But the report really is a snapshot of where we are in America right now, in 2021. Everything that libraries have to deal with is what we've all had to deal with in this country."
Stories and challenges
The State of America's Libraries report sets out to cover a lot of ground in 25 pages, and is strong on vignettes. "Although we were not connected as much in person, we were connected through social media [and] by sharing our stories," said Jefferson. When he assumed the association presidency in June 2020, he noted, "from the very beginning one of my goals was to bring the stories of the impact of libraries in their communities to the forefront."
Stops from Jefferson's 2020 Holding Space virtual tour are featured, such as Jemez Pueblo Community Library, NM, which helped residents file unemployment and stimulus forms using Wi-Fi in the library parking lot. Other vignettes highlight work done at the Leander Independent School District, TX, to network school libraries as tech hubs; how the Russell Library in Middletown, CT, took its book club program out on the water for Book Yak on a Kayak; Wayne State University Libraries in Detroit's orientation video for freshmen who had not yet visited campus in person; and the virtual giving campaign run by King County Library System Foundation, WA, that generated $110,000; to name just a few.
School libraries began gathering their own snapshots in spring 2020, said AASL President Kathy Carroll, not only to record what they did but to let other educators across the country see what was happening in individual communities. "We did not work in isolation," she told LJ. "We had to figure out what is going on across the country—we needed to know, how are we being impacted? What do we need? What are we doing? How can we work collaboratively together? How can we help if there's a need?"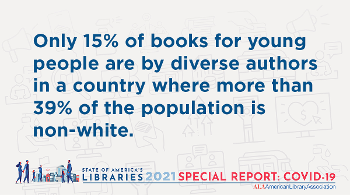 The report focuses on major equity issues from the past year, too. It examined how libraries addressed the exacerbation of structural inequities in access to high-speed internet brought into focus by the pandemic, and the ways in which libraries supported students and community members in their responses to racial unrest and calls for justice.
It also touches on the need for self-advocacy on the part of library workers when it came to speaking up for their own safety during the pandemic. "We would like to see ALA-APA [Allied Professional Association] used more to support library workers," said Jefferson, noting that all three 2022–23 ALA presidential candidate had expressed similar sentiments. "That is the way of the future. ALA APA's been around for a couple of decades now, and it's been underused and under-resourced. What we're hearing from our members is that they want [ALA] to do more with that part of the association to support library workers."
In the meantime, the section on self-advocacy the report links to work being done by the Library Freedom Institute . Indeed, the many external references are critical resources for the report's broad mandate. ALA documents and toolkits, such as Guidelines for Reopening Libraries , the Media Literacy in the Library Guide , the Libraries Respond: Black Lives Matter webpage are linked, as well as the REALM project website.
April is also School Library Month, and the report highlights how school libraries pivoted during school closures to not only serve student learning, connectivity, and reading help, but their social and emotional needs. "We wore a lot of hats during this time," said Carroll. "We were there for the students, making them feel secure—the read alouds, or just checking in every day for a bingo game or doing whatever it took to give them some sense of normalcy—while also focusing on the educational aspects."
Information and reflection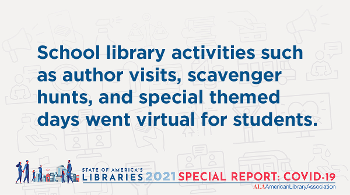 Jefferson hopes that the report will serve as both a source of information and a spur to action for members of the library community and ALA itself. "A lot that has happened over the past year…are issues that those of us who work in libraries were already aware of," he told LJ. "We were already aware of the disparities in terms of access. Many of us were already aware of a lot of the issues regarding racism and white supremacy. Many of us were already aware of the lack of voice for library workers. And I think that because this report gives us that snapshot of what happened, this is going to fuel us."
It will also serve as a record of a year that needs to be remembered, even as the library community keeps moving forward. "We're so resilient that we…adjust so quickly to what is happening," Carroll said. "When I looked back through the report, and I saw the actual impact, I was almost in awe of what we were able to accomplish in such dire circumstances. And when you just see them in black and white, you're thinking, Oh, my gosh, we actually persevered and came out on the other side of this… If you can do that, in the middle of a pandemic, what can you do under regular conditions?"
Lisa Peet is Library Journal's news editor.