Help students approach critical reading and character inferences in a way that doesn't center the reader's experiences and interpretations.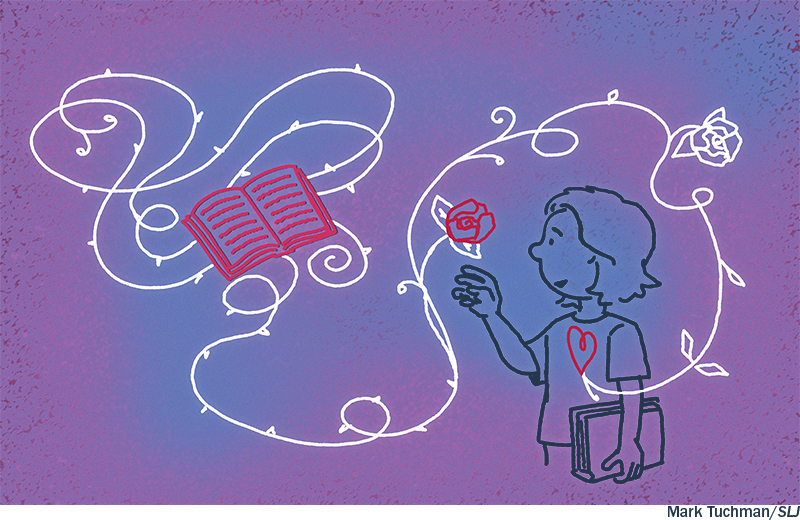 Last school year I attended professional development that focused on making children aware of their thinking when making inferences about a character in a book by teaching them a simple, three-step strategy:
1. Retell what is happening to the character.
2. Think about whether or not you have been in a similar situation and how you felt or speculate about how you might feel if you were in a similar situation.
3. Make an inference.
Easy peasy, right? But I overthink everything. And I just couldn't let go of a thought that came to me in the middle of that day. I've been thinking about it for months:
What if the character doesn't feel how you felt or might feel? Should we ask children to confirm their inferences with text evidence (the character's behavior, dialogue, facial expressions, etc.)? If there is little evidence, do we teach children to think about other possibilities or tolerate the ambiguity? I can't let go of this question: What are we teaching children about empathy if we tell them that they can make inferences about a character or a real live person's feelings based on their own experiences and interpretations? Is making inferences really this simple?
Empathy is a laudable character trait most educators teach. Well, I don't.
I've developed a strong belief about empathy: it's a feeling—one rooted in assumptions, because it does not require interaction. Walking a mile in another person's shoes doesn't have much impact if you don't have to walk alongside anyone, and you get to trade in said shoes for your own at the end of the journey.
Empathy can easily become a form of erasure.
Now, I teach children to embody compassion. Compassion was derived from the Latin word compati—to suffer with. Empathy sees injustice and thinks, "How sad! I'd be so broken-hearted if that happened to me." Compassion shows up in the middle of the storm, remains long after it has passed, and centers the individuals having the experience, giving them space to identify their own feelings and solve their own dilemmas, be their own heroes.
We're right to see libraries as central to democracy and building compassion. We talk so much about how nurturing young readers helps raise better human beings who are fully prepared to engage in our democracy. I wonder if this, too, is not a bit more complex than:
1. Teach skills.
2. Read books.
3. Make a better human.
Teaching children the skills of reading is critical. Reading skills are, after all, thinking skills. If they master the strategies we teach them, children will indeed be readers who get it—inferences and so much more— "right" much of the time. But will those strategies lead them to be the kind of citizens whose life lives are galvanized by their reading lives if we fail to teach them to dig deeper, see beyond themselves to other possibilities, and move beyond empathy to compassion?
In an interview with Education Week's Larry Ferlazzo, Dr. Gholdy Muhammad talks about the equity framework in her book Cultivating Genius: An Equity Framework for Culturally and Historically Responsive Literacy and in it, I found an answer:
"Criticality is the capacity and ability to read, write, think, and speak in ways to understand power and equity in order to understand and promote anti-oppression....This can be racism, sexism, homophobia, ableism, or any other oppression. In my work, I discuss the difference between lower case "c" critical, which is just deep and analytical thinking. But Critical with a capital "c" is related to power, equity, and anti-oppression. It is helping youths to be "woke" socio-politically. Criticality calls for teachers to connect their teaching to the human condition and to frame their teaching practices in response to the social and uneven times in which we live. This means helping students understand content from marginalized perspectives. As long as oppression is present, students need spaces to name, interrogate, resist, agitate, and work toward social change. . . With each lesson or unit plan, teachers should ask, How does our curriculum and instruction help us understand power, equity, and anti-oppression?"
When we teach children to read with criticality, we help them understand how power works. Empathy has long been used as a tool of oppression, a way for the haves to wield power over the have-nots by "helping" while maintaining control of resources and perpetuating erasure. In fact, the U.S. school system was built exactly this way and for this very purpose.
If we want our children to build a more just world, we have to teach them to consume, ideate, and create with criticality. This doesn't begin once they learn to decode or when we deem them ready. They are already doing it as they read the world and the word.
So let's ask children to retell, yes, to think about how they might feel in a similar situation. But after that, let's ask them what they are noticing in the text that might confirm their inferences. Let's help them ponder what other feelings the character might have. They might even get these ideas from their peers, who have divergent thoughts about the same character. Let's talk to them about who has the power to decide how the character—their friend, their family member—feels and what happens when we make these decisions for others. Let's think alongside them about how the inferences we make, sometimes with false information and biases, impact the past, present, and future.
Aeriale N. Johnson, a National Board Certified Teacher, teaches third graders at Washington Elementary School in downtown San José, CA.