SLJ Editor-in-Chief Kathy Ishizuka on libraries and literacy.
A library story. They say everyone has one.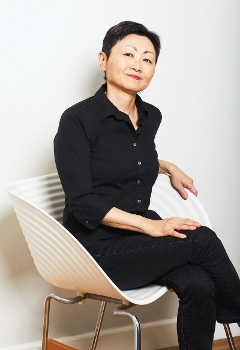 Years ago, I was rushing through the children's section of a branch of the New York Public Library, doing a bit of research for a magazine piece. Or it may have been a book project, I can't recall. But what happened next remains a vivid memory.
Rounding the bend, past the stacks, I happened upon several men. It was an incongruous sight that stopped me—deadline mode and all—in my tracks. Seated on chairs way too small for them at low, little round tables, these adults, who looked to be in their 60s, sat straight-backed, each silently intent, holding open a book.
Recognizing tentative readers, tracing their fingers slowly, deliberately across the page, left me suddenly aware of, among other things, my own privilege. I left my to-do list and the library in tears.
Today, I consider anew the intersection between libraries and basic literacy and, more to the point, how School Library Journal (SLJ) can both inform and be informed around a critical need.
Here, we celebrate great books, holding up the best in literature for children and teens. It's SLJ's bread and butter, what we do. For the most part, however, that assumes skilled young readers.
And, we expect, skilled readers aren't all the kids you're seeing in your work as educators and librarians.
At Cascade Middle School in Vancouver, WA, for example, reluctant or striving readers comprise more than 60 percent of the student population. Nevertheless, Michelle Annett, Cascade's teacher librarian, is steadfast in her belief that there's a book out there for everyone, and that she has a role to play in making those connections and giving children "the supports they need to clear whatever hurdle is in their way of loving reading," she says.
Annett shared her experience with journalist Marva Hinton for our story "Making Great Strives: Building Confident Readers." ­It cites the—now widely parsed—nationwide decline in reading scores among American fourth and eighth graders. Released late last year by the NAEP (National Assessment of Educational Progress), the "nation's report card" notably recorded downturns in both reading for information and reading as a literary experience.
The value of the literary experience, of course, goes well beyond the measure of any reading assessment. Those of us who have connected to a book that, indeed, seemed to speak to us, illuminated our way, or otherwise enhanced our lives can grasp what is really at stake here.
The NAEP findings have put reading on the front pages—for now. Meanwhile, librarians, like Annett, will persist on the front lines, perhaps not wholly focused on the acquisition of reading skill, but rather the fuller experience of literacy to which they are uniquely suited to impart to burgeoning readers, young and old.
We'll be right there with you.

Kathy Ishizuka
Editor-In-Chief
@kishizuka