When it comes to understanding racism, kids are ready for the conversation, says Jason Reynolds, co-author with Ibram X. Kendi of Stamped: Racism, Antiracism, and You. And us?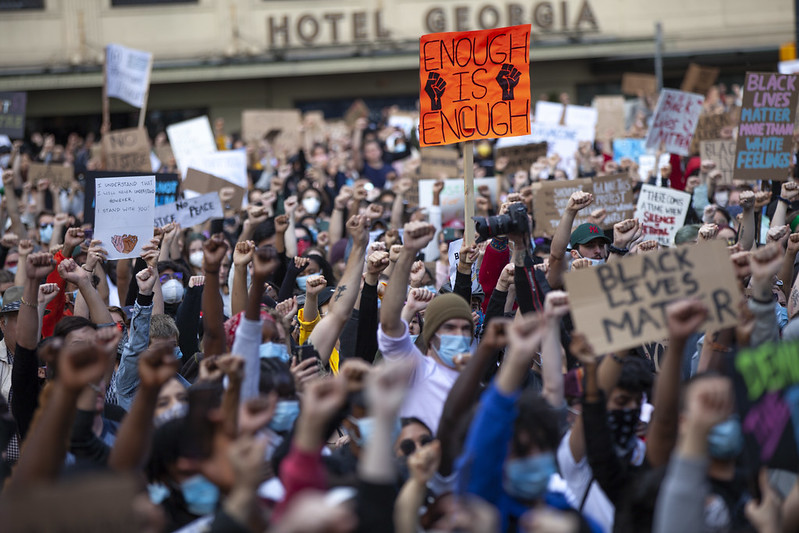 Black Lives Matter, antiracism rally, Vancouver Art Gallery, May 31, 2020 Photo by GoToVan on Flickr
When it comes to understanding racism, kids are ready for the conversation. That's according to Jason Reynolds who, together with Ibram X. Kendi, spoke to Nikole Hannah-Jones about their new book, Stamped: Racism, Antiracism, and You, for SLJ.
Since I had an early look at it, a recasting for young people of Kendi's National Book Award–winning Stamped from the Beginning, the subject of our March 2020 cover story was an easy call. I asked, and Hannah-Jones, founder of the landmark New York Times 1619 Project, said yes to conducting the interview. Gotta love when a plan comes together.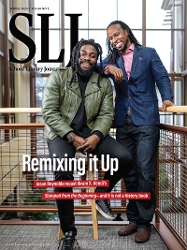 Both the 1619 Project and Stamped trace the path of racism to the core, laying out the historical precedent for racist ideas, illuminating how and why they persist to this day. In his remix, this not-a-history history book, as he calls it, Reynolds has advanced this notion, effectively synthesizing Kendi's thesis in an accessible, thought-provoking read, one that will resonate with adults, as well as the intended audience.
Reynolds felt the weight of this task, as he confesses to Hannah-Jones. As well he should have. Unpacking Kendi's ambitious, nearly 600-page work was no small feat. Reynolds whips through the chronology, grounded by key figures who have shaped our notion of race, human beings subject to all the attenuating influences, chief among them greed, from "the world's first racist," Gomes Eanes de Zurara, to Thomas Jefferson—whom Reynolds calls the world's first white person to say "I have Black friends." And on to Booker T. Washington, Marcus Garvey, Angela Davis, and Public Enemy, among others.
Individuals fall, sometimes slide, along Kendi's continuum of segregationists, assimilationists, and antiracists. W.E.B. Du Bois, for example, made antiracist strides, while not completely disavowing going along to get along. Abe Lincoln is, well, a bit more complicated than we had previously been led to believe.

Read: Nikole Hannah-Jones Talks to Jason Reynolds and Ibram X. Kendi About Their Book, "Stamped: Racism, Antiracism, and You"
Reynolds's implicit faith in young readers to do what they will with this information is a moving coda. The best-selling author of All American Boys and Ghost confidently breaks the fourth wall to speak directly to them.
Just as individuals across time have brought us to this point, people can shift our collective direction. Self-examination is part of that. Kendi himself admits to having held racist ideas, based on his upbringing and that of his mother, who grew up in the 1950s and acknowledged the need to "bend a bit."
My own mother, an educator and independent thinker, nevertheless cautioned us kids that as Japanese Americans, we were different, with the implication that we would always be judged accordingly, necessitating the drive to give 110 percent plus, as if performance above and beyond a given standard would shield us from prejudice.
People are of a time and a place, and as people of color can empathize with our parents and grandparents, there is something powerful for us all to gain through a fuller understanding.
To know the past is to know the present, as Kendi writes. To know the present is to know yourself.
Just as the author wrote Stamped from the Beginning amid the killing of unarmed Black men, women, and children, we are receiving this book, the young people's edition, in a period of unprecedented racism, state sanctioned from the highest office in the land and tacitly tolerated if not outright advanced by lawmakers. The very ideals of American democracy are threatened, now and on our watch.
What will the next chapter be for, let's say, voting rights? That's not on kids, that's on us.

Kathy Ishizuka
Editor-In-Chief
@kishizuka