A special project to Mend the World, literally and figuratively, helps us sew our way to world harmony.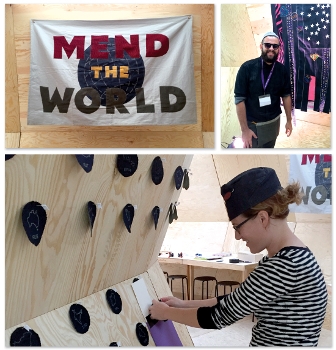 Steven Frost (top right) with one output from a prior ­project, Mend America, and Janet Hollingsworth (bottom) setting the stage for the Sewing Rebellion at Next Library Berlin.
Photos by Rebecca T. Miller

There is a special project under way right now to Mend the World, literally and figuratively, through a movement known as the Sewing Rebellion. I came across this initiative at the Next Library Berlin conference in September, where I observed the team from Boulder Public Library's makerspace BLDG 61 setting up its workshop to kick off a collaborative effort to create a patchwork world flag—and enable and inform political engagement at the same time.
This "collaborative mending experience" is itself a collaboration between the team at BLDG 61 and artists Carole Francis Lung and Steven Frost. Lung, also known as Frau Fiber, founded the Sewing Rebellion in 2006, and a decade later, Frost, aka Faux Frau, brought it to Colorado and the library makerspace. According to Frost's website, "the Colorado Sewing Rebellion distributes knowledge of the garment industry, pattern making, and sewing, encouraging the reuse, renovation, and recycling of existing garments and textiles in the creation of unique items tailored to individual tastes and body shapes."
Frost, who is an instructor in the College of Media, Communications, and Information at the University of Colorado, Boulder, was on hand in Berlin with Janet Hollingsworth and Zack Weaver, both creative technologists with BLDG 61. They brought along embroidery kits, with materials, and participants got busy. (Instructions are available)
The project gets participants politically involved by encouraging them to reflect on the issues. "The intention is to have citizens sit and stitch while talking to friends, family, and community members about the change they want to see," and to then share that thinking in letters to elected representatives, said Hollingsworth.
Sewing and thinking have always gone hand in hand. As the daughter of a quilter, I've long been attuned to the craft's special power. Beyond the self-expression it enables, quilting is a highly useful pastime. When done with others, it also fosters community connections. When done with purpose, it can be a method to make a political statement. This fits right in with the rise of repair cafés and the maker movement, and the library as a participatory place where people experience new skills and engage in community building. The completed world banner will go on display next year at the Canyon Gallery in Boulder.
The old adage that "a stitch in time saves nine"—that making a relatively small fix now saves major effort in the future—has a special resonance today, as we seek to create a better world together by making something new with the one we have.