Our most viewed stories reflect a significant, collective journey.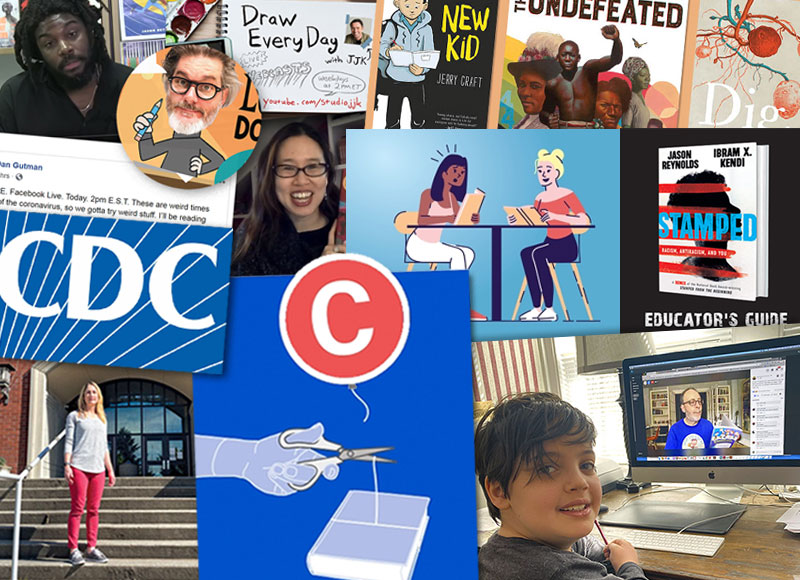 Our most viewed stories reflect a significant, collective journey, with insight into where we've been as a community, and what you, our readers, care about.
Herewith, a sampling of our most popular stories of 2020.
"Publishers Adapt Policies To Help Educators"
To aid remote learning efforts during the pandemic, children's publishers adjusted their policies to ­enable read-alouds of their books online. This March post and an associated Google directory of policies, which continues to be updated, was our top story of the year. With the crisis ongoing, the grace period went into December. Penguin Random House and Simon & Schuster have since pushed ­relaxed copyright restrictions into March 2021 (#7 of SLJ's most viewed).
"IMLS, CDC Offer Guidance for Disinfecting Returned Library Books
"An eagerly anticipated study about the viability of the novel coronavirus on paper surfaces was our second most viewed post. Other information about COVID-19 included the CDC's May guidelines for reopening schools (#4).
"Kid Lit Authors Step Up To Help Educators, ­Students, and Parents"
Grace Lin, Mo Willems, and Laurie Halse Anderson were among the children's authors and illustrators who created resources for educators throughout the COVID crisis (#3).
The above stories were part of SLJ's running ­coverage of the pandemic, which was honored with a 2020 Eddie Award for editorial excellence.
"Little House, Big Problem: What To Do with 'Classic' Books That Are Also Racist"
"Wow did not see the hate mail coming," tweeted Lisa Lucas, executive director of the National Book Foundation, in July. "Can not recommend talking about To Kill A Mockingbird publicly." Boy, we'll say. No other topic has drawn as much passionate comment as ­so-called problematic classics. Our May feature story, which also tackled the "Little House" series, was our fifth most viewed story. This coming spring, we welcome your ideas on reinventing the literary canon for children and teens. Stay tuned.
"New Kid Makes History as First Graphic Novel To Win Newbery; Caldecott Goes To The Undefeated"
A boisterous, in-person celebration of books and reading—remember what that was like? Way back in January, history was made at the 2020 Youth Media Awards in Philadelphia when a graphic novel won the Newbery Medal for the first time in the honor's nearly 100-year history (#8).
"An Educator's Guide to Stamped: Racism, ­Antiracism, and You"
A curricular guide for the nonfiction title by Jason Reynolds and Ibram X. Kendi ­remains a popular resource (#9).
"Weeding Out Racism's Invisible Roots: ­Rethinking Children's Classics"
"Challenging old classics is the literary equivalent of replacing statues of racist figures," declared author Padma Venkatraman in this widely read opinion piece (#10).
For more of our top stories, along with a trove of year-end lists, visit slj.com/listoflists2020. Find our Best Books of 2020 at slj.com/bestbooks.
From all of us at SLJ, peace.


Kathy Ishizuka
Editor-In-Chief
@kishizuka