Education may be part of the solution to stopping the incidence of anti-semitic harassment, vandalism, and physical assaults at schools.
The Anti-Defamation League (ADL) released its Audit of Anti-Semitic Incidents: Year in Review 2018. While reported incidents at K–12 schools went down from 2017, the number is still "unacceptably high," the report says.
There were 344 anti-Semitic incidents reported in non-Jewish K–12 schools, which was a 25 percent decrease from the 457 incidents in 2017. That number, however, is still 46 percent higher than the 235 reported incidents in 2016. Of the 344 incidents in 2018, 173 were harassment, 169 vandalism, and two physical assault. Students were the primary targets, but administrators and teachers were victims of incidents, as well.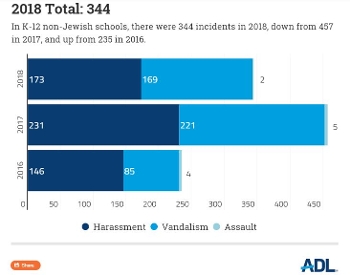 "Although the decline in reported incidents in non-Jewish schools is a welcome development, the number of Jewish students experiencing anti-Semitic incidents in non-Jewish schools is still unacceptably high," the report said. "Given the insidious nature of schoolyard bullying and the fact that many children may not feel empowered to report their experiences, it is likely that the actual number of anti-Semitic incidents taking place in schools was significantly higher than the number reported in the Audit."
These incidents of hate, combined with recent studies showing that knowledge of the Holocaust is fading in younger generations, have many concerned. Education may be part of the solution.
In 2018, UNESCO created a policy guide, "Addressing anti-Semitism through Education." Some organizations have created free curricula for educators.
Recently, the Museum of Jewish Heritage, with the New York City Department of Education, developed a curriculum that "incorporates best classroom practices, emphasizing instructional outcomes and integrating primary sources for artifact-based learning from our Museum collection."
There are 10 lesson plans, which can be taught at different grade levels in different subject areas. Each is aligned to the Common Core. The lessons are free and accessible from the website.
The United States Holocaust Memorial Museum also offers lesson plans and other educational resources, including the Holocaust Encyclopedia, which is available in 16 languages.