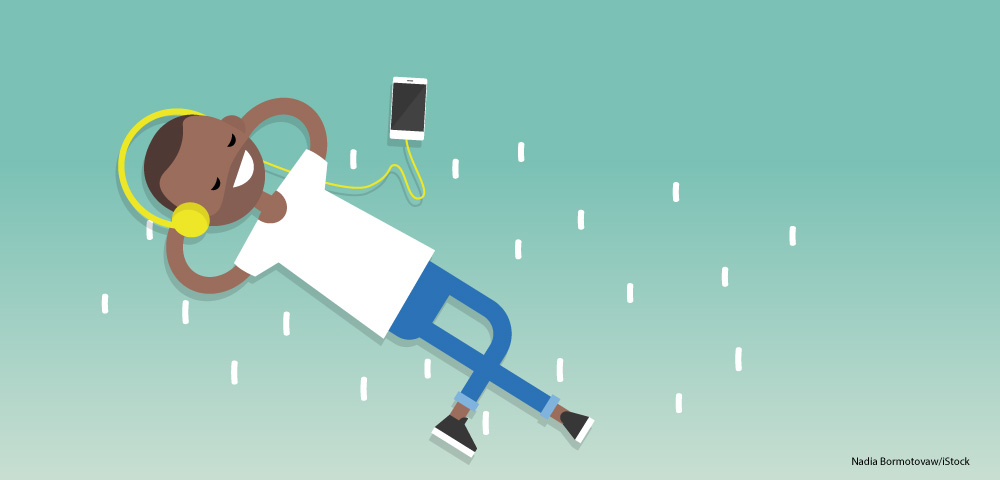 The adult audiobook market is full of titles that younger listeners will enjoy, whether they're coming-of-age stories like Nafkote Tamirat's The Parking Lot Attendant or historical fiction that can provide additional perspective on events studied in school, such as Sarah Bird's Daughter of a Daughter of a Queen.
Short-format works, either fiction or nonfiction, are always a good choice for audio, since it's easy to listen to a single work on a drive or while doing chores. Fantasy fans will find something to love in anthologies like The Book of Magic, and the trend of group biographies means that teens will find both mirrors and windows in collections such as Modern HERstory or American Like Me.
Many of these audiobooks have crossover appeal with other multimedia properties. The wild popularity of Netflix's adaptation of Jenny Han's To All the Boys I've Loved Before signals an interest in romantic comedies; titles by Helen Hoang, Hannah Orenstein, and Christina Lauren are sure to please mature teens. Fans of the Vlog Brothers (John and Hank Green) will no doubt want to check out Hank Green's debut novel, An Absolutely Remarkable Thing. And a number of these recommended picks began as podcasts teens may already enjoy: Limetown, Unladylike, or 2 Dope Queens.

Fantastic Fiction
Akers, Zack & Skip Bronkie. Limetown. S. & S. Audio. Nov. 2018. ISBN 9781508266648. Read by the authors.
In this prequel to the podcast Limetown, 17-year-old Lia Haddock learns that 300 people—including her uncle—living at a research facility in Limetown, TN, have disappeared without a trace. A student journalist, Lia begins an investigation that leads to a shocking secret, one that will affect Lia and her family as well as everyone else who lives in Limetown.
Bird, Sarah. Daughter of a Daughter of a Queen. Macmillan Audio. Sept. 2018. ISBN 9781250299017. Read by Bahni Turpin.
Inspired by a true story, this historical novel describes the life of Cathy Williams, who was enslaved on a tobacco farm in Missouri. She seizes an opportunity for freedom when Union general Philip Henry Sheridan agrees to take her into service. After the war, Cathy refuses to return to servitude and decides to disguise herself as a man and join the army's legendary Buffalo Soldiers while she continues to look for her family.
Braithwaite, Oyinkan. My Sister, the Serial Killer. Books on Tape. Nov. 2018. ISBN 9780525643296. Read by Adepero Oduye.
Korede's sister, Ayoola, is beautiful and adored—and possibly a sociopath; Ayoola's third boyfriend in a row is dead. Motivated by family responsibility, Korede has been helping her sister dispose of the bodies. But when the handsome doctor Korede admires asks her for Ayoola's phone number, Korede must decide how far she'll go to protect her sister.
Dozois, Gardner, ed. The Book of Magic. Books on Tape. Oct. 2018. ISBN 9780525492818. Read by a full cast.
Seventeen of today's top fantasy writers—including Elizabeth Bear, Kate Elliott, K.J. Parker, Tim Powers, and George R.R. Martin—celebrate the witches and sorcerers of epic fantasy.
Gillan, Maria Mazziotti & Jennifer Gillan. Growing Up Ethnic in America: Contemporary Fiction About Learning To Be American. Books on Tape. Dec. 2018. ISBN 9781984844729. Read by a full cast.
In this new audio recording of a 1999 release, writers including Toni Morrison, E.L. Doctorow, Sandra Cisneros, and Amy Tan illustrate the diversity that is the source of both the nation's great discord and infinite promise.
Green, Hank. An Absolutely Remarkable Thing. Books on Tape. Sept. 2018. ISBN 9780525641803. Read by Kristen Sieh & the author.
Twenty-three-year-old April May stumbles across a giant sculpture in the middle of the night in New York City. After she and a friend post a video of it, news quickly spreads that there are similar sculptures around the world, and April finds herself grappling with the attention as well as the mystery of the sculptures.
Tamirat, Nafkote. The Parking Lot Attendant. Macmillan Audio. Mar. 2018. ISBN 9781427295606. Read by Bahni Turpin.
An unnamed girl in Boston's Ethiopian community falls under the spell of charismatic hustler Ayale, the titular parking lot attendant. By the time Ayale's schemes are revealed, the narrator has unwittingly become complicit in something darker and more complicated than she ever imagined.

Literary Reimaginings
McCoy, Sarah. Marilla of Green Gables. HarperAudio. Oct. 2018. ISBN 9781982553562. Reader TBA.
McCoy imagines life at Green Gables long before Anne-with-an-E arrived. Taking on the day-to-day responsibilities of running the farm after her mother dies, Marilla Cuthbert has a budding romance and is caught up in the dangerous work of abolition, but eventually she must choose between her dreams of making a difference in the wider world and the reality of life at Green Gables.
Taneja, Preti. We That Are Young. Books on Tape. Aug. 2018. ISBN 9781984829047. Read by Benaifer Mirza.
This debut imagines a modern-day King Lear set in India: 23-year-old Jivan Singh returns to his New Delhi childhood home after 15 years in the United States. On the same day, Sita, youngest daughter of the newly retired founder of the Devraj Company, disappears after refusing to marry the man her father wants for her. Radha and Gargi, Sita's older sisters, are given the family business, and a brutal struggle for power begins.

Romantic Comedies
Hoang, Helen. The Kiss Quotient. Dreamscape. Jun. 2018. ISBN 9781974900466. Read by Carly Robins.
Stella Lane has Asperger's, a well-paying job developing algorithms, and a lot less experience in the dating arena than most thirty-somethings. She decides that she needs help from a professional. So she hires escort Michael Phan, who agrees to help her check off all the boxes on her lesson plan.
Lauren, Christina. Josh and Hazel's Guide to Not Dating. S. & S. Audio. Sept. 2018. ISBN 9781508263760. Read by Todd Haberkorn & Jayme Mattler.
Hazel knows that her army of pets, love of the absurd, and lack of filter tend to send most men running, but she also knows it's their loss. Laid-back Josh has known Hazel since college, though he's never really considered her a potential partner. Ten years later, they're setting each other up on progressively terrible double blind dates. That means there's nothing between them, right?
Orenstein, Hannah. Playing with Matches. Recorded Bks. Aug. 2018. ISBN 97815019 89162. Read by Jennifer O'Donnell.
After recent journalism graduate Sasha Goldberg misses out on her dream job, she lands a job as a matchmaker for New York City's elite. Despite her inexperience, Sasha throws herself into her new career. When her boyfriend betrays her, she spirals out of control—and into the arms of a charming writer. But she had previously set him up with one of her clients, which means he's strictly off limits.

Group Biographies
Brazile, Donna, Yolanda Caraway, Leah Daughtry, & Minyon Moore. For Colored Girls Who Have Considered Politics. Macmillan Audio. Oct. 2018. ISBN 9781427299246. Read by Robin Miles.
The four most powerful African American women in politics share the story of their friendship and how it has changed politics in the United States. Over the years, they've held many roles in the corporate world, on campaigns, in unions, in churches, in their own businesses, and in the White House.
Ferrera, America with E. Cayce Dumont, eds. American Like Me: Reflections on Life Between Cultures. S. & S. Audio. Sept. 2018. ISBN 9781508263692. Reader TBA.
Ferrera has invited 31 of her friends, peers, and heroes—among them Issa Rae, Randall Park, Uzo Aduba, Jenny Zhang, and Kal Penn—to share their stories about life between cultures and their struggles to establish a sense of self, belong, and feel seen.
Halberstam, David. The Children. Books on Tape. Nov. 2018. ISBN 9780525643654. Read by Bahni Turpin.
The early days of the civil rights movement are here seen through the story of eight black students—Diane Nash, John Lewis, Gloria Johnson, Bernard Lafayette, Marion Barry, Curtis Murphy, James Bevel, and Rodney Powell—who met in the 1960s in Reverend James Lawson's workshops on nonviolence and went on to lead the revolution.
Imani, Blair. Modern HERstory: Stories of Women and Nonbinary People Rewriting History. Books on Tape. Oct. 2018. ISBN 9781984833556. Read by January LaVoy & the author.
From the civil rights movement to the Stonewall riots and Black Lives Matter, these 70 women, girls, and gender nonbinary people have changed—and are still changing—the world.

Nonfiction of Note
Andrés, José. We Fed an Island: The True Story of Rebuilding Puerto Rico, One Meal at a Time. HarperAudio. Sept. 2018. ISBN 9781982555153. Read by the author.
After Hurricane Maria, Andrés addressed Puerto Rico's humanitarian crisis by feeding people, one hot meal at a time. Eventually cooking 100,000 meals a day at more than a dozen kitchens across the island, Andrés and his team fed hundreds of thousands of people and confronted a broken and wasteful system.
Chung, Nicole. All You Can Ever Know. HighBridge. Oct. 2018. ISBN 9781684414000. Read by Janet Song.
Chung grew up believing that feeling slightly out of place was her fate as a trans-racial adoptee. But as she faced prejudice her adoptive family couldn't see, finding her identity as an Asian American and as a writer, she became increasingly curious about where she came from and set out to learn the truth.
Conger, Cristen & Caroline Ervin. Unladylike. Books on Tape. Oct. 2018. ISBN 9781984833471. Read by the authors.
The hosts of the Unladylike podcast explore the whats, whys, and hows of intersectional feminism and practical hell-raising.
Havrilesky, Heather. What If This Were Enough? Books on Tape. Oct. 2018. ISBN 9780525638094. Read by the author.
In these essays, Havrilesky deconstructs poisonous and misleading messages about materialism, success, and love, and suggests new ways to navigate our world.
King, Maxwell. The Good Neighbor: The Life and Work of Mr. Rogers. Oasis. Sept. 2018. ISBN 9781640910850. Read by LeVar Burton.
As the creator and star of Mister Rogers' Neighborhood, Fred Rogers was a champion of compassion, equality, and kindness, taking seriously children's fears, concerns, and questions about the world. This first full-length biography draws on original interviews, oral histories, and archival documents to shine a light on Rogers's personal, professional, and artistic life.
Robinson, Phoebe. Everything's Trash, but It's Okay. Books on Tape. Oct. 2018. ISBN 9780525643357. Read by the author.
In her latest essay collection, Robinson (2 Dope Queens podcast) tackles a wide range of topics: making feminism more intersectional, society's beauty standards, and our cultural obsession with work. Robinson also gets personal, exploring debt, dating, and politics.
Weinman, Sarah. The Real Lolita: The Kidnapping of Sally Horner and the Novel That Scandalized the World. HarperAudio. Sept. 2018. ISBN 9781982555634. Read by Cassandra Campbell.
Very few of its readers know that the subject of Vladimir Nabokov's Lolita was inspired by a real-life case: the 1948 abduction of 11-year-old Sally Horner. Weinman uses legal documents, public records, and interviews with relatives to tell Sally's story.
This article first ran in SLJ's Oct. 1, 2018 issue.
---
Stephanie Klose is audiobooks editor, SLJ.