More people are listening to audiobooks, according to the Pew Research Center, and researchers at the University of California, Berkeley, say the brain might not know the difference.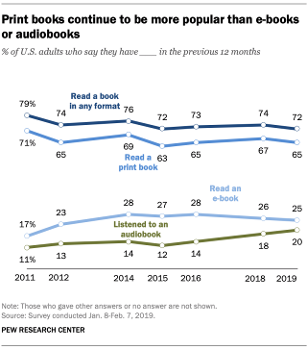 The Pew Research Center released its book reading survey results and while reading of print books remains the same among adults, audiobooks are rising in popularity. Of the 1,502 adults who were polled in January and February, one-in-five had listened to an audiobook in the previous 12 months—six percent more than in 2016.
Print books remain the most popular format (with 37 percent of people saying they only read print). Even those who do use audiobooks or e-books, typically read print as well. Only seven percent said they had only used a digital format.
Overall, the number of adults who have read a book in the year before the survey (72 percent) has been largely unchanged since 2012.
And those who say that listening to audiobooks is just as good as reading print copies now have some science on their side.
Researchers at the University of California, Berkeley, measured the brain response of nine people while they listened to stories on "The Moth Radio Hour" and as they read the same stories in print. Analyzing the brain scans (pictured) and data, researchers found "the semantic representations evoked by listening versus reading are almost identical."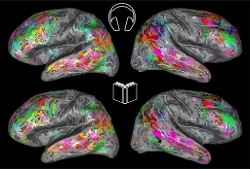 The same cognitive and emotional areas of the brain were stimulated, offering further insight into comprehension and a starting point for future studies to better understand the complex process of "word meaning representation." It shows a larger network of ­regions in the brain with like response to reading and listening than past research.
"These results suggest that the representation of language semantics is independent of the sensory modality through which the semantic information is received," says the study's report, which was published in the Journal of Neuroscience in September.
The finding can perhaps do the most good by prompting further studies into understanding how language is processed. It can be particularly important to addressing the needs of children with dyslexia or other reading issues, as well as those who have auditory processing disorders.
For now, it means readers worried about taking the easy way out with audiobooks can stop feeling guilty.