Inspired by her young library patrons, Beverly Cleary wrote the stories of regular kids and created generations of readers.
She was a librarian who took a question at the circulation desk and went on to change the world of children's literature.
"Where are the books about kids like us?" a boy asked Beverly Cleary at what is now the Yakima (WA) Valley Libraries, where she was the children's librarian. Or, so the story goes.
In an interview with the Associated Press celebrating her 100th birthday in 2016, Cleary said all of the young patrons would ask for books that had kids like them. They didn't want to read about pioneers or English children any more than she had when she was growing up, she said.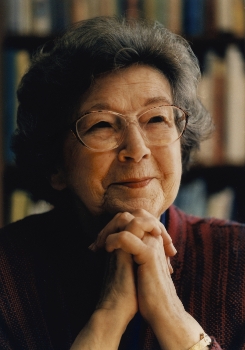 Beverly Cleary. Photo by Alan McEwan
So, when she was in her early 30s, Cleary set out to write about regular kids (and an adventurous, motorcycle-riding mouse). Her stories were funny and touching, true to the relationships of young friends and siblings. Henry Huggins was released in 1950, the first of more than 40 titles by Cleary. More than 85 million copies of her books have been sold, and her work has been translated into 29 languages.
She was 104, but her death was still a blow to her fans and admirers. The publishing world—and well beyond—spent the weekend remembering Beverly Cleary, the favorite books, her way of making them feel seen, giving them joy in reading, and inspiring them to write.
Everyone seemed touched by Cleary and her characters, from Renée Watson, who tweeted, "Her books gave me permission to write about Portland, to name the streets, the stores, the parks & libraries that raised me, to tell stories about joyful, thoughtful, rambunctious girls. Thank you, #BeverlyCleary," to First Lady Jill Biden, who thanked the author "from all the 'pests' out there."
Some revisited favorite titles after news of Cleary's passing in Carmel, CA, on Thursday. To All the Boys I've Loved Before author Jenny Han remembered and reread a favorite moment.
"The Beverly Cleary scene I'll never forget is when Ramona's mom and dad have a huge fight over one of them forgetting to turn on the crock pot, and her mom swats her dad on the butt with a pancake turner," Han tweeted. "Ramona's tummy hurts watching them fight and she worries they will divorce.
"That night Ramona sleeps in Beezus's bed and they comfort each other. It was such a real scene. As a little kid it comforted me and as an adult, I just reread it and it's still a banger."
The New York Public Library (NYPL) released a statement as well: "The Library is deeply saddened to hear of the loss of Beverly Cleary, whose award-winning, brilliant books consistently fly off our shelves and have delighted generations of readers. She believed reading should be fun, and she made that happen with beloved characters and stories that made us laugh, taught us important lessons, and shaped our childhoods. Those imaginative and accessible stories sparked a lifelong love of reading in so many children, a noble legacy that certainly won't end today. We know that her books will stand the test of time, and be checked out of our libraries for decades and centuries to come. Rest in peace, Ms. Cleary, and thank you."
The NYPL also released a list of staff picks for Top 5 Beverly Cleary books: Ramona the Pest, Henry Huggins, Dear Mr. Henshaw (Cleary's only Newbery Medal winner), Ribsy, and Runaway Ralph.
Cleary's life was always closely related to libraries. Her mother created a library and acted as librarian for the small town of Yamhill, where Cleary lived on a farm until the family moved to Portland when she was in early elementary school. Cleary went on to get her graduate degree in librarianship from the University of Washington and worked not only at the library in Yakima, but also as a post librarian at the Oakland (CA) Army Hospital during World War II.
Not long after the war ended, she would write favorites that filled library shelves and were beloved by multiple generations. The publishing awards and accolades she earned in her life included two Newbery Honors, one Newbery Medal, and the 1984 Hans Christian Andersen Award. In 2000, the Library of Congress named her a "Living Legend."
And her gift to libraries continues after her death. The family has asked that anyone wanting to honor Cleary make donations in her name to the Library Foundation of Portland or the Information School at the University of Washington.