In these podcasts for families and children, Black hosts and voice actors spotlight fairy tales, historical figures, activism, and Black Lives Matter.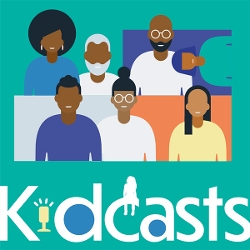 When actor Melissa Victor thought about where she learned the stories that shaped her—important things about life, and how to braid hair—she realized that a lot of that education took place on the Baltimore stoop where she grew up. Victor is deeply spiritual, and at a certain point, as her theater parts started to dry up, she asked God for guidance. His advice, she says: Create a podcast for children of color. Create stories for them because they need to be represented. Victor published the first episode of Stoopkid Stories in January 2020 so that young Black children could hear themselves reflected in audio stories. This Black Voices playlist includes voices from Stoopkids Stories and other Black kidcasters, storytellers, authors, poets, activists, musicians, and leaders.
Click here to access the Black Voices Playlist and episode links.
So Get Me: Alphabet Rockers: "Shine In My Beautiful Skin"
Ages 5-12–The So Get Me podcast shares the music from the Alphabet Rockers, a hip-hop children's music collective with a focus on activism. In this episode, hosts Kaitlin McGaw and Tommy Shepherd discuss ways to honor the work of ancestors, activists, and artists. Listeners hear the Alphabet Rockers sing "Shine," from their album Rise Shine #Woke, and learn how families are working to create a more equitable world by discussing skin color and ways to keep "shining in our beautiful skin."
Girl Tales: "Anansi and the Sky Goddess Asase Yaa by Bleu Beckford-Burrell"
Ages 5-12–On the Girl Tales podcast, executive producer Rebecca Cunningham pulls from fairy tales, folk tales and myths, rewriting them with a feminist twist. In this episode, Black playwright Bleu Beckford-Burrell transforms an Anansi tale about how Asase Yaa invented all the stories in the universe. The story is brought to life by voice actors Barron Bass, Rama Orleans- Lindsay, and Cristina Pitter. Kids who love this episode will also want to explore other Girl Tales episodes including fairy tales rewritten by Black playwrights, as well as episodes about people including Bessie Coleman and Katherine Johnson, and more.
Goodnight Stories for Rebel Girls "Michelle Obama Read by Pearl Thusi"
Ages 5-12–Kids familiar with the books Goodnight Stories for Rebel Girls will also enjoy the podcast. This brand seeks to empower girls by sharing the stories of pioneering women from across the globe. Here, voice actor Pearl Thusi spotlights former First Lady Michelle Obama. While librarians may be familiar with Obama's book and documentary Becoming, this episode aims to introduce young listeners to her in an inspiring, engaging way, and highlights Obama's challenges of balancing family and career during the path led to the White House. The series offers many empowering stories of women leaders from around the world and throughout history, including an episode about reader Pearl Thusi herself.
Stoopkid Stories: "Seeing McKinley Pt. 1"
Ages 8-12–Stoopkid Stories is a story podcast written and read by actor Melissa Victor. The episodes feature Black characters experiencing and overcoming the obstacles of life. In "Seeing McKinley, Pt 1," listeners meet Mickey, a girl on the receiving end of microaggressions, which are hurtful comments or actions based on race, gender, or religion, at school. Kids gain an understanding of the term and hear how Mickey handles these comments. They also learn why it's important to not just amplify Black voices during Black History Month, but all year long. Kids who like this episode will want to tune into part 2 of the story. Families who listen together may naturally talk about when they've experienced microaggressions and ways to handle them.

Read: 10 Books To Nurture Budding Young Activists | Summer Reading 2020

Activist, You!: "Racial Justice with Nupol Kiazolu"
Ages 8-12–Activist, You! is a podcast amplifying the voices of young activists fighting for social justice. In this episode creator and host Lindz Amer interviews the president of the Black Lives Matter Greater New York, 19 year-old Nupol Kiazolu. Listeners will learn about Nupol's first fight for the right to wear a hoodie at her school when she was 13 years old. Nupol provides young listeners with many ways to support Black Lives Matter in the fight for social justice.
This Day in History Class: "Gwendolyn Brooks born June 7, 1917"
Ages 8-12–Yves Jesscoat, writer and podcaster based in Atlanta, hosts This Day in History Class, a podcast where "history waits for no one." This short episode is about the first African American to win a Pulitzer Prize, Gwendolyn Brooks. Listeners learn about Brooks' pathway from having her first poem published to honing her craft and speaking out more boldly around issues of race. Yves highlights how Brooks drew her inspiration from what she saw and heard on the street. Her story can encourage kids to express their thoughts about what they are seeing and hearing through poetry. Jesscoat also hosts the adult podcast AfroPunk Solution Sessions, with discussion about challenges Black people face and steps that can be taken in response.
Flyest Fables: "Constellations of the Sky"
Ages 8-12–Flyest Fables is written and read by trans-Black story teller and audio producer Morgan Givens, who describes his show as an "interconnected fiction anthology" with "hopefunk fables for the 21st century." "Constellations of the Sky" will give new listeners a feel for the show. In this story, the magical world of "The Book" is handed over to a new storyteller. Givens's hope is that these fables help listeners cope with the problems of the real world by empowering them with magic and story. Kids who like this tale will want to go back to the beginning of the series and enjoy the full journey.
Book Club for Kids: "On the Come Up by Angie Thomas"
Ages 9-17–The Book Club for Kids podcast primarily focuses on middle grade books, but in this episode features Angie Thomas's YA novel On the Come Up. Host Kitty Felde talks with three eighth graders from Washington, D.C. about the book, and listeners hear how rap and hip-hop shape the story of main character Bri. Actor Tallie Johnson reads from On the Come Up, and the students ask Thomas about her writing process. Kids will also want to listen to the episode where she shares the playlist that inspired On the Come Up. Other episodes spotlight books by Kwame Alexander, Nikki Grimes, Christopher Paul Curtis, Varian Johnson, and Walter Dean Myers, just to name a few.
Code Switch: "On the Shoulders of Giants"
Ages 9-17–Code Switch is an adult podcast discussing race and racism, but recently the hosts curated a series of episodes for kids and families. In this one, hosts from NPR's Throughline, a podcast exploring present events through the lens of the past, focus on the activism of Colin Kaepernick kneeling during the National Anthem at NFL games. Listeners travel back to learn about the activism of boxer Jack Johnson, sprinter Wilma Rudolph, and basketball player Mahmoud Abdul-Rauf.
ReadMore Podcast: "Brittney Morris"
Ages 13-17–The ReadMore Podcast interviews authors about their books and writing process. Here, host Marva Hinton, also a writer and editor, interviews author Brittney Morris about her YA novel Slay. Morris discusses how the movie Black Panther motivated her to write Slay in 14 days. She talks about how the feeling of living a double life at the time—working in a place where she was one of only two black employees, and going home to be surrounded by Black friends and family—helped her develop the theme for her book. Slay explores the effects of marginalization through the lens of video gaming, and what it means to create inclusionary, safe spaces in the virtual realm and beyond, and can open up discussions on those issues.
For podcast resources to help grownups talk about race with their kids, see Bello Collectives recent list. For more resources about social justice see SLJ 's Antiracist Resouces and Reads and The Brown Bookshelf's KidLit Rally for Black Lives: Anti-Racist Resources for Children, Families and Educators.
Youth technology integration consultant Anne Bensfield helps libraries and schools implement new models for innovation. Librarian and Buttons & Figs podcast creator Pamela Rogers inspires creative expression from elementary school kids by reading, writing, and playing with words.

Read: Sales Soar for Antiracism Books and Titles by Black Creators