These discussion groups for kids in pre-K through third grade light up young readers.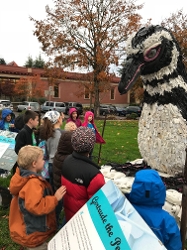 A book club activity at the
Newberg (OR) Public Library.
Book clubs are classic library programs for a reason: They offer a chance to socialize, learn about new books, and share (or build) a love of reading. These days, more public libraries are bringing this excitement to its youngest patrons, engaging very young kids in book discussion.
While these clubs aren't common (yet), a few trailblazers are successfully engaging new readers—typically in preschool through grade three—in lively group discussion. The clubs can build kids' positive associations with the library while introducing conversation about literary elements—and can be wildly popular, librarians say.
Moving beyond storytime
Julie Perrin, library director of the Jaffrey (NH) Public Library (JPL), developed book clubs for young kids at two different libraries.
"We noticed that once children went to school and weren't able to attend storytime, we risked losing their involvement with the public library," she says. "We scrambled to get them back for older grade school programming. [The club] bridges the gap between preschool storytime and independent reading book clubs."
At other libraries, the idea emerged from patron requests. At Newberg (OR) Public Library (NPL), a club was created when parents of young children asked for one. "We had book clubs in the past, but found that having parents and children reading the books ahead of the scheduled book clubs was often difficult," says Mary Lynn Thomas, children's librarian and co-manager of children's services at NPL. "Offering a club for this age group that didn't require reading the book [beforehand] was a better option."
The clubs succeed in part because kids who are starting to read independently are often excited to share their opinions. "Their enthusiasm and willingness to talk about both text and illustrations [in picture books] planted the seed for a book group," says Tamara DePasquale, youth services librarian at the Eldredge Public Library in Chatham, MA.
DePasquale starts each meeting with a general discussion that covers characters, plot, setting, and themes. Such initiatives, she says, can support what new readers are learning in school and help the library to achieve its learning outcome goals.
Building an appealing program
As with all programs, it's important to keep community needs and intended audience in mind. At some libraries, kids read a book during the meeting, with no expectation that they'll have read it in advance. Other libraries make multiple copies of a book available and ask participants to read it first, independently or with an adult.
The Jaffrey Public Library does both. "Children have the book for a whole month so they read it, often several times, with their families," Perrin says. "Then we reread it at the meeting, interacting and discussing it."
Unlike storytime, children's prior experience with the material can bring their engagement to a much higher level, Perrin adds. "It's obvious that parents have taken the time to talk about the book with their children, so a key benefits is the family literacy component that happens at home."
Alicia Celentano, children's librarian at Teaneck (NJ) Public Library (TPL), also reads the book as a review at the start of club meetings. Alternatively, she will sometimes "read a similar book or one by the same author so that the kids have a comparison." This lets kids practice discussing how similarities and differences and provides a foundation for a richer conversation.
These programs can work with picture books, graphic novels, early readers, and beginning chapter books, but the best choice focuses on the interests of the participants. A core group of regular attendees allows staff to tailor selections to their audience.
"I start the year with something simple so I can get a handle on where they are in terms of reading level and comprehension level," Celentano says. Then, she tries to feature "a wide variety of genres and formats, because this age group may not have a lot of experience with these yet."
Book selection can also offer an opportunity to partner with local groups and community members.
"We read Keep the Lights Burning, Abbie, and then we toured our local lighthouse and interviewed the lighthouse keeper," says DePasquale. "This month we're reading three books that feature fire safety, and we are fortunate to have our discussion at the fire department with the firefighters on duty."
Connecting children with community members related to what they've read can give kids a new understanding of the material.
Physical activities and community connections
Whatever the club structure, it's key to let kids this age move around during club meetings, often by integrating an activity connected to the book. Amy Kaplan, children and teens librarian at Briarcliff Manor (NY) Public Library, leaves time at the end for some physical activity and games. At NPL, meetings include a combination of book discussion, finger plays, and guided activities so kids can see other parts of the library.
"When we read a book about a bunny going through the library drop box after hours, we took the children out to see our library book drop," says NPL's Thomas. "We opened it and showed them the process of bringing the box in and then replacing it. We had a large appliance box that we turned into a drop box. We had stuffed animals and puppets that followed the book and we let the kids put those through the opening."
No matter the structure, these clubs are popular with parents and kids. After Celentano sent out an email about registering for the new year, she says one of the mothers emailed back to say, the book club was "transformative" for her daughter.
That transformation can mean a newfound love for reading and book discussion. DePasquale says, "I often hear that the participants play 'book group' at home!"

Carli Spina is head of research and instructional services at the Fashion Institute of Technology.