Cecile Richards, the former president of Planned Parenthood, discusses why she chose to adapt her memoir Make Trouble for a young readers edition and why she didn't shy away from tough topics like "reproductive rights, privilege, racism, or the heartbreak of losing elections."

The young reader's adaptation of Make Trouble (Gr 6–9, S. & S./Margaret K. McElderry Bks) is part memoir and part call to action. Cecile Richards chronicles her childhood raised by politically active parents, her early professional career, and her time as president of the Planned Parenthood Federation of America and the Planned Parenthood Action Fund. Using her narrative as an overarching lens, she asks thought-provoking questions, encouraging readers to reflect on their own lives. SLJ spoke to Richards about her journey and writing process. The author spoke highly of young activists she met while promoting her first book, and credited their enthusiasm as a reason for writing a young readers edition.
---
When did you first decide to write your book Make Trouble?
I decided to write it after the 2016 election when people were coming up to me everywhere I went with these stricken looks on their faces to ask, "Now what do we do?!" In fact, we even debated making that the title of the book!
This book is part memoir, part call to action. It's also a love letter to the friends, activists, and fellow troublemakers I've had the good fortune to work alongside over the years. That's one of the lessons I hope people, especially young readers, will take from this book: that getting involved in a cause you care about is not only inspiring and important, but it introduces you to people who will change your life and change the world.
What made you decide to adapt this book for young readers? Can you describe your writing process?
Some of my favorite conversations from the book tour for the original edition of Make Trouble were with young activists—we're talking elementary, middle, and high school—who were just getting started on their life's path. Everywhere we went, I'd get questions like "What can I, as a third grader, do to make trouble?" We talked about everything from dress codes to gun violence to voting.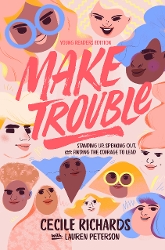 When I got an email from Simon & Schuster saying that they were interested in adapting the book for young readers, I was so excited. We worked with a passionate, dedicated team there, and with the wonderful Ruby Shamir, who has written books of her own for young readers, to figure out what would or wouldn't resonate with younger people. For instance, the chapter about raising troublemaking kids became a chapter that was told more from my kids' perspectives. We made sure to explain things that might not make sense: What is a filibuster, anyway? We got help from the experts at Planned Parenthood on how to talk about the reproductive system and sex education. And we added lots of questions throughout to make the book more interactive and fun to read—questions like "Have you ever taken a stand about something and worried what others might think?"
Something we didn't do was shy away from tough topics, like reproductive rights, privilege, racism, or the heartbreak of losing elections. I feel strongly that young readers are smart enough to take on hard, complicated issues and make up their own minds about what they believe.
One of the best parts was getting to work with Eugenia Mello, who designed the beautiful cover. When my co-author Lauren Peterson and I saw her designs, we gasped. She captured the joy and energy we hoped to include in the book so perfectly. That was a definite highlight!
It seems that growing up with two activist parents helped shape who you are. What advice would you give to teens growing up with parents who are not politically active or have different political views than their children?
I feel incredibly lucky to have grown up in a family that did activism and politics the way other families bowled. Growing up, our dinner table wasn't where we ate—it was where we stuffed envelopes and sorted address lists for the next day's door-to-door campaigning. Still, I write about how I felt to do things my parents might not have agreed with, like becoming a vegetarian in hunting-obsessed Texas or dropping out of college to take an internship in Washington, D.C. My advice to teens growing up in a different home environment is: Find your people! It takes courage to do something your friends or family might not agree with, and sometimes it can feel pretty lonely. But once you stand up for what you believe, you might be surprised how many other people want to stand with you.
I think about the teenager I met who came up to me after a book event in Philadelphia to tell me that she had been the only one at her school to take part in the walkout to protest gun violence. She was really scared, but it was important to her, so she did it, even though she wound up getting suspended. But then, something kind of amazing happened. People at school started coming up to her to tell her they wished they had gone with her, and they admired her for being the only one to walk out. I was so proud of her.
How do you respond to people who disagree with you?
That's definitely a major theme in the book! I've had lots of opportunities to practice that particular skill, from wearing a black armband to school in seventh grade to protest the Vietnam War to organizing workers in the labor movement to spending five hours testifying before a hostile congressional committee about Planned Parenthood. One of the biggest things I learned from that last experience is to focus on the people who are counting on you, not the people who are trying to drag you down. You can't control what other people do, but you can control how you react to them. My philosophy has always been that if everyone agrees with what you're doing, you probably need to set your sights a little higher.
What do you see as the biggest challenge to Planned Parenthood? How can young people change that?
An overwhelming lack of empathy or compassion from people —particularly men—in positions of power in Washington, D.C. and in state legislatures across the country. The people who walk through Planned Parenthood's doors each day have a lot on their minds, like people all over the country. Above and beyond getting affordable, nonjudgmental health care, they want a safe neighborhood for their kids and an excellent public school system. They want to earn a living wage and work without facing harassment or abuse. They want family leave and affordable childcare. They want to live in communities free from gun violence. And they deserve all this and more.
I've met so many young people who are challenging that lack of empathy and breaking down shame and stigma around Planned Parenthood and reproductive rights, like Deja Foxx, who, as a high school student, took on her U.S. senator at a town hall in Mesa, Arizona. Her senator was a vocal opponent of Planned Parenthood, and she stood up in front of hundreds of people and said: "I just want to state some facts. I'm a young woman, and you're a middle-aged man. I'm a person of color, and you're white. I come from a background of poverty, and I didn't always have parents to guide me through life. You come from privilege. So I'm wondering why it's your right to take away my right to choose Planned Parenthood." Just like that, she cut through the noise and made a point so many people need to hear.
Libraries are fierce advocates against censorship. What would you say to a librarian who was faced with a patron insisting that your book be removed from a library collection?
First and foremost: THANK YOU! I worked with a lot of teachers and librarians back in the 1990s when I started the Texas Freedom Network to stand up to censorship and extreme groups who were trying to influence what kids could and couldn't learn in school. One thing I've learned over the years: Librarians are some of the best troublemakers around!
I believe in giving young readers a chance to make up their own minds about what they think. This book isn't just about being president of Planned Parenthood or campaigning for Hillary Clinton in 2016, even though I talk about those things. It's a book about learning to be brave and take risks, realizing that who you work with matters as much as the work itself, finding joy in difficult times, and figuring out what to do with what the poet Mary Oliver called "your one wild and precious life." I would think those are things most people should be able to get behind.
How do you maintain a positive outlook and find the joy in activism, especially facing resistance?
What a great and relevant question. For me, so much of it comes down to the people you're in the trenches with. That was true at Planned Parenthood, it's true at Supermajority, the new organization I started along with Ai-Jen Poo and Alicia Garza, and it was true in the labor movement when I met a fellow organizer who would later become my husband!
What was a difficult obstacle you personally encountered during your time at Planned Parenthood and how did you overcome it? If not, how did you learn from this setback?
One of the stories I tell in the book that people ask about the most is how I almost didn't even go to my job interview at Planned Parenthood! I was headed to meet with the search committee when I started running through my list of "why nots" in my head: This is the wrong time. My kids are still in school. We could never move from Washington, D.C. to New York City. There I was, barely in the first round of interviews, already worrying about what would happen if I got the job! So I did what any grown woman would do: I called my mom. I told her what I was about to do, and immediately launched into all the reasons I wasn't the right person for the job: I'd never run such a big organization before, let alone one that millions of people counted on for health care each year. Ann Richards was just not having it. I'm sure she was thinking about all the women she'd known who sabotaged themselves because of fear and self-doubt, and she wasn't about to let me off easily. She said, "Cecile, you will never know unless you try. And let's face it, you only get one life, and this is it." Her voice still rings in my head, asking: "What's the worst that could happen?" I think about her advice whenever I'm getting ready to do something daunting!
---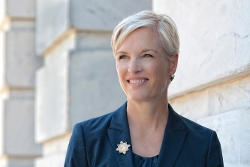 Photo by: Planned Parenthood Federation of America
Make Trouble: Standing Up, Speaking Out, and Finding the Courage to Lead will be published on October 15th.
Click here to read our review.